Was Working Girl Actually Filmed In The Twin Towers?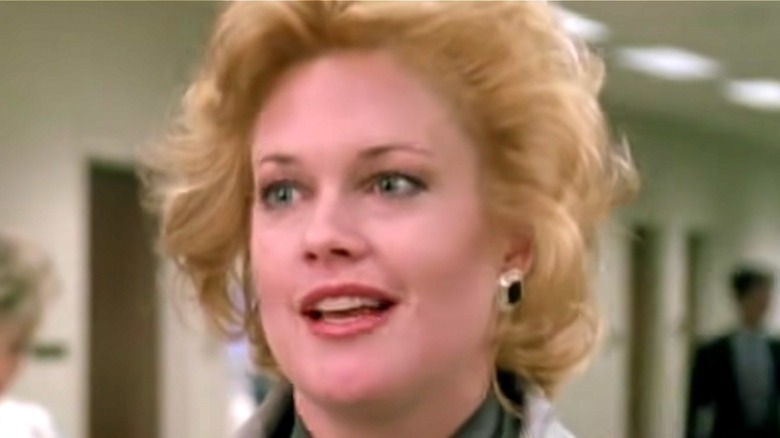 20th Century Studios
Directed by Mike Nichols, "Working Girl" stars actress Melanie Griffith as Tess McGill, a Staten Island native who has big dreams of climbing the corporate ladder. When her boss is laid up with a broken leg, Tess jumps at the chance to let her business savvy shine. Along with some great period fashion, "Working Girl" boasts an all-star cast. The film also features the talents of Harrison Ford as businessman Jack Trainer and Sigourney Weaver as Tess' underhanded boss Katherine Parker, a role that some consider to be among Weaver's most iconic. This classic eighties flick boasts big hair, big shoulders, and even bigger drama.
"Working Girl " effortlessly depicts the hustle and bustle of Manhattan, with New York City practically acting as a character all its own in the film. While plenty of cinematographers still go the old-fashioned route by filming on location, the use of special effects and computer-generated imagery in movies has grown exponentially over the last several decades, allowing filmmakers to create entire worlds out of a sound stage. Although plenty of notable NYC landmarks — like the Twin Towers — make an appearance in this 1988 film, most of the scenes are interior shots, so it's possible that the film could have been shot without the cast and crew ever having stepped foot in the Big Apple.
With all of this movie magic afoot, it makes sense to wonder whether or not "Working Girl" was really filmed in New York City, and here's the truth.
Yes, Working Girl was filmed on location in NYC
No trickery here, folks! "Working Girl" was filmed in various locations across New York City, including the Twin Towers. Filmmakers utilized locations like the New Brighton section of Staten Island, Manhattan, 1 State Street Plaza, and St. Philip's Church, just to name a few. The filmmakers even revealed that the first day of filming took place on a ferry and the scene was shot illegally: All of those other ferry passengers with Tess are just regular New Yorkers on their way to work! Furthermore, to capture Tess' secretarial style, "Working Girl" costume designer Ann Roth even shopped for Melanie Griffith's wardrobe in the ground floor of the World Trade Center (via The Hollywood Reporter). 
Fans of the film can visit many of these locations to this day (excluding the Twin Towers, obviously, which were utilized for the lobby and elevator scenes). 
"Working Girl" wouldn't be the same without that familiar New York City locale and the engaging cast of characters. However, even though Melanie Griffith perfectly evokes Tess' intelligence and optimism, the actress almost didn't get the part. "The studio wanted a bigger name. I mean, I wasn't very much of a name, but I loved this role, and I knew I could do it. My story is Tess' story, " Melanie Griffith told The Hollywood Reporter in 2018. Thankfully, Griffith's tenacity paid off. "Working Girl" was a hit, grossing over $100 million worldwide, and Griffith earned an Oscar nomination for Best Actress and a Golden Globe for her performance (via IMDb). It even seems that acting runs in the family: Melanie Griffith's daughter is none other than Dakota Johnson, who starred as Anastasia Steele in "Fifty Shades of Gray", a titillating role that got Dakota in trouble with her mom.