Stranger Things Season 4 Part 1 Release Date, Cast, And Trailer - What We Know So Far
To say that it has been a long wait for Season 4 of "Stranger Things" would be something of an understatement. As viewers may remember, Season 3 premiered all the way back in July of 2019, and it's been an interesting journey to get Season 4 made. After a brief shutdown due to the pandemic, "Stranger Things" resumed filming in October of 2020 (per Entertainment Weekly). Still, fans have been waiting literal years to see a follow up to Season 3, and to get concrete answers over where some of their favorite characters have ended up.
Season 3 of "Stranger Things" had a somewhat definitive ending and saw a lot of elements change for the main characters. Eleven (Millie Bobby Brown) seemingly lost her powers and was adopted by the Byers family after Hopper's (David Harbour) supposed "death," the Mind Flayer monster was destroyed, and some of the characters went their separate ways after deciding to move away from Hawkins, the central location for the first three seasons of the show.
With that in mind, Season 4 looks to be a very different entry for the series, but what exactly do we know about the forthcoming season?
When will Stranger Things Season 4 Part 1 release?
Unlike previous seasons of "Stranger Things," Season 4 of the show's release pattern will work a little differently. Instead of releasing it all at once, Season 4 will release in two separate parts. Part 1 will release on May 27, while Part 2 will release just five weeks later on July 1. While that may seem like a strange release strategy, it does somewhat ensure that "Stranger Things" will once again be an event viewing of the summer, similar to how Season 3 was when it came out in 2019.
The reason for this method of release was explained by showrunners the Duffer Brothers as Season 4 being much, much longer than previous seasons of the show (per TheWrap). Since Season 4 only contains one more episode than previous seasons, it's easy to assume that each episode's length is likely to be much longer than episodes in the previous seasons. Regardless, this split release strategy is by no means a new method for Netflix, who utilized a similar strategy for shows like "Lucifer."
Who is in the cast for Stranger Things Season 4 Part 1?
Most of the cast that appeared in the first three seasons of "Stranger Things" will once again be making their return for Season 4. This includes mainstays like Millie Bobby Brown as Eleven, Finn Wolfhard as Mike Wheeler, Winona Ryder as Joyce Byers, Gaten Matarazzo as Dustin Henderson, Caleb McLaughlin as Lucas Sinclair, Natalia Dyer as Nancy Wheeler, Joe Keery as Steve Harrington, and Charlie Heaton as Jonathan Byers. 
Those aren't the only familiar faces who will be returning. Fans will again see Noah Schnapp play Will Byers, Sadie Sink as Max Mayfield, Maya Hawke as Robin Buckley, Priah Ferguson as Erica Sinclair, Cara Buono as Karen Wheeler, and Brett Gelman as Murray Bauman. As with previous seasons, this entry will also see new characters brought into the fold. Bigger names arriving in Season 4 include Robert Englund as Victor Creel and Tom Wlaschiha as Dmitri (per Variety).
David Harbour is also returning as Jim Hopper after seemingly dying in the Season 3 finale — more on that later. He won't be the only character returning after an uncertain fate, either. After his apparent demise in Season 1, Matthew Modine's Martin Brenner is also making his return to "Stranger Things," though it's unclear in what capacity.
Simply put, Season 4 is looking to be stacked with new and returning characters, and it's all adding up to be the biggest season of "Stranger Things" yet.
What roles do the new characters play?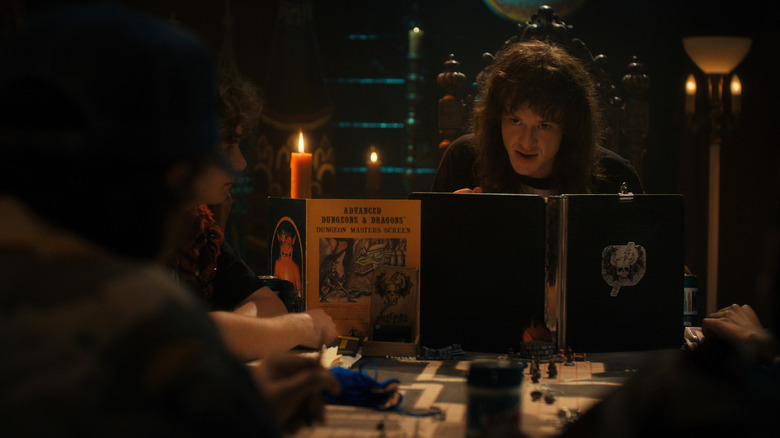 Netflix
As with every new season, "Stranger Things" Season 4 will feature some fresh faces. Four new characters will be added to the recurring cast, according to Variety. Myles Truitt is joining the cast as Patrick, a Hawkins basketball player. Amybeth McNulty will appear as Vickie. Regina Ting Chen will play the role of guidance counselor Ms. Kelly. Grace Van Dien also joins the dynamite cast as Hawkins High cheerleader Chrissy.
As announced in November 2020 on Instagram, Robert Englund, who infamously played Freddy Krueger, will join the cast as Victor Creel. "Game of Thrones" alum Tom Wlaschiha is Russian guard Dmitri. Mason Dye from "Teen Wolf" plays Jason Carver. Jamie Campbell Bower from "The Twilight Saga" stars as Peter Ballard. Eduardo Franco plays Argyle. Sherman Augustus is Lt. Colonel Sullivan. Rounding out the list of confirmed new cast members are Nikola Djuricko as Yuri and Joseph Quinn as Eddie Munson.
Needless to say, a lot of new talent is joining the latest season of "Stranger Things," and we can't wait to see them all shine on the screen.
What's the plot and where does the season pick up?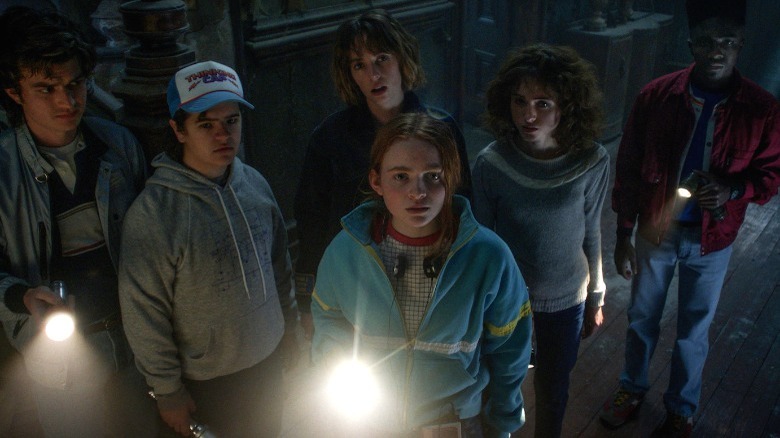 Netflix
Until the first batch of Season 4 episodes arrive, events and storylines remain up for debate. That said, the official synopsis has been unveiled by Netflix, and audiences are in for a real treat. 
According to Netflix, "It's been six months since the Battle of Starcourt, which brought terror and destruction to Hawkins. Struggling with the aftermath, our group of friends are separated for the first time — and navigating the complexities of high school hasn't made things any easier. In this most vulnerable time, a new and horrifying supernatural threat surfaces, presenting a gruesome mystery that, if solved, might finally put an end to the horrors of the Upside Down."
As more seasoned audience members can probably recall, high school comes with its own batch of trials and tribulations, so it'll be interesting to see how the characters handle life in the big leagues while dealing with the madness of the Upside Down. Season 3 ended with what looked like Hopper and Billy's deaths. These events led to Joyce, Will, Jonathan, and Eleven packing their bags and leaving behind the tainted memories of Hawkins. Eleven also seems to have lost her powers, to boot. What will unfold remains anyone's guess, but if the synopsis is any indication, fans will be in store for a wild ride in another horror-like setting. What's not to love about that?
Fans can look forward to a much darker horror vibe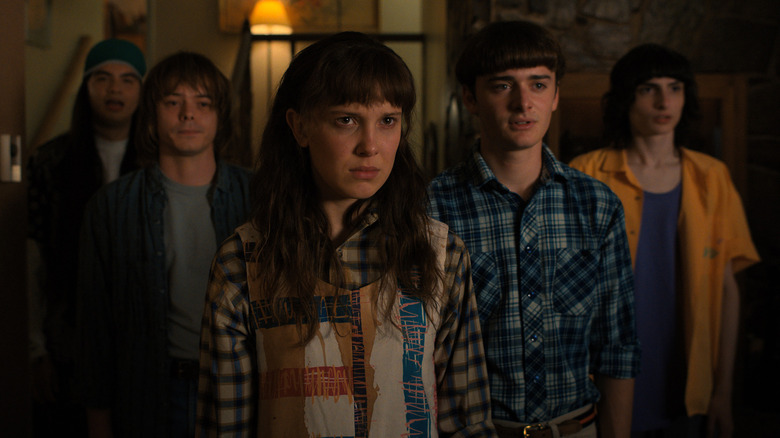 Netflix
Though there's a myriad of reasons to love "Stranger Things," from the phenomenal cast to the retro vibe, one element that tends to stand out is the science fiction elements. Yet, if you're a horror aficionado, then there's plenty to love about this series -– and that should continue to be the case in Season 4.
In an interview on the podcast "Present Company With Krista Smith" (via Netflix), the Duffer brothers hinted at a darker "horror movie" vibe for Season 4 -– if that were even possible given the events of Season 3. Ross Duffer explained how the series had evolved over the previous seasons, stating, "When we pitched it to Netflix all those years ago, we pitched it as the kids are ... 'The Goonies' in 'E.T.' That's their storyline." 
That depiction was initially in contrast to the atmosphere that older characters encountered. Ross continued, "The adults are in 'Jaws' and 'Close Encounters' and then the teens are in 'Nightmare on Elm Street' or 'Halloween.' But, this year, we don't have the kids. We can't do 'The Goonies' anymore. And so, suddenly, we're leaning much harder into that horror movie territory that we love."
Now that the kids are grown up — at least in real life, that is — gravitating toward the horror elements of the series sounds like a delightfully sinister idea.
The child characters aren't kids anymore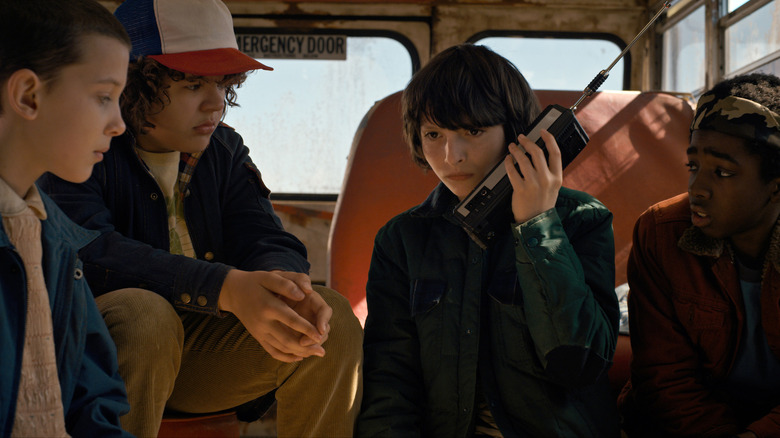 Netflix
Creating a TV series, especially one revolving around child actors, isn't easy. That really rings true when the show isn't only intended for younger audiences. Not only did this factor make it difficult to get "Stranger Things" greenlit, as they explained to Rolling Stone, but it also meant that the child actors at the center of their story would inevitably age out of their roles. This aspect can, at times, be painfully obvious. Suffice it to say, the children actors on "Stranger Things" are no longer kids.
Finn Wolfhard, who plays Mike, will be 19 years old when Season 4 premiers. Millie Bobby Brown, who shines as Eleven, will be 18. Gaten Matarazzo, who stars as Dustin, will be 19. Sadie Sink, who burst onto the scene in Season 2 as Max, will be 20. Caleb McLaughlin, who stars as Lucas, is the oldest of the once child actors, will be 20. Noah Schnapp, who plays Will, is the youngest of the bunch at 17, while Joe Keery, who plays heartthrob Steve Harrington, will have turned 30 by the time Season 4 is released.
In a 2017 interview with The Hollywood Reporter, creators Matt and Ross Duffer were asked if the kids' aging put pressure on them to work at a certain pace. "It's better to adjust the narrative to fit the ages than to try to rush the process," Ross said. "Even if I had the choice to freeze them in time, I wouldn't," Matt chimed in. "We don't want to be repeating ourselves. This show is going to naturally evolve and feel different year to year, and that to me is a good thing."
Is Hopper still alive?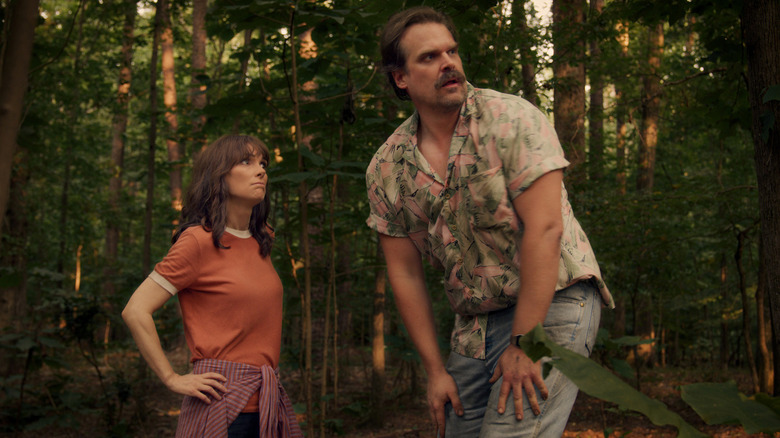 Netflix
Jim Hopper is a complicated character who quickly became a fan favorite in Season 1. He's the hero of the town and, in a way, a father figure to not just the children of the series but the townspeople as well, and Hawkins would be lost without him. However, if the Season 3 finale is any indication, the fictional town won't have its rock for the foreseeable future as he appeared to have met his demise. Luckily, appearances can be deceiving, as Hopper has already been shown in a trailer for the upcoming season -– alive, with a shaved head, and in Russia.
In February of 2020, Netflix gifted viewers with a present consisting of a "Stranger Things" teaser captioned "From Russia with love." Though it doesn't look like his circumstances are great, Hopper is revealed during the teaser. If Hopper has a pulse, he's likely going to cause some damage to the bad guys at some point, despite being imprisoned in Russia.
What about Billy?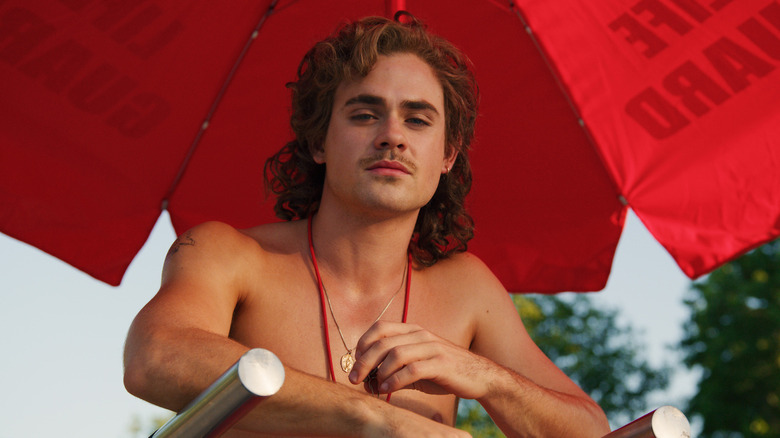 Netflix
Billy was in pretty bad shape at the end of Season 3. Not only did the Mind Flayer control him all season, but he went head to head with the Upside Down creature and lost. In a tragic scene, his sister Max witnesses his demise. However, in a genuinely heroic turn of events, Billy, who had been a villain ever since his introduction to the series, switches teams and saves Eleven. Many viewers rightfully hope he's still alive as he brings bravado, not to mention a truly amazing mullet, to the screen -– but getting stabbed multiple times by a creature as lethal as the Mind Flayer is likely fatal. It wouldn't be out of the question for the Russians to have taken him, but that's based purely on speculation.
Fan theories and leaps of faith aside, viewers will have to wait for the fourth season to arrive to find out if Billy really is dead — although we're not holding our breath.
The characters will be scattered across four different locations
As audience members have come to know and love, "Stranger Things" tends to split its cast up, with each group trying to solve its own mystery — although they often eventually meet up in an epic finale. As for Season 4, the characters will be scattered across four different locations.
Netflix has already announced the characters will have to face the events of Season 4 apart from each other (at least at first, we assume) as our heroes will find themselves in Russia, the Creel house, the lab, and California. It remains to be seen what each group of characters will face, but fans can be sure that each location will have its share of dark and deadly challenges. Given that the characters are spread out all across the globe, it'll be interesting to see how exactly they all meet up in the end.
Is there a trailer for Stranger Things Season 4 Part 1?
For "Stranger Things" fans who are having a tough time waiting for May 27 to arrive, there is a teaser trailer available (per the "Stranger Things" YouTube page) to obsessively view and look for clues. The trailer itself focuses mainly on Eleven and her adjustment to a new life in California. It is narrated by Eleven in the form of a letter to Mike Wheeler, though the text of the letter is far more hopeful and positive than what the audience is shown. However, the last 20 seconds presumably show off more of the action-heavy bits to come, including explosions and what seem to be military vehicles and helicopters.
It's still unclear from this trailer exactly what direction Season 4 of "Stranger Things" will go in, but thankfully, Netflix has offered plenty of other teasers that help fill in the gaps for fans — even if they do raise some all new questions.
Making sense of the Eleven teaser trailer
Netflix has done a wonderful job of releasing teaser trailers to get fans amped for the upcoming season. Not too much has been revealed, yet each contains just enough information for fan theories to run wild while posing new and interesting questions for Season 4. In a teaser trailer titled "Eleven, are you listening?" a man who appears to be Dr. Martin Brenner, aka Papa, walks through the lab while a voiceover speaks to a group of children who presumably have powers similar to Eleven. The camera eventually makes its way to a door with "11" on it and Papa asks, "Eleven, are you listening?" A spooked Eleven opens her eyes.
It remains to be seen if this is a flashback featuring previously unreleased information or if the doctor is up to his old tricks. No matter what the teaser trailer represents, the creators have our attention.
Other teaser trailers that have been released
To put it lightly, Netflix has released a healthy serving of teaser trailers — even beyond those that offer hints regarding the fate of Hopper and Eleven's mysterious past. 
Some of these trailers offer more substance than others, but they all paint a compelling picture of what is to come. A sneak peek trailer released in the summer of 2021 shows a series of seemingly random events from previous seasons of "Stranger Things" intercut with clips from Season 4. There's also a trailer titled "Creel House," which features a happy family moving into a house before unexplainable supernatural events begin to terrorize the family. Flash forward to the present, where we see some of the mainstay characters of "Stranger Things" enter a beaten up and abandoned house looking for mysterious clues which may lead them to the Upside Down.
These teasers give viewers a glimpse at what's ahead without giving too much away. We're just as excited as everyone else to uncover these clues and the future events alongside the "Stranger Things" characters.
What are the episode names for Stranger Things Season 4?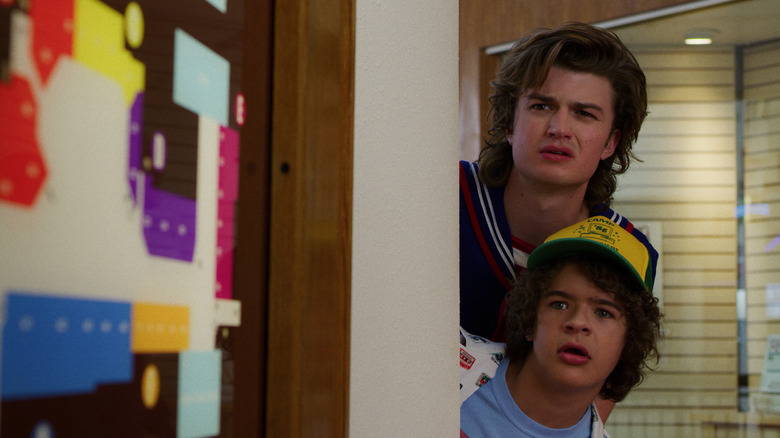 Netflix
Though Season 4 will be split into two parts, Netflix was kind enough to reveal all nine episode titles for the upcoming season in the "Title Tease" trailer. They are "The Hellfire Club," "Vecna's Curse," The Monster and the Superhero," "Dear Billy," "The Nina Project," "The Dive," "The Massacre at Hawkins Lab," "Papa," and "The Piggyback."
Despite all the titles being intriguing, it's interesting that episode 4 is titled "Dear Billy" since he's presumed dead. That said, it's not out of the question for some flashback scenes of Billy to occur, though that's based on speculation. Of course, "Papa" is the name of the doctor who raised Eleven, and viewers were already gifted with a teaser trailer featuring the mad scientist. Beyond that, fans are already debating what the title of the Season 4 premiere episode, "The Hellfire Club," might mean for the rest of the season.
Is this the final season?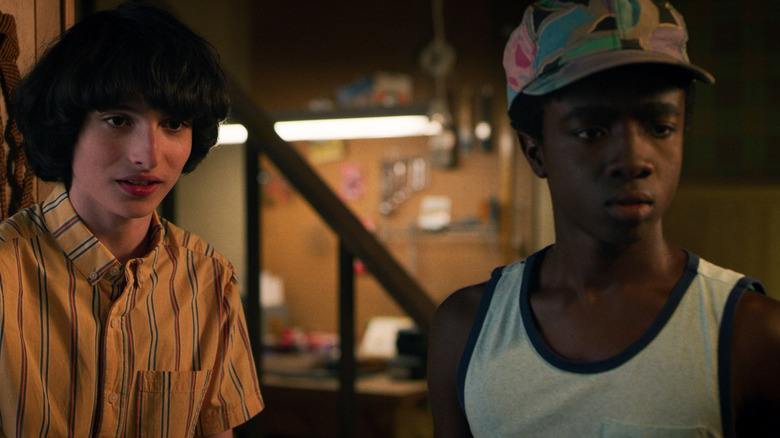 Netflix
There's good and bad news to this question. First and foremost, no — this isn't the last season of "Stranger Things." However, Season 5 is scheduled to conclude the Upside Down saga.
In a 2022 interview with Screen Rant, Shawn Levy gave his reasons for the show's inevitable ending. "We wanted to only tell as much story as the brothers saw and feel with clarity," Levy said. "It's been clear for a while that they know exactly where we're headed and this is the arc. We wouldn't want to stick around for one moment beyond that vision and the clarity of that voice."
It's not easy saying bye to this uber-popular series, but characters like Eleven, Hopper, and the rest of the "Stranger Things" family deserve a happy ending. They have, by all standards, been through an awful lot. With that said, the Duffer brothers teased other stories to tell in the "Stranger Things" universe in an open letter to fans shared by Netflix. Perhaps spin-offs or films will be on the horizon? After all, "Stranger Things" is a massive hit for Netflix, and it would be shocking to see the streaming giant step away from this franchise entirely.
What the Duffer brothers are saying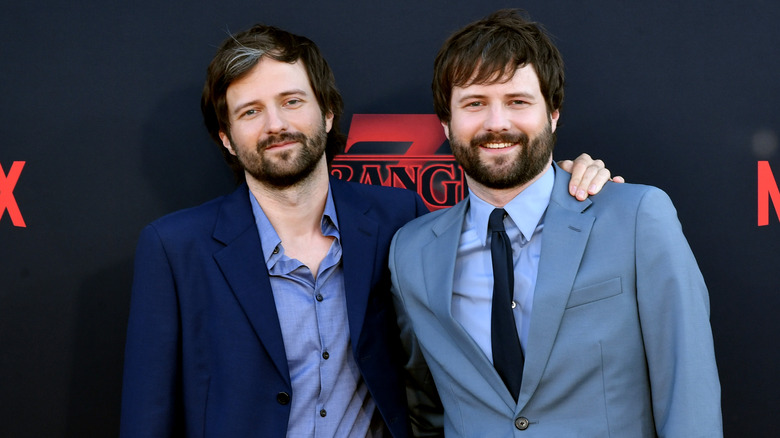 Amy Sussman/Getty Images
As mentioned in the Duffer brothers' letter shared by Netflix, they might be ending this series after five seasons, but that doesn't necessarily mean the franchise is coming to an end. If anything, it sounds like this is just the beginning, although repeating the success, creativity, and intrigue of the inaugural series will take some magic.
"There are still many more exciting stories to tell within the world of 'Stranger Things;' new mysteries, new adventures, new unexpected heroes," the Duffer brothers said in the letter. "But first we hope you stay with us as we finish this tale of a powerful girl named Eleven and her brave friends, of a broken police chief and a ferocious mom, of a small town called Hawkins and an alternate dimension known only as the Upside Down. As always, we are grateful for your patience and support."
Season 4 isn't the end, and if this letter is an indicator, perhaps other stories in this universe will eventually make their way to the masses. Volume One will hit Netflix on May 27, and Volume Two will be released shortly after on July 1. Season 4 is almost upon us, and we can't wait to see what's in store.