Is War Horse Based On A True Story?
Starring Jeremy Irvine, Tom Hiddleston, and Emily Watson, "War Horse" is a heartwarming drama about an English boy and his beloved horse. The movie centers around Albert, a young man who develops a close relationship with his horse, Joey. Their bond is put to the test when World War I breaks out and Joey is sold to the army, forcing the pair to separate. From here, "War Horse" follows Albert and Joey as they attempt to survive and reunite over the course of the war. "Sherlock" star Benedict Cumberbatch also appears in "War Horse" as Major Jamie Stewart, a role considered by some to be one of the actor's best on-screen performances. 
Directed by Steven Spielberg, the film used a combination of real horses, animatronics, and special effects to bring Joey and the other equine characters to life (via Wired). These special effects were particularly useful during a scene when Joey gets caught in barbed wire in the middle of No Man's Land, a sequence that would not have been possible to film with a live animal. 
Since the book includes depictions of the first World War, it makes sense to wonder whether or not the film is based on a true story. We have the answer below.
War Horse is based on a novel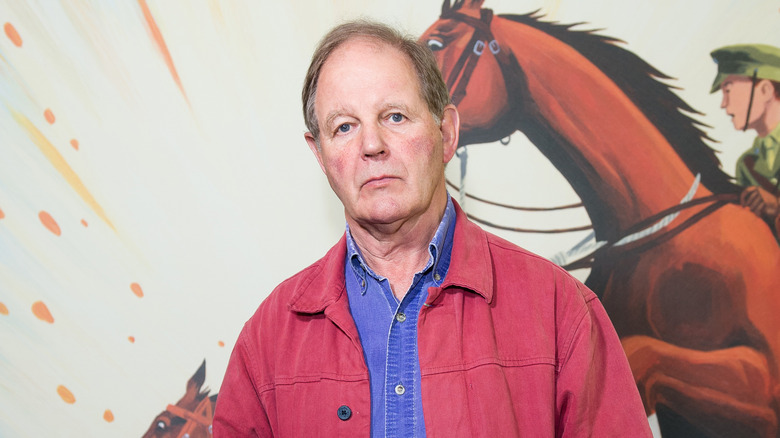 Jeff Spicer/Getty Images
"War Horse" is based on the novel of the same name by British author Michael Morpurgo. While the book is set against the backdrop of World War I, the characters and stories depicted in the book are fictional. However, the plot of "War Horse" was, indeed, inspired by a real encounter. 
In 1976, Michael Morpurgo and his wife founded Farms for City Children, a charity that gives kids the opportunity to immerse themselves in rural life (via Farms for City Children). During one of these excursions, Morpurgo met a boy named Billy who struggled with stuttering. Morpurgo later found Billy in the stables chatting away with a horse. The boy's stutter had disappeared. The author described the magical moment to The New York Times: "All the fear had gone, and there was something about the intimacy of this relationship, the trust building up between boy and horse, that I found enormously moving, and I thought: Well yes, you could write a story about the First World War through the eyes of a horse, and yes, the horse didn't understand every word, but she knew it was important for her to stand there and be there for this child."
Morpurgo was further inspired to write "War Horse" after encountering World War I veterans who discussed their experiences with him. These men are thanked in the book's dedication. 
Despite the film's incredible success, Steven Spielberg was actually not the first to adapt "War Horse."
"War Horse" stage and film adaptions
Before "War Horse" spawned a hit film, it was adapted for the stage by playwright Nick Stafford (via War Horse On Stage). The play is a sight to behold, using elaborate and eerily convincing puppetry to bring the titular horse to life. Using two puppets to portray Joey's transition from youth to adulthood, his growing bond with Albert, and his struggles throughout the war, the horse is so realistic that it's easy to forget it's an inanimate object being controlled by a highly skilled team of puppeteers. Both the book and the stage adaptation heavily influenced Steven Spielberg when it came to characterizing Joey in the film. 
"This is much more of a real story of the connections that, sometimes, animals achieve and the way animals can actually connect people together. That's what Joey does. Joey's miracles are really in his great sense of optimism and hope and all the people he encounters and brings something new into their lives," Spielberg told Collider.
Joey definitely endeared himself to viewers. The film was another hit for Spielberg, raking in over $177 million at the box office worldwide and earning six Oscar nominations (via IMDb). Hopefully the animal actors in the film got a decent payout! If you're interested to find out what happened to Albert and Joey after the events of "War Horse," you can read about the pair in the book's sequel, "Farm Boy."