Tom Hanks' Lowest-Rated Movie You Probably Forgot Existed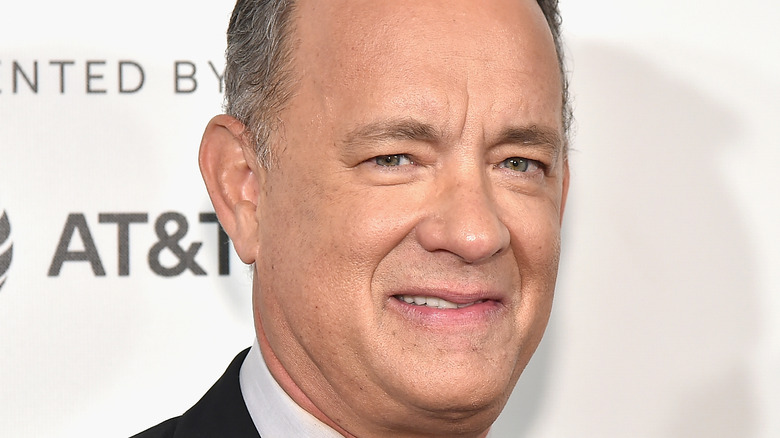 Theo Wargo/Getty Images
Tom Hanks is one of Hollywood's most recognizable and beloved faces. Many of his roles, such as Forrest Gump and Woody in "Toy Story," have become touchstones of American culture. Whether Hanks is charming audiences in romantic comedies like "Splash," "Sleepless In Seattle," and "You've Got Mail," or bringing life to true stories in films like "The Post," "Saving Mr. Banks," and "Captain Phillips," this two-time Oscar Winner has captured our hearts on the silver screen time and time again. 
However, even though his name is almost synonymous with success, there are several Tom Hanks movies that have faded into obscurity over the years. While popular titles like "Big," "The Green Mile," and "A League of Their Own" have stood the test of time, other Tom Hanks pictures like "The 'Burbs," "Joe Versus the Volcano," and "The Bonfire of the Vanities" are far less notable, if they ever garner mention today. In fact, Tom Hanks appeared in one movie that was so poorly reviewed — despite the inital buzz with which it was announced — that today, you might not even remember it. 
Tom Hanks plays a tech company CEO in The Circle
The film in question is a dystopian thriller titled "The Circle." 
At a glance, "The Circle" has all the makings of a good movie. Based on the novel of the same name by Dave Eggers, the film stars former "Harry Potter" actress Emma Watson as Mae, a young woman who accepts a job at a fast-growing social media company called The Circle. Owned and operated by Eamon (Tom Hanks) and Tom (Patton Oswalt), Mae quickly moves up the ranks as the company develops more invasive technology. With themes of privacy, technology, and accountability, "The Circle" premiered in the United States in April 2017, and with a stellar cast, quality source material, and a topical premise, "The Circle" definitely had blockbuster potential. 
However, when the reviews came in, critics weren't impressed. The film is Tom Hanks' lowest rated movie on Rotten Tomatoes, with reviewers giving it a measly 16%. When it came time to review the film, critics did not hold back. 
The Circle received negative reviews
For some critics, the film's plot was too transparent. "There is a superficial smartness to the early scenes in 'The Circle' that soon gives way to very obvious plot manipulations," said Dan Callahan of The Wrap. "The main problem with 'The Circle' is that the evil of the tech company is made so obvious right from the start." 
Other viewers had issues with the movie's main message. "'The Circle' literally plays as if it has been written by a bunch of elites that have spent a little bit too much time on their phones, decided that the world has become too dependent on technology, and now they're going to make a film that saves people from themselves," wrote Gregory Wakeman at Cinema Blend. 
Much of the criticism rings true. It's immediately evident that the titular tech company is up to no good, especially with their staunchly held beliefs regarding total transparency. "The Circle" presents a criticism of social media so obvious that it makes the film's main themes, however interesting they might be, fall flat. Even though the film clearly didn't have much success with viewers, it wasn't quite as much of a disaster at the box office, taking in over $40 million worldwide against a budget of $18 million (via Box Office Mojo). 
Overall, one bad movie doesn't destroy a career like that of Tom Hanks. He's so dedicated to his craft that he's powered through illness to complete projects. Even if "The Circle" wasn't very memorable, there are plenty of other fantastic movies in Hanks' filmography, and every actor has at least a few flicks that don't pan out.