Is Brokeback Mountain Based On A True Story?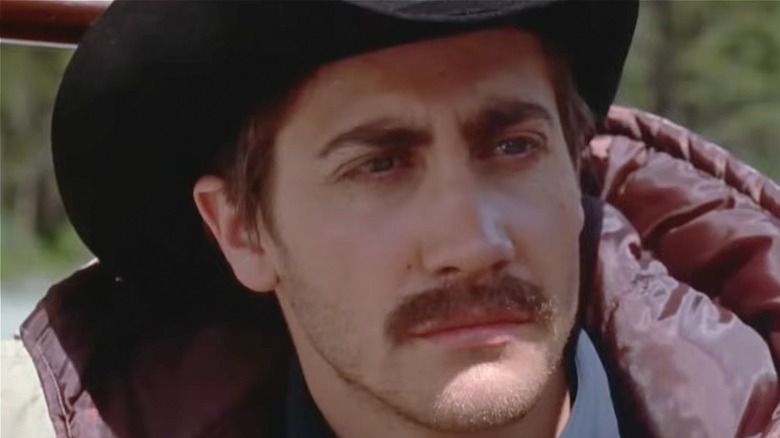 Focus Features
"Brokeback Mountain" received critical acclaim when it was released in 2005 and continues to be one of the most beloved films from the early 21st century. The neo-western featured career-highlight performances from lead stars Heath Ledger and Jake Gyllenhaal, resulting in Academy Award nominations for both. While the drama didn't win Best Picture — it lost out to "Crash"— Oscar voters were surveyed in 2015 to see who they would have voted for, and they deemed "Brokeback Mountain" that year's retroactive winner (via The Hollywood Reporter).
The tortured romance begins in the early '60s and takes place in the beautiful mountain range of Wyoming. The Ang Lee-directed film focuses on Ennis del Mar (Ledger) and Jack Twist (Gyllenhaal), two ranchers who are hired to herd sheep for the summer. After some time, they begin a complex emotional and sexual relationship. Summer passes and they both say goodbye and reluctantly start their own families. As the years go by and their marriages fall apart, the men continue to meet on fishing trips to be with each other.
The film's immense realism in depicting homosexuality in the west, as well as its rich and intricate details of cowboy culture, have led many audience members to wonder if "Brokeback Mountain" is based on true events. Here's what really inspired the film.
Brokeback Mountain started off as a short story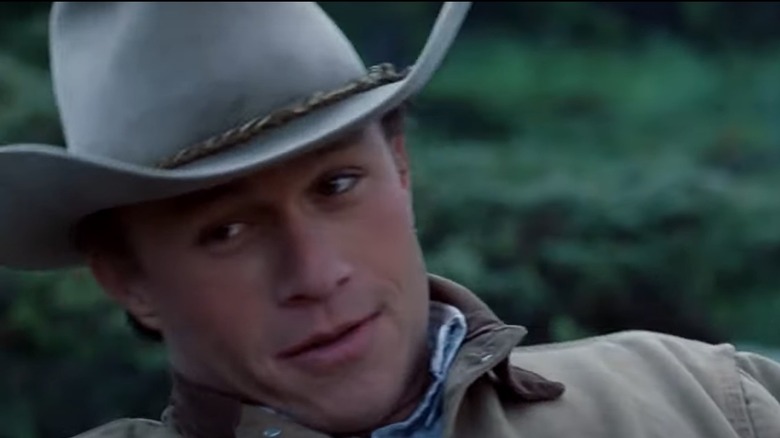 Focus Features
The tragic story of "Brokeback Mountain" isn't based on true events but is, in fact, adapted from a short story of the same name. Written by Annie Proulx, the short story first appeared in the New Yorker in 1997. The meditation on love and grief was immediately met with praise, winning Proulx a series of acclaims, including the National Magazine Award for Fiction.
Critics heralded the short story for its realism and depiction of Wyoming, but the work appears to be wholly fiction. In an interview with the Associated Press in December of 2005, a few weeks after "Brokeback Mountain" released in cinemas, Proulx did not want to discuss the origins of Ennis (Ledger) and Twist (Gyllenhaal).
In a separate interview earlier that December, Prolux was asked what inspired the story of the two tragic lovers. "The story was not 'inspired,' but the result of years of subliminal observation and thought, eventually brought to the point of writing," the Pulitzer-winning writer told Planet Jackson Hole, a Wyoming-based outlet. Proulx continued by discussing how rural North America and regional cultures impact her work and how she "watch[es] for the historical skew between what people have hoped for and who they thought they were and what befell them."
There's no evidence to suggest that Lee's award-winning adaptation of "Brokeback Mountain" is based on a true story. Rather, it appears Proulx's source material is based on her ruminations and observations of the culture that can be found in the rural west.