Garcia's Best Episode Ever On Criminal Minds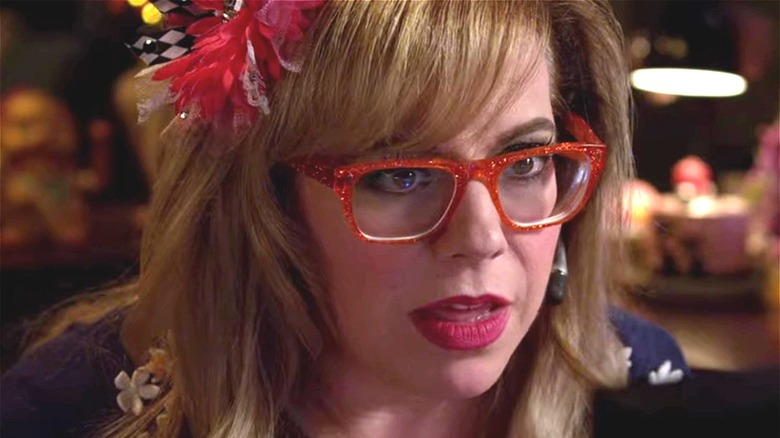 CBS/Netflix
"Criminal Minds" is an interesting series, and that's not merely an assessment of its storylines alone. Though it could easily blend together with the countless other crime procedurals that have graced the small screen over the years, it somehow managed to stand out from the rest during its 15 season run. This is likely due to its approach to, as the title suggests, thoroughly analyzing the minds of heinous criminals to determine why they do the awful things they do, instead of what most similar shows do, which is simply addressing their crimes and sending them off to jail.
Of course, this extensive investigation wouldn't be possible without a skilled crew capable of learning about these "unknown subjects" and inevitably bringing them to justice. Some of the most prominent names to become TV icons via the FBI's Behavioral Analysis Unit include Aaron Hotchner (Thomas Gibson), Spencer Reid (Matthew Gray Gubler), and Jennifer "JJ" Jareau (A.J. Cook), though glossing over the "Criminal Minds" legacy of Penelope Garcia (Kirsten Vangsness) would be a disservice to the series mainstay as well as the actress behind her.
After spending Season 1 as a recurring presence, Garcia earned her place as a main cast member on "Criminal Minds" throughout the rest of its tenure. Known for her colorful outfits, extensive technical knowledge, and her penchant for marching to the beat of her own drum, she understandably stood out from her fellow BAU employees. As a result, she has taken the spotlight on a handful of occasions, with this specific episode standing out as arguably her best to date.
House on Fire reminds us what makes Garcia so special
CBS
"House on Fire" premiered as the 19th episode of "Criminal Minds" Season 4 and took the BAU team to Royal, Indiana. A serial arsonist had made the town their own personal burn pile, meticulously targeting locations full of people. Tommy Wheeler (Tommy Dewey) eventually takes responsibility for it all, hoping to kill his sister Tina's (Shannon Lucio) fiancé, Jason Elliott (Gary Castro Churchwell), so that they could begin a relationship of their own. She doesn't reciprocate his love, he holds her hostage, and the police and BAU take him into custody.
For this case, Penelope Garcia dug deep to learn about the Wheeler family and many of the other folks that have called Royal home. However, the further she went down this rabbit hole, the more shady things she learned about supposedly reputable people. It shakes her to her core, and she later admits to Hotchner that she's not sure if she can keep looking for the worst in people when she has lived her life determined to find the good in everyone. Somewhat apologetically, he reminds her that her efforts weren't in vain and that her ability to see people as their best selves is something she should never change.
In many ways, "House on Fire" put Garcia through the emotional wringer, enough to make her question her outlook on life. Nevertheless, she powered through, and as Reddit user EmmielDowell wrote in reference to this particular installment, "The team would have nothing without her." It just goes to show how committed she is to her job and that her cohorts have taken notice to the degree that they consider her an integral piece of the BAU puzzle. In a profession as bleak as theirs, someone like Garcia is hard to come by.