The Walking Dead Cameo You Likely Missed In Season 11 Episode 12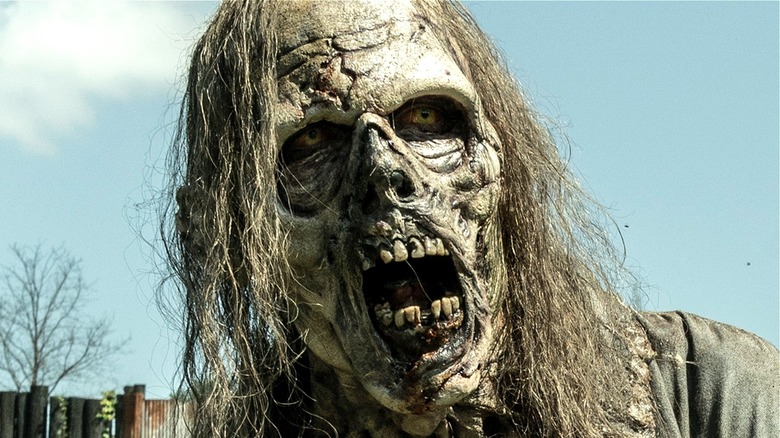 Josh Stringer/AMC
This article contains spoilers for "The Walking Dead" Season 11, Episode 12
AMC's "The Walking Dead" is shambling toward its series finale. While creative teams prepare spin-off films and several additional TV shows set in the same universe, fans of the show are trying to enjoy the here and now of watching their favorite long-running zombie apocalypse drama wind to a bloody, pulse-pounding conclusion.
During the 12th episode of Season 11B, "The Lucky Ones," Maggie Rhee (Lauren Cohan) rejects an offer from Commonwealth higher-ups that would have allowed her use of their security forces to protect Hilltop. This stirs up anger in her fellow settlers, and one, Dianne (Kerry Cahill), decides to leave Hilltop over Maggie's decision. Meanwhile, Eugene Porter (Josh McDermitt) is contending with the fallout from the revelation that the woman he believed to be his former long-distance crush, "Stephanie" (Chelle Ramos), is actually not who she claimed to be. 
With all of that going on, you might not have noticed a cameo from a very important member of the "Walking Dead" family. 
A veteran Walking Dead universe writer, director, and makeup artist had a cameo as a walker
You might not recognize Greg Nicotero's face, but if you're a "Walking Dead" fan, you're bound to recognize his work. A long-time special effects makeup artist who's been crafting walkers since the show's inception, he's become well-known for his gory, gristly visages. A video released to the official "The Walking Dead" YouTube page shows Nicotero in the makeup chair experiencing a time-lapsed transformation from mortal man to rotting creature. Per ComicBook.com, this was in preparation for Nicotero to appear as one of the walkers who meet their doom at the hands of the Commonwealth security force.
Nicotero is a veteran of the motion picture and television industry. Per his IMDb credits, Nicotero's first major makeup and special effects gig was as an assistant to fellow horror effects legend Tom Savini on the film "Day of the Dead." He established KNB Efx Group in 1988 with fellow effects artists Howard Berger and Robert Kurtzman, per their official website. The company has done makeup effects for films as disparate as Disney's "Narnia" series and "Army of Darkness."  
When it comes to "The Walking Dead" world, Nicotero not only provides effects makeup artistry for the main series, "Fear the Walking Dead," and "The Walking Dead: World Beyond," but he has also worked as a writer and director for the franchise. He has a story-by-credit on six installments of "The Walking Dead: Webisodes," and he's directed 37 episodes of the main series. Per Digital Spy, he is also slated to direct the first of three announced "Walking Dead" films. 
In addition, it's not the first time he's been transformed into a walker, as he's credited with several other undead appearances on the series going back to Season 1.