The Only American Pickers Star Who Has Been In Almost Every Episode
For over a decade now, History's "American Pickers" has been captivating audiences with cross-country treasure hunts and amazing stories from collectors across the U.S. But out of everyone who appears in the show, including original "pickers" Mike Wolfe and Frank Fritz, who actually spends the most time on screen?
Debuting in 2010, "American Pickers" is a reality series that grew to have a huge following, but it has always remained rooted in its small beginnings. Wolfe and Fritz, along with fellow worker Danielle Colby, are the show's only big-time stars from the start. Fritz is later replaced by Wolfe's brother Robbie, but fans are reportedly irked by the new cast member's arrival (via Outsider). The original trio was given 12 episodes that first season, with millions of people tuning in (via The Futon Critic). Fast-forward to Seasons 19 and on — including the ongoing Season 23 — and "American Pickers" is getting over 20 episodes a year and continually high ratings, with a slight drop after Fritz's departure (via The Sun).
Looking back, it's easy to guess who may appear in the most "American Pickers" episodes over the years. But what many people may not know is that this person has actually managed to show up in nearly every single episode.
Mike Wolfe has been in more American Pickers episodes than anybody else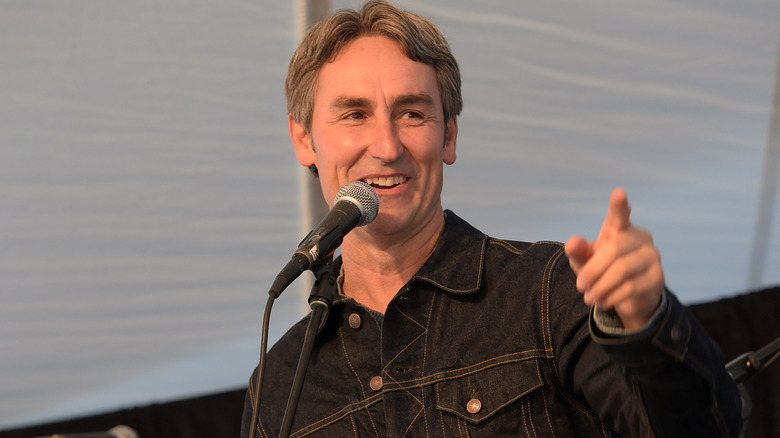 Rick Diamond/Getty Images
According to IMDb, Mike Wolfe has appeared in 343 of the show's 344 episodes. The next closest star in line is Danielle Colby, who has been in 341 episodes. Frank Fritz, meanwhile, has 307 episodes under his belt.
"When we first started airing the show and making the show, I was very green at it," Wolfe recalled in a recent interview with WGN Radio. Describing some of the early difficulties he faced with "American Pickers," Wolfe said: "I was pressured into in some ways trying to make it more about the money. And then finally the network understood through social media, and people responding to the show, that it doesn't have to be about the money and that's when it really became more about [stories, discovery, and relationships]."
With Fritz's 2021 departure, most of the weight of "American Pickers" has been put on Wolfe's shoulders, and some viewers believe he needs Fritz back to help make things whole again. "American Pickers is Mike and Frankie. Not Mike and Robbie. Not Mike and Danielle," tweeted one viewer in January, continuing, "I like Robbie but he's not Frank." Season 23 of "American Pickers" is currently airing on History.