The Spider-Man Movie That Made The Least Amount Of Money In Theaters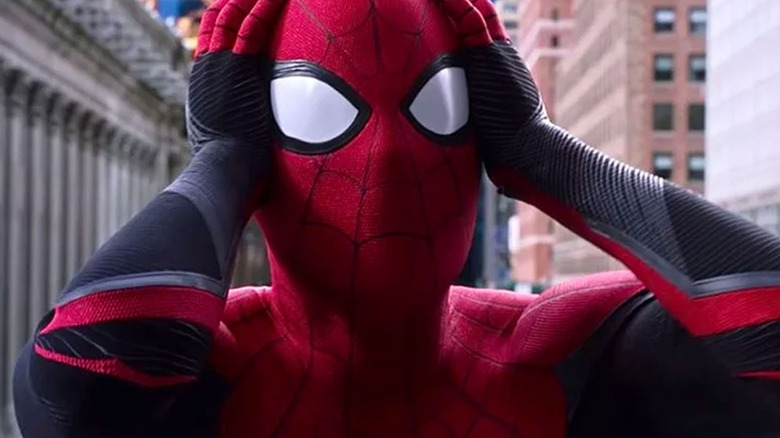 Sony Pictures
"Spider-Man: No Way Home" is now the sixth-biggest box office movie of all time (via Box Office Mojo). At just under the $2 billion mark, it's more of a surprise that a film focusing on the beloved Web-Head hasn't gotten here sooner. In fact, the closest runner-up featuring Spider-Man was its predecessor, "Spider-Man: Far from Home." Understandably still riding on the hype from "Avengers: Endgame," it made over $1.1 billion, putting it in the 26th spot on the lucky list of big hitters.
With that in mind, though, which among the list of web-swinging spectacles didn't entirely break the bank as much as the rest? We've had nine films that tell the story of a specific Spider-Man, and one of them had to take the hit when those box-office receipts came tumbling in. Incredibly, it still stands as one of the most critically acclaimed films of the franchise and even won an Oscar.
Spider-Man: Into the Spider-Verse is the least successful Spider-Man film ever
Yes, it appears that not enough people took a leap of faith, and as a result, the animated film "Spider-Man: Into the Spider-Verse" earned the least at the box office compared to any other Spidey-centric movie. With a meager $375.5 million (via Box Office Mojo), it earned just over half of what the second-lowest-grossing "Spider-Man" movie, "The Amazing Spider-Man 2," hauled in ($709 million), which is a bit of a surprise given where fans and critics hold it in the franchise.
While the earnings might not reflect it, "Into the Spider-Verse" is the highest-ranked "Spider-Man" film on Rotten Tomatoes, with a score of 97%, and is one of the only films in the franchise to have walked away with an Oscar as well (via IMDb). In 2019, the film received the Academy Award for best animated feature film thanks to its eye-popping imagery. Hopefully, its sequel, "Spider-Man: Across the Spider-Verse – Part One," might bring Miles and the rest of the other Spider-folk higher up the ranks when it arrives in theaters on October 7.