The Aladdin Easter Egg You Might Have Missed In Moana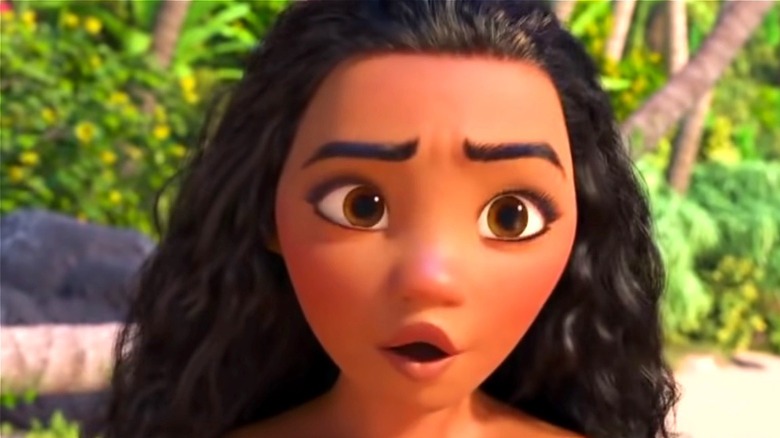 Walt Disney Studios/Youtube
Walt Disney Animation is no stranger when it comes to sprinkling little secrets in their films for eagle-eyed fans to catch. With Disney's history spanning over almost ten decades, Easter eggs — from the Pizza Planet truck in Pixar films to references to their past and future projects — only continue to grow. As a result, even the most avid fan might find their head spinning as they try to find them all.  
Disney kept the tradition going in the 2016 flick, "Moana." The studio's 56th animated feature, which follows the titular character on her way to discover her connection to the ocean and restore the heart of the goddess, Te Fiti, was highly praised for its music, effects, and story. It even received two Oscar nominations in 2017 for Best Original Song and Best Animated Feature, though it lost the latter to another Disney film, "Zootopia." Viewers might have not noticed that during one of "Moana's" songs, there is a nod — or two, if you pay close attention to the lyrics — to the 1992 classic, "Aladdin."
Tamatoa has the Genie's lamp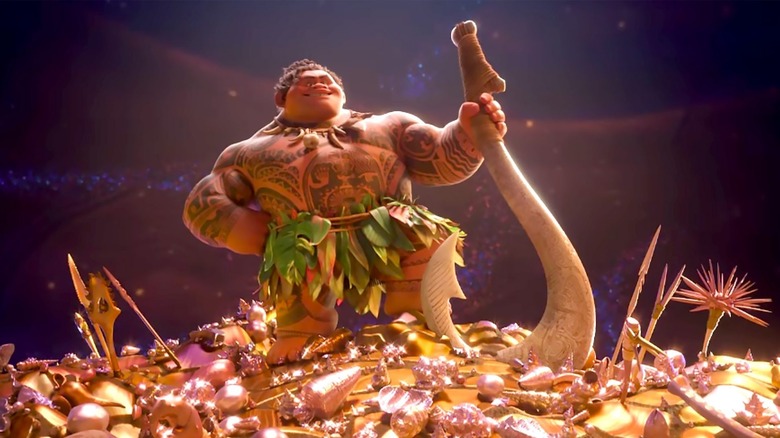 Walt Disney Studios/Youtube
The "Aladdin" cameo comes when Moana and Maui head to the lair of the glamorous crab, Tamatoa, to retrieve Maui's magical hook. Moana manages to distract Tamatoa into singing about himself, and while he does that, Maui jumps his back. Tamatoa's back is littered with shiny spoils he was acquired over the years, and instead of focusing on Maui, fans should shift their attention to bottom left corner where they will see something familiar. Nestled amongst the treasure is Genie's Lamp, first seen when the merchant prepares to tell the audience the story of the street rat. It can only be seen for a moment, but the cameo is well-placed, and has viewers wondering how Tamatoa got his hands on Genie's "itty-bitty living space." 
Furthermore, there may be another allusion to "Aladdin," heard within the lyrics of Tamatoa's song. The villain shows off his beauty and even says, "Watch me dazzle like a diamond in the rough." Though this could simply be a way to emphasize Tamatoa's narcissism, it makes sense that the writers would refer to the phrase often used to describe Aladdin, especially since Genie's Lamp is also present during the performance. Whatever the case, this scene proves that Easter Eggs are a big part of Disney's culture, and it's unlikely that they will stop any time soon.