William Hurt's Career Left The Actor With A Massive Net Worth At His Death
20th Century Studios
The world of Hollywood is still reeling from the news of actor William Hurt's death at the age of 71. The successful film star's son, Will, confirmed his father's passing on Sunday in a statement provided to Deadline. In the aftermath of the actor's death, a number of notable stars took to social media to remember him. 
In a post to his Twitter page, "Full Metal Jacket" actor Matthew Modine fondly recalled his time working with Hurt on the 2011 HBO film "Too Big To Fail" and called the late actor "a consummate professional." Meanwhile, "That '70s Show" actor Topher Grace shared a photo of himself and Hurt on the set of the same film. In his tweet, Grace said, "Grateful that I had the opportunity to work with William Hurt. I admired his acting so much and watching his commitment in person was remarkable. My thoughts are with his family." 
Similarly, actor and comedian Dane Cook tweeted a picture of himself with Hurt and Kevin Costner on the set of the 2007 film "Mr. Brooks." Cook said, "He was delightfully sinister in this role & a lovely guy when the cameras stopped. What a career. What a remarkable body of work."
Considering Hurt's legacy as a titan of the industry, some fans may be curious about his net worth.
Websites estimate Hurt's net worth at anywhere from $8 to $15 million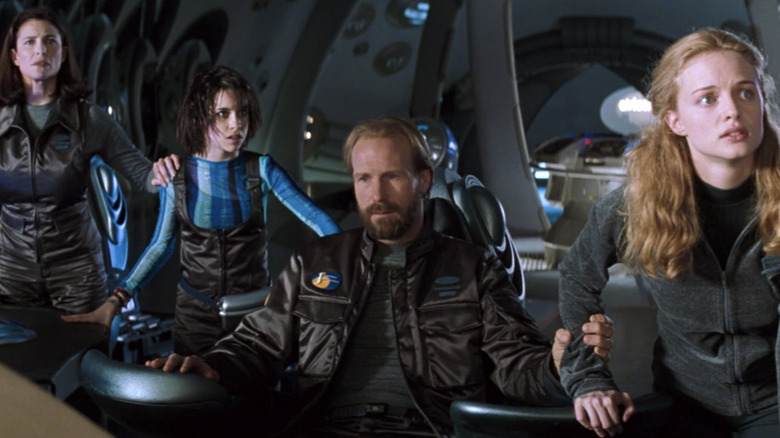 New Line Cinema
Of course, the majority of online estimates about any given actor's net worth are largely (or entirely) based on simple conjecture (via New York Times). Most of the few articles we could find related to Hurt's net worth were no exception. CelebrityNetWorth claims that Hurt might have been worth about $8 million at the time of his death, but the website provides little to no actual justification for such a number. Meanwhile, TheRichest estimates that Hurt could have been worth a whole $15 million (nearly double CelebrityNetWorth's guess), but similarly fails to provide any financial information whatsoever to support it.
However, Hurt's financial history is notable in that we are actually not entirely in the dark about his finances. In 1989, Hurt was sued by a former romantic partner named Sandra Jennings, who claimed she was entitled to a share of his earnings as a common-law spouse (via Associated Press). According to information from the court case, Hurt's former partner estimated that he could have earned anywhere between $5 to $10 million between the years of 1981 and 1989 (via New York Times). Ultimately, the judge ruled that Hurt did not owe Jennings any money (via Los Angeles Times), so it is unclear whether these estimates were accurate. Additionally, it should be noted that these numbers from many decades ago are certain to be outdated by this point in time.