The Role You Might Not Know Tom Hanks' Daughter Played In Forrest Gump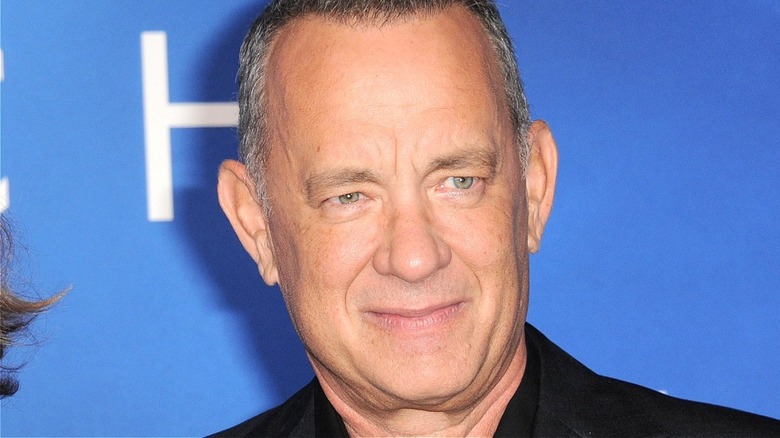 Tinseltown/Shutterstock
Tom Hanks is one of the most recognizable and accomplished actors in the world, with an acting and producing resume stretching back more than 40 years. All the films in which he has acted in have earned more than $9 billion at the worldwide box office in total (via The Numbers). After a few television appearances, including a main role in "Bosom Buddies," Hanks got his first starring film role as Rick Gassko in the 1984 comedy "Bachelor Party." 
From the late '80s through the early 2000s, Hanks had a staggering string of near-consecutive hits, including "A League of Their Own," "Philadelphia," "Saving Private Ryan," and "Cast Away" (via IMDb). The four "Toy Story" movies alone have grossed more than $1 billion in the United States and $2 billion worldwide (via Forbes), and his trophy case holds two Oscars, seven Emmys, five Golden Globes, and a host of other honors for his acting, directing, and writing efforts (via IMDb).
Hanks won consecutive Best Actor Oscars in 1994 and 1995 for "Philadelphia" and "Forrest Gump," but the latter was a bigger box office hit, earning more than $600 million worldwide, not adjusted for inflation (via The Numbers). In fact, "Forrest Gump" is arguably Hanks' most well-known and beloved movie, as the heartwarming story of Gump's charmed life has remained a fan favorite ever since its release, with Vogue France declaring just this past January that it's "still a must-watch film." Despite this, some fans might not know that "Forrest Gump" harbors a hidden Hanks family surprise in one of the movie's early scenes.
Elizabeth Hanks rode the school bus with young Forrest and Jenny
"Forrest Gump" follows the titular character through a fantastic series of historically and personally significant encounters with the likes of Elvis Presley, John F. Kennedy, John Lennon, and Abbie Hoffman, with the romance between Forrest and his lifelong sweetheart Jenny Curran (Robin Wright) at the center of the story. 
On their first day of school, a young Forrest — played in flashback scenes by Michael Conner Humphreys — is refused a seat by four of his new classmates before young Jenny (Hanna R. Hall) offers him the spot next to her. The third of these students, a freckled girl with a faraway gaze in her eyes, is none other than Hanks' 12-year-old daughter Elizabeth. Elizabeth's character — credited only as "School Bus Girl" (via IMDb) — doesn't speak, but simply sends Forrest away with a shake of her head. Two years later, Elizabeth also joined her dad for a blink-and-you'll-miss-it appearance in "That Thing You Do!" as "Bored Girl in Dress Shop." 
As an adult, Elizabeth appeared in two short film productions — 2015's "Anchoraged" and 2019's "City Kitties" — and voiced Angelina in two episodes of the animated series "Big City Greens" (via IMDb). Hanks' only daughter is also a published writer and is currently working on a children's novel (via Creative Authors). While she didn't end up following in her father's acting footsteps, Elizabeth was at least lucky enough to spend time with him on set when he was at his busiest and most in-demand.