Sarah Paulson Drops Major American Horror Story: Cult Spoiler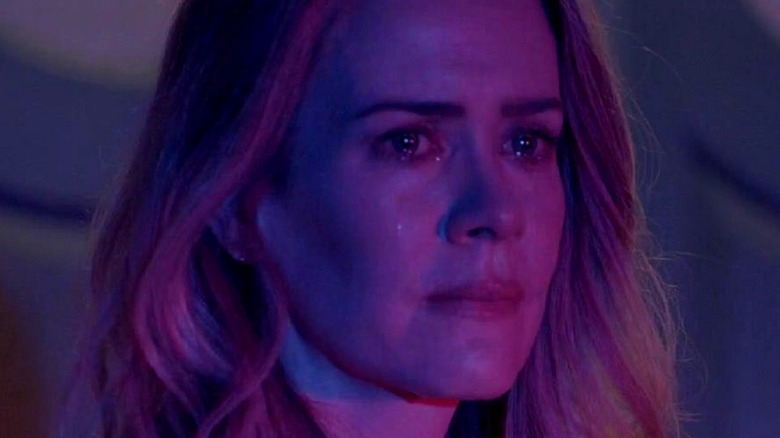 It looks like Sarah Paulson will be part of a love triangle in the upcoming American Horror Story: Cult. The actress recently revealed (via Vulture) that her character in the next installment of the anthology series is married to Alison Pill's character, something which should provide an interesting wrinkle in what creator Ryan Murphy describes as "a love story for the ages" between Paulson's character and Evan Peters' character.
Paulson's character on the newest installment will be named Ally Mayfair-Richards, while Pill's is named Ivy Mayfair-Richards, so it isn't all that surprising that the two are an item. However, if the "love" Murphy was referring to between Ally and Peters' blue-haired Kai is romantic love, it is sure to result in quite a bit of drama for the trio throughout the season. 
AHS: Cult will bring in a few new cast members to the anthology series, in addition to Pill. Former Scream Queens star Billie Lourd is set to play the grey-haired Winter Anderson, while Teen Wolf's Colton Haynes will play the dapper Detective Samuels. Billy on the Street's Billy Eichner also joins as Harrison Wilton, while Popular's Leslie Grossman and Girls' Lena Dunham fill out the new cast. Returning cast members include Emma Roberts, Cheyenne Jackson, Frances Conroy, Mare Winningham, and Adina Porter; Kathy Bates will sit this one out due to her commitment to the Netflix series Disjointed.
Cult will be themed around the 2016 presidential election, with Murphy previously saying that it will kick off on election night and use the election as an "allegory" for the rest of the season. "It is about the election we just went through and what happened on that night and the fallout of that night, which to many people, from all sides of the camps is a horror story," he said. "And you know, that show is always so fun when it's about the zeitgeist and what we're doing now." 
AHS: Cult premieres on Sept. 5, so we should get a better idea of what's going on between Paulson's, Pill's, and Peters' characters soon. For now, see some of the Easter eggs that tie the show's seasons together.