American Horror Story: Cult Reveals New Poster, Another Creepy Teaser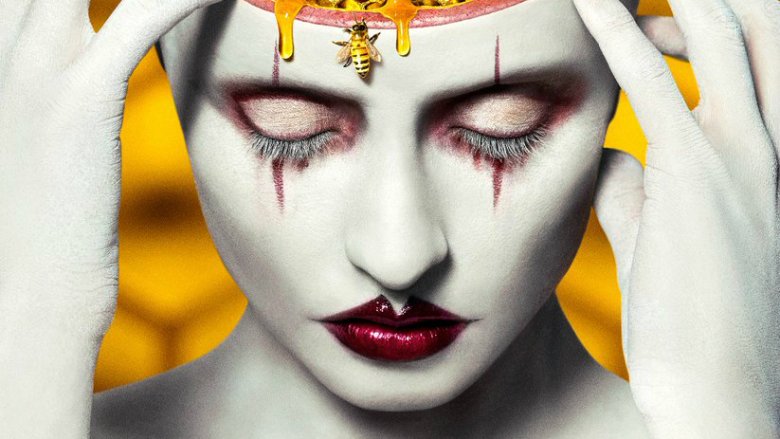 FX
We may have learned the theme of the upcoming season of American Horror Story earlier than we did last year, but that doesn't mean it all makes sense yet.
FX released the official poster and a new teaser for American Horror Story: Cult, and you'll see that they're just about as weird and unsettling as you'd expect. 
The new clip is brief, and it only shows us a creepy clown and the cryptic text "You've been waiting for us. Find us." It's a lot like the first teaser, which is a recruitment video for a presumably murderous cult of clowns. There's a good chance that it's all related to Twisty the Clown, the horrifying character that John Carroll Lynch played in American Horror Story: Freak Show. While details are still pretty hazy, we do know that the 11-episode season will be set in Michigan, and we'll see a lot of series regular Evan Peters. 
The poster includes the caption "Be of like mind," and it shows a woman in powdery white clown makeup with the top of her skull removed, showing a honey-comb where her brain should be. Murphy previously said that the season will be an allegory for last year's presidential election, so the "hive" mentality will probably be a big factor.
Other cast members include Sarah Paulson, Lena Dunham, Billy Eichner, and Carrie Fisher's daughter Billie Lourd.
American Horror Story: Cult premieres Sept. 5. Check out the new teaser and poster below.
You've been waiting for us. Your first task begins now: https://t.co/PsdKIbxkWl #AHSCult pic.twitter.com/d4ABh7S3DD

— AmericanHorrorStory (@AHSFX) July 27, 2017
Be of like mind. The official poster for #AHSCult is here. pic.twitter.com/oRGmYQXXia

— AmericanHorrorStory (@AHSFX) July 27, 2017