The White Lotus Star Who Almost Played Olivia Pope On Scandal
Meredith Grey (Ellen Pompeo) and Daphne Bridgerton (Phoebe Dynevor) are only some of the voices that populate the Shondaland dynasty. For almost two decades, Shonda Rhimes has told captivating stories, geared towards the female perspective. In addition to her most famous venture such as "Grey's Anatomy" and new steamy Netflix series "Bridgerton," one of the most significant stories told was that of Olivia Pope (Kerry Washington) in "Scandal."
While "Scandal" is at times melodramatic, Olivia's voice is important. "Scandal" revolves around the Olivia's career as a government fixer and was the first series to feature a Black female protagonist since 1974 (via Showbiz CheatSheet). It almost seems incomprehensible that the role would go to anyone but Washington who made the popcorn and wine diet look glamorous (via Vulture). But when Rhimes first brought the series to the attention of the networks, they had someone else in mind to play the iconic role.
The network wanted Connie Britton to play Olivia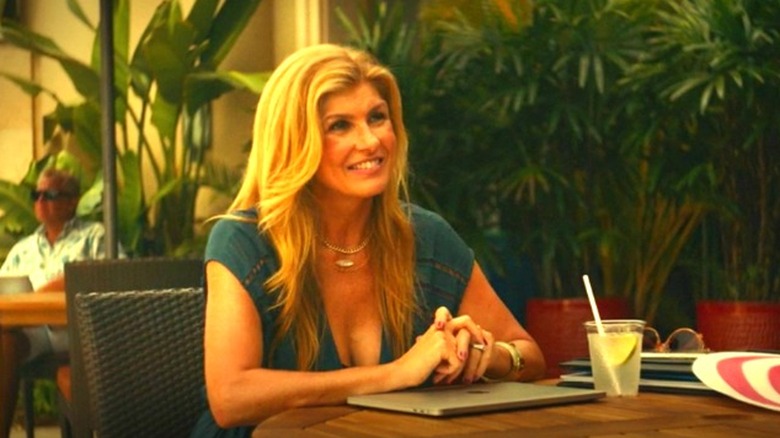 HBO Max
At the time that "Scandal" was put into production, Rhimes already had two shows. "Grey's Anatomy" and "Private Practice" were taking up the producer's time. But when Rhimes spoke to former government fixer Judy Smith, she knew she had to make "Scandal." In an interview with The Hollywood Reporter, Rhimes revealed that when it came time to cast the show she and ABC had different ideas of who should portray crisis manager Olivia. Among the network's top choices was Connie Britton, who recently starred in HBO Max's "The White Lotus." This did not resonate with Rhimes. 
"Nothing felt more important than the sense of outsiderness," Rhimes stated. "I didn't know that there hadn't been a drama series with a leading black woman for 37 years. When the show got picked up [to pilot], I got a phone call from somebody who said, 'This would be the perfect show for Connie Britton.' I said, 'It would be, except Olivia Pope is black.'" The network gave Rhimes and casting director Linda Lowy a list of top choices, all who were white actors. Olivia was a character that had always been envisioned as Black, in honor of the woman who inspired her. Judy Smith was the reason that the show existed at all and this point of view was necessary for the show. "Scandal" would go on to be a delightful soapy mess, as well as representing perspectives not often seen on network television.