What Has Fran Drescher Been Up To Since The Nanny Ended?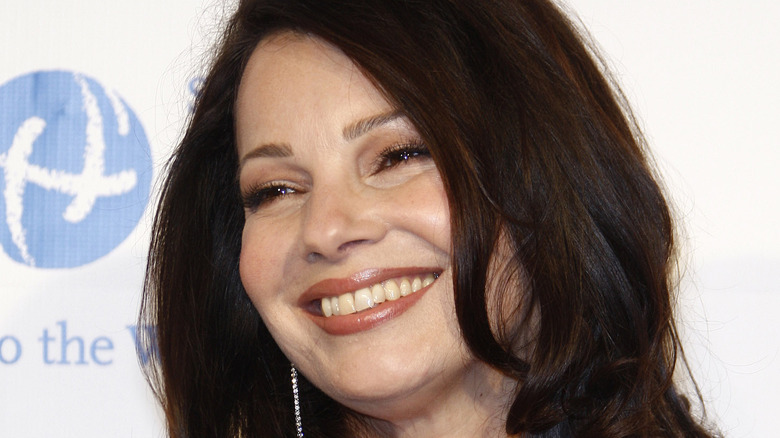 Joe Seer/Shutterstock
Created and produced by Fran Drescher and Peter Marc Jacobson, "The Nanny" is one of the best gifts the nineties ever gave us. Inspired by Drescher's life growing up in Queens, New York, the series was known for its wry humor, lovable characters, and Fran Fine's iconic style. Even though the show went off the air over 20 years ago, fans are still daydreaming about Miss Fine's fabulous wardrobe, not to mention the memorable will-they-won't-they tension between Fran and Mr. Sheffield (Charles Shaughnessy), the culmination of which Drescher has said led to the show's cancellation. "The Nanny" was so great, in fact, that it's almost impossible to rank the show's funniest moments. 
Fran Drescher has certainly been busy in the years since "The Nanny" went off the air, both on-screen and off. Since "The Nanny" concluded in 1999, she starred in several sitcoms, including "Living with Fran" and "Happily Divorced." The latter was actually inspired by Drescher's divorce from her former husband, "The Nanny" co-creator Peter Marc Jacobson. With her immediately recognizable nasally timbre, the actress has used her vocal talents to play Eunice in the successful "Hotel Transylvania" film franchise.
However, Drescher's professional endeavors have broadened beyond acting, as well — because she has also become an author!
Philanthropist and Author Fran Drescher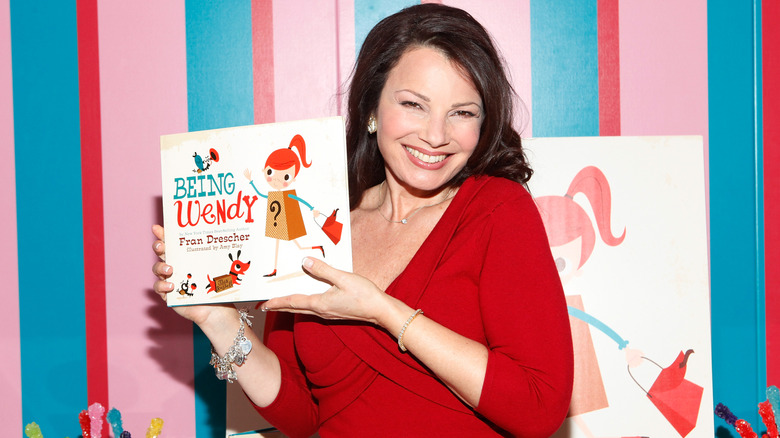 Amy Sussman/Getty Images
Drescher has written three books, one of which was published while "The Nanny" was still airing. Titled "Enter Whining," the actress's first book came out in 1996 and details her early life and Hollywood success. Drescher authored two more books, including a children's book titled "Being Wendy." This charming tale follows a little girl who struggles to choose her direction in life (via Thrift Books). Drescher wrote her third publication after being diagnosed with uterine cancer in 2000. The actress underwent a radical hysterectomy after being misdiagnosed several times. Her book, "Cancer Schmancer," details her experience and recovery.
"I was angry that it took two years to get diagnosed. Because I thought don't let what happened to me happen to you," Drescher told Larry King in 2002 (via CNN). "Because I felt like I'm a celebrity, I got cancer, it wasn't handled right by the medical community, I lived to talk about it, and I should use my celebrity to wake people up because once you wake up and smell the coffee, it's hard to go back to sleep. So let me sound the alarm."
Both "Cancer Schmancer" and "Enter Whining" made the New York Times Bestseller list. Furthermore, Drescher went on to found the Cancer Schmancer Movement, an organization that raises awareness about cancer prevention and the importance of early diagnosis (via CancerSchmancer.org). 
Beyond her writing pursuits, Fran Drescher has also stayed true to her New York roots by becoming a Broadway star.
Fran on Broadway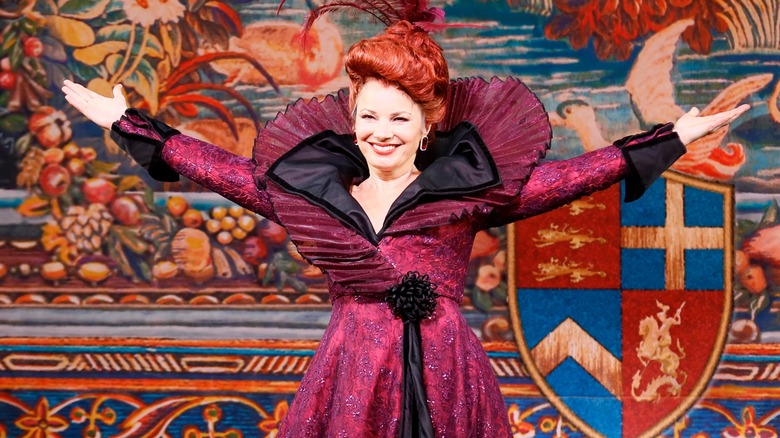 Ryan Miller/Getty Images
In 2014, Drescher made her Broadway debut as Madame in Rodgers and Hammerstein's "Cinderella" (via CancerSchmancer.org). The role of Cinderella's stepmother is quite the departure from the friendly Miss Fine, but Drescher seems to have embraced it with ease. The actress also starred in Lifetime's first ever LGBTQ holiday romance movie, "The Christmas Setup" (via IMDb). Drescher portrays the main character's mother, who is determined to help her son find love. 
In September 2021, Fran Drescher was elected president of SAG-AFTRA, a labor union that represents entertainment industry workers all over the world. As president of the union, it will be Drescher's responsibility to help mediate union guidelines, and she means business. She took over for Gabrielle Carteris, who had previously held her position since 2016. "Together we will navigate through these troubled times of global health crisis and together we will rise up out of the melee to do what we do best, entertain and inform," Drescher said in a statement following the election (via Variety). "Only as a united front will we have strength against the real opposition in order to achieve what we all want: more benefits, stronger contracts and better protections. Let us lock elbows and together show up with strength at the negotiating table!"
Eat your heart out, Mr. Sheffield! It's Fran Drescher's world, we're just living in it.