Steven Weber Reveals The Hilarious Chicago Med Moments You'll Never See - Exclusive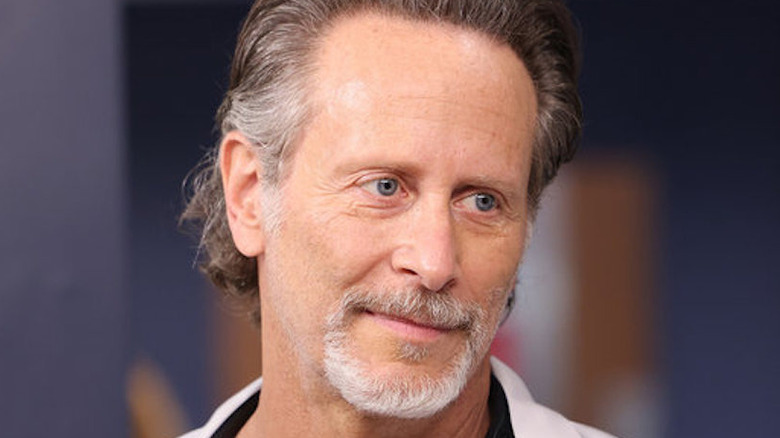 George Burns Jr./NBC
Although it does have its lighter moments, "Chicago Med," for the most part, is a serious show. Following the lives of doctors, nurses, and other medical professionals, the series — which airs on NBC Wednesday nights — takes place at the fictional Gaffney Chicago Medical Center, letting viewers peek behind the curtain to see what goes on in an urban emergency room.
"Chicago Med" boasts an expansive and impressive cast, featuring the likes of Oliver Platt, E. Epatha Merkerson, and Steven Weber, who recently spoke exclusively with Looper about portraying Dr. Dean Archer on the show. It was an interview that highlighted the challenges he's encountered on the set, with him admitting, "I'm starting to hear from people and fans of the show that [Dr. Archer] is not particularly liked, and that's a little disconcerting coming from a guy like me who has worked all his life specifically to be liked."
During Looper's chat, Weber also revealed the hilarious impromptu moments that happen on set that "Chicago Med" showrunners would rather sweep under the rug.
Behind-the-scenes laughs are courtesy of 'tooth-shattering' medical terms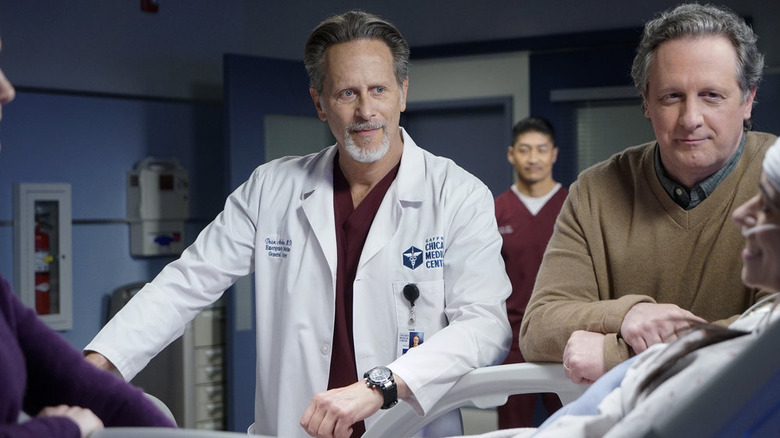 Elizabeth Sisson/NBC
Weber admits there are plenty of funny occurrences behind the scenes of "Chicago Med" — you'll just never see them.
"This is the only show I've ever been on that doesn't have a gag reel, and I'm not exactly sure why," says Weber. "It might be a ['Chicago Med' creator] Dick Wolf dictum that they want to preserve the image of the show and the integrity by never showing the tons of gaffes and mistakes that we make reeling off tooth-shattering medical terminology."
Week after week, the "Med" actors must appear believable when rattling off medical terms, otherwise the show won't work. "We may, hopefully, appear to be credible as doctors, but I can tell you that we're not, we're just actors," says Weber. "Daily, there are often hilarious moments where people lose feeling in their face from reeling off the amount of milligrams of Solu-Medrol, and God knows what else that we're prescribing."
Still, despite the side-splitting gaffes, the show must go one — and the actors are there to do a job. "Plenty of that stuff goes on," says Weber, "but nothing stands out as being too ridiculous, because we do have a job to finish and people want to get home. If we took too long laughing at ourselves screwing up the dialogue, then there would never be a show on TV."
Next time you tune in to "Chicago Med," look for a twinkle in the actors' eyes every time they spew long, involved diagnoses and medications — they might be ready to bust a gut themselves.
Season 7 of "Chicago Med" airs Wednesdays at 8:00 PM ET on NBC.