Kung Fu's Olivia Liang Talks Asian American Representation, Early Acting, And Season 2 - Exclusive Interview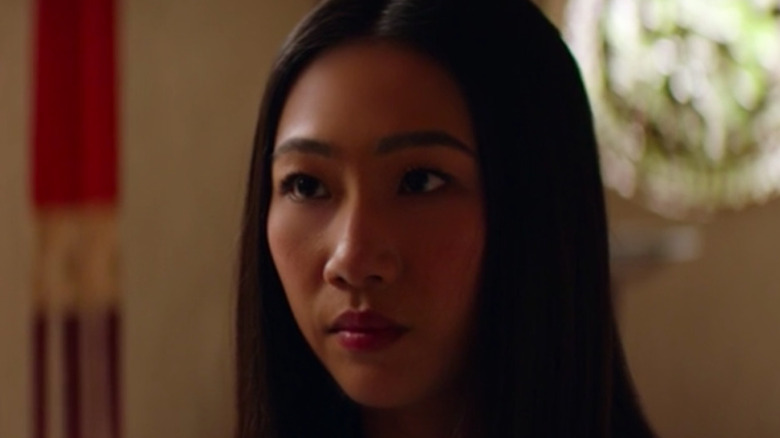 The CW
When The CW announced it was remaking the 1970s series "Kung Fu," which starred David Carradine as a Shaolin monk wandering America and getting into adventures, it was hard to imagine how it could be updated for today's audiences. By the time the show hit the airwaves, however, it had evolved into a story that spoke to the here and now. The update of "Kung Fu" focuses on Nicky Shen, a young woman who drops out of college and leaves her family after finding her calling at a Shaolin monastery where she learns Kung Fu. 
When her master Pei-Ling (Vanessa Kai) is murdered, she returns to her hometown of San Francisco to find and avenge the killer, a decision that also gives her the opportunity to reconnect with her family – her mother Mei Li (Keng Hua Tan), father Jin (Tzi Ma), sister Althea (Shannon Dang), and brother Ryan (Jon Prasida) – and leads her to step up to defend her Chinatown community.
Olivia Liang plays Nicky as a smart, principled young woman who is confident both in her ability to fight bad guys and to decode the clues that explain the reason for the attack on Pei-Ling. As the first season unfolds, the show tackles many issues, including the challenges Asian Americans confront in the United States and the Black Lives Matter movement, but the show never loses sight of Nicky and her family. That emotional core combined with the show's exhilarating stunt sequences, makes "Kung Fu" a unique and heartfelt thrill.
The show is now entering its second season, and if the tease in the first season finale is any indication, Nicky will be going up against the villainous business mogul Russell Tan (Kee Chan) and will soon meet her long-lost cousin Mia (Vanessa Yao), making for a story ripe with possibilities. In an exclusive interview with Looper, Liang shared her pride in leading the CW series, reminisced about her time on "Legacies" and "Grey's Anatomy," and teased what to expect from "Kung Fu" Season 2.
A 'dream come true' of a role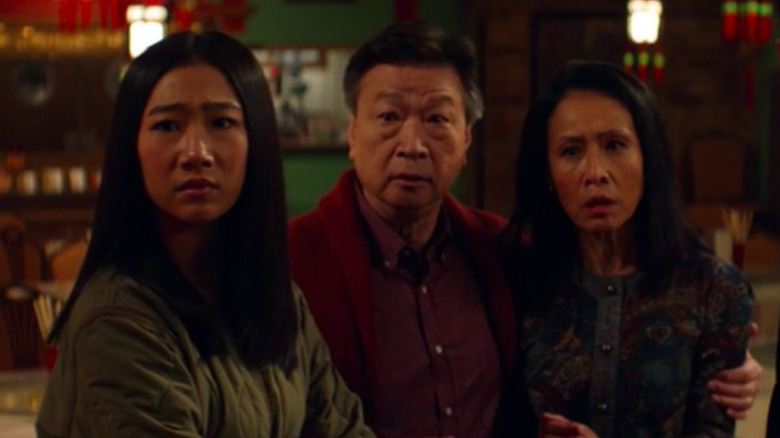 The CW
In many ways, the show is a corrective to the '70s series that it's based on, which starred a white man. What has it meant to you to star in a show that focuses on a Chinese American woman and her family?
It means the world. I say this often, but it's like a dream come true because I really didn't even dare to dream this big, that I could play a lead [like this]. Not even in my wildest imagination did I think this was possible, so it truly is an honor to be part of this project. The original series in the '70s was really great for its time and did give a lot of Asian American performers their start, and so I'm excited that we are pushing that a little bit more.
The show depicts a first-generation family, and it showcases the different perspectives of the parents, who grew up in China, and their children, who grew up in America. What has the experience of playing that been like for you?
It's been really, really awesome. An episode that comes to mind is Episode 5 ... that deals with [Black Lives Matter], and we as a cast and as a show have a really unique ability to speak on that movement through an Asian lens, especially because our communities tend to be [pitted] against each other. What I really loved that our writers so smartly did was show different generations' perspective of the movement. There are a lot of Asian immigrants who came to this country and who are like [Shen parents] Mei-Li and Jin, who [don't have] a deep understanding of what the Black community has gone through in this country. 
[Meanwhile], the Nickys and Altheas and Ryans [the first generation children] do understand because they got to grow up around people of that community. Then, an older generation of Asians in America comes to really feel for the mother of the victim in that episode. It really was a beautiful picture of communities coming together. That's just a small example of what our show is able to do with the multi-generational portrayals of Asians in America.
Counteracting misinformation and kicking ass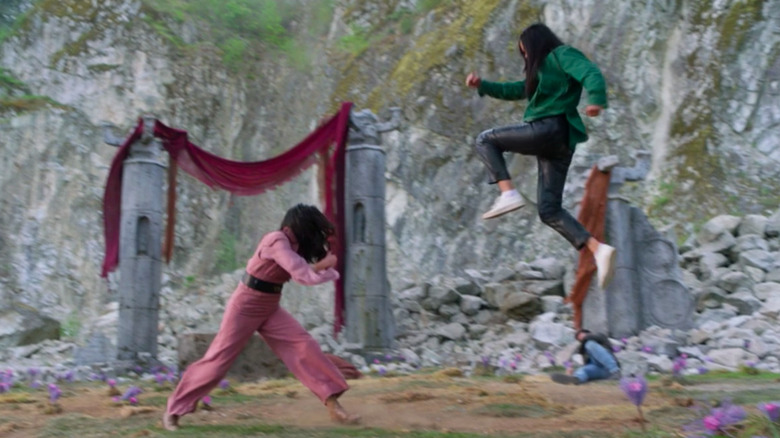 The CW
There has been this horrible rise in Asian American hate crimes due to COVID-19 in the last couple of years. Have you felt that "Kung Fu" has helped counteract some of that misinformation that led to this?
I hope so. We've never wanted to put pressure on ourselves as a show to change the world or anything, but it is important for people to see us on screen, especially if they're not from a community that has a lot of Asian Americans. Unfortunately, having to use the phrase "humanizing us," making us relatable, our show is doing that. I hope that it's making a difference.
On a lighter note, the action and stunts in "Kung Fu" are incredible. How do you train to bring them to life?
After Season 1, my goal was to look even stronger for Season 2. I'm lucky that my showrunners were able to set me up with a Wushu master in L.A. during the off season so that I could really get into [that]. Also, I'm really honored that we're doing martial arts. It was really important to me that I do as much as I could, because I want to make our community proud and martial arts is such a beautiful part of our culture. The stunts this season are definitely elevated and on another level, so I'm very, very excited for people to see what we've got in store.
Playing Alyssa Chang on Legacies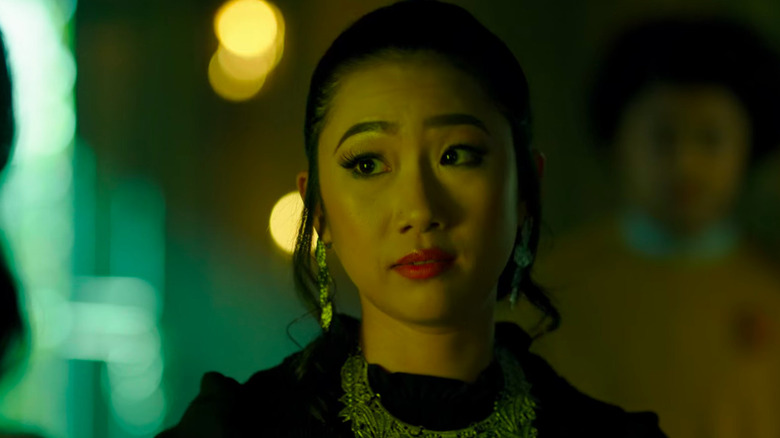 The CW
You also very memorably played Alyssa Chang on The CW series "Legacies." What was that experience like?
That was so much fun. I'm so, so grateful that I got to be Alyssa Chang. She's very different from Nicky. She's a witch and she's kind of a bully, but I'm so happy that I got to be part of that universe that is so beloved and play a character that causes a lot of trouble and was a catalyst for a lot of very cool storylines. I love my "Legacies" family, I would do anything for them. I would go back in a heartbeat if they would have me.
It's so much fun to see you casting spells in "Legacies," it looks as cool as a lot of the martial arts in "Kung Fu," but I'm sure for you playing it is very different. Between casting spells in "Legacies" and kicking ass in "Kung Fu," what feels more empowering for you to play?
Oh, I don't know if I can choose because what's empowering about both of those characters is that they are very unapologetic, both Nicky and Alyssa. They took up space and they spoke up and they used their voice and they never backed down from anything. Nicky's more heroic and Alyssa's a mean girl, but really, they're both using their voices and standing up for themselves. That has been empowering for me, Olivia, who sometimes, can be a people pleaser and doesn't want to ruffle any feathers. Playing both Alyssa and Nicky has made me more confident and more willing to stand up for myself.
Learning from Ellen Pompeo on Grey's Anatomy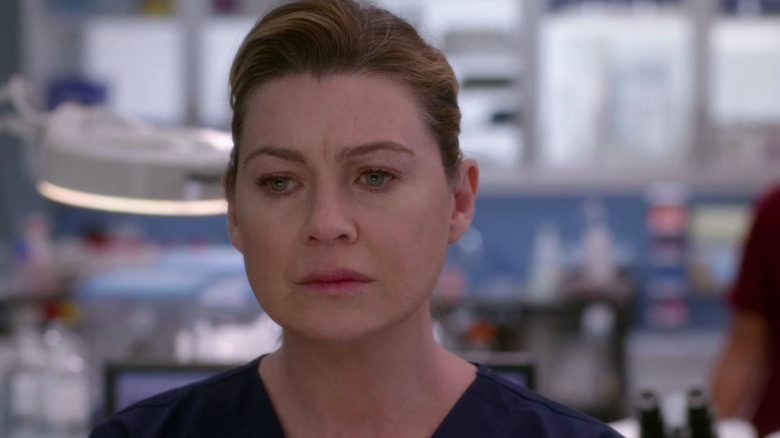 ABC
Before "Legacies" and "Kung Fu," you also had a guest role in an episode of "Grey's Anatomy." What did you learn from that experience that you continue to bring into your roles now?
Oh, the biggest thing that I learned — it was a very tiny part, three lines or something — and Ellen Pompeo was directing that episode, and she is Ellen Pompeo. She is the star of "Grey's Anatomy" and she is a boss lady and has so much on her plate, and she took the time to learn my name. That was really significant for me starting out. It was one of my very first TV gigs, and seeing someone of her caliber know my name, know everybody's name on set, from the [production assistants] to transport,. I was like, "Okay, I want to be like her if I ever get to be a leader on a set. I want to be warm and take the time to get to know people as people and not just as crew members." You could tell that she really cared about what she was doing. She was so gracious and so generous, and, more than anything, that's what I took from that experience.
Teasing Kung Fu Season 2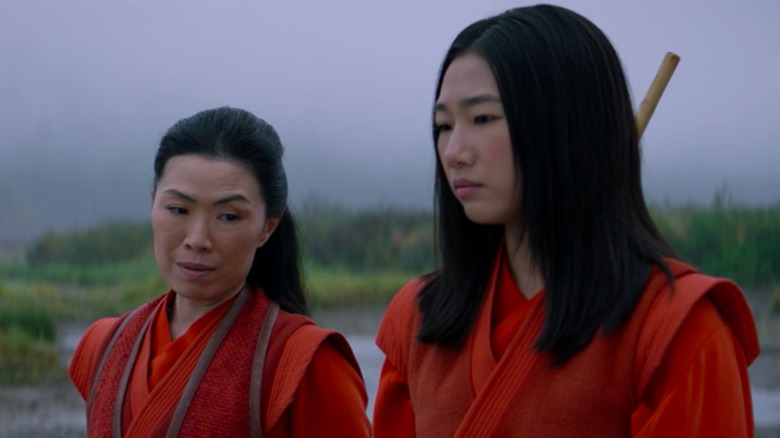 The CW
We're getting into the second season of "Kung Fu" and we're going to meet Nicky's cousin Mia, but it's hard to tell what her agenda really is. Can you tease anything about whether she's going to work with Nicky? Will they be at odds?
Yeah, I think when we meet Mia, we very quickly realize and find out that she is a girl who grew up very isolated and separate from any sort of community and any family. It's hard for her to trust people. Coming into a family like the Shens, where there's so much love and no more secrets and everyone is so supportive, the Shens want to extend that to Mia, and Mia in her nature is unable to accept it. We'll find that what really puts them at odds is that they have a different definition of what it means to be a family. With the Shens wanting so badly to protect and help Mia, who is in danger, we'll see some pushback from that. And then drama ensues.
At the end of last season, Nicky's nemesis, Zhilan went to prison, but now she and Nicky have a common enemy in Russell Tan who was becoming a problem at the end of last season but is more of a problem now. Is there any possibility Nicky and Zhilan will team up?
If people suspect that, that is a very great story. I support that idea. Without giving too much away, that is very smart because you are right: Russell moves into San Francisco and that's where Nicky lives, and we know that Zhilan wants more than anything to take Russell down. If Zhilan finds herself in San Francisco, that's not very farfetched.
What's next for Nicky, Evan, and Henry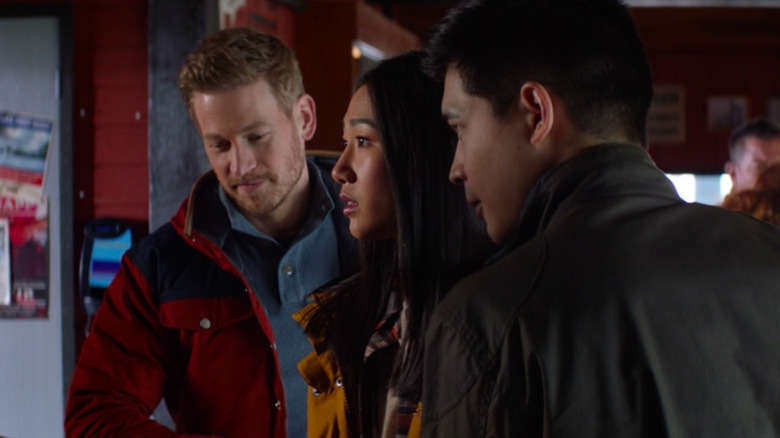 The CW
Season 1 of the show was all about Nicky reconnecting with her family and avenging Pei-Ling, she's accomplished all of that, but there are some big things that seem to be on the horizon for her. Can you tease anything about what else might be next?
What I'm excited for people to see the season from Nicky is her having to toe the line between good and evil. Season 1 Nicky was very black and white and right and wrong, and she always wanted to do the right thing. This season, with Mia being in danger, who is her family, a common thread for Nicky is: What are the lengths she will go for her family? It's been really fun to toe the line and live in the gray area a little bit. People are going to really be able to relate to that part of Nicky's journey this season.
One last question, Nicky and her boyfriend Henry (Eddie Liu) are in a very good place when the second season begins, but she's still spending a lot of time with her ex Evan (Gavin Stenhouse). Will their love triangle come up again?
I think that Nicky, Henry, and Evan are very evolved, much more than I am. Evan and Henry have this bromance going on, so they're a weird throuple right now where they've got a bromance going on, Nicky and Evan remain best friends, and Nicky and Henry remain in love. It is a love triangle for sure. There is love between these three people, but I don't think it's a standard love triangle where one person's going to win and the other isn't. They're all very evolved and are able to coexist together in a way that I personally, I don't think I could do that with an ex. But that's why I'm not Nicky Shen.
The second season of "Kung Fu" premieres tonight on The CW at 9:00 p.m. ET. New episodes are available on the CW website and app the following day.
This interview was edited for clarity.