This Look At Lashana Lynch As Photon Is Flat-Out Fiery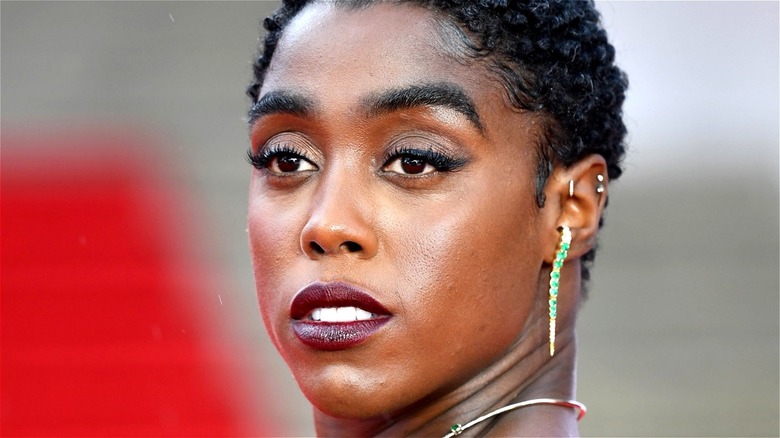 Gareth Cattermole/Getty
While easily the biggest contribution from "Captain Marvel" to the Marvel Cinematic Universe is its titular lead character, also known as Carol Danvers (Brie Larson), the movie likewise planted the seeds for some future superhero stories to blossom in the franchise's future. Among those are the respective journeys of Maria Rambeau (Lashana Lynch) and her daughter Monica Rambeau (a young Azari Akbar in "Captain Marvel," Teyonah Parris as an adult in "WandaVision").
Monica Rambeau is a well-known hero in Marvel lore, initially taking on the mantle of Captain Marvel herself, before running through a list of alternate names including Photon, Pulsar, and Spectrum. Of these, Photon is seemingly the most important to her character in the MCU. Thus far, this nickname surfaced when, in an episode of "WandaVision," Monica notices a plaque at the S.W.O.R.D. facility commemorating her mother, on which her name is "Maria 'Photon' Rambeau," a title from her fighter pilot days. In the wake of this moment airing, many viewers suspected that this was foreshadowing Monica eventually adopting the Photon moniker herself.
One artist, however, recently envisioned Maria as the superpowered Photon, based on a hint that this version of the character might come to fruition in a trailer for "Dr. Strange and the Multiverse of Madness."
Fans are excited about Lashana Lynch as Photon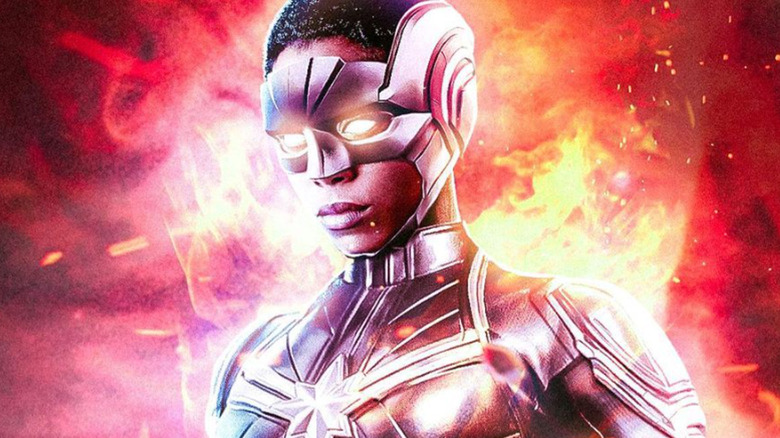 arifinity_/Instagram
On February 17, the Instagram account arifinity_ shared a mock-up of what Maria Rambeau actor Lashana Lynch might look like as the superpowered Photon, based on a character that appears briefly in a trailer for "Dr. Strange and the Multiverse of Madness" released days earlier.
That character has yet to be officially named, leaving their identity open to fan interpretation. Some viewers, for example, think that it's Kang the Conqueror (Jonathan Majors) under the alias Iron Lad. While Lynch's IMDb page doesn't list any upcoming MCU credits, this Instagram post nevertheless posits that the mystery character could be Maria Rambeau, presumably based both on the appearance and powers the character exhibits in the trailer. As Photon, this rendering of Lynch is enveloped in a fiery, magical energy. Her suit appears similar to that of Captain Marvel, but sporting a silvery, desaturated colorway, matching that of the "Dr. Strange" character.
Followers of the arifinity_ Instagram account largely praised the image of Maria Rambeau as Photon. User cbmscene, for example, wrote "I am gonna share this post on my story each day they every maria rambeau denier accept the truth." The majority of comments that follow contain fire emojis, seemingly serving the dual purpose of complimenting the post and mimicking its subject's fiery appearance.
Whether or not the mystery character is indeed Maria Rambeau should become clearer when "Dr. Strange and the Multiverse of Madness" releases on May 6.