Fezco's Most Heartbreaking Moment From Euphoria Season 2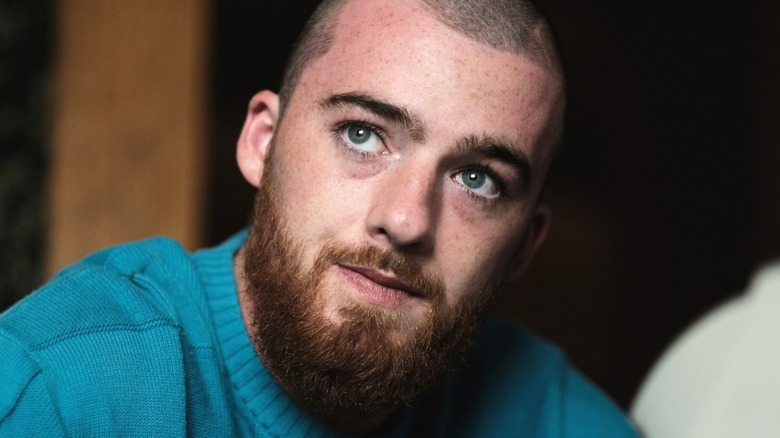 Eddy Chen/HBO
"Euphoria" Season 2 met its end last month with viewers finally getting to watch Lexi's (Maude Apatow) play. The play in question was focused on the show's characters and their stories, but from Lexi's point of view. This resulted in many of the characters' dirty laundry being aired out onstage, such as Cassie (Sydney Sweeney) and Nate's (Jacob Elordi) relationship. While Cassie heightened this drama by storming onto the stage, the real drama was happening off-stage.
As the play continued to unfold, many plot points of the season met their end. Fans got to witness Nate take down his father Cal (Eric Dane), Rue (Zendaya) seemingly forgive both Elliot (Dominic Fike) and Jules (Hunter Schafer), and Maddy (Alexa Demie) somewhat reconcile with Cassie. Most of these moments were heartwarming or satisfying, as viewers watched the good start to outweigh the evil for once. However, a tragedy also took place during the play.
Fezco (Angus Cloud) has not led an easy life. He was raised by his grandmother who fell ill, which left him to raise Ashtray (Javon Walton) — a little boy who was taken in by Fezco and his grandma after his mother abandoned him. But, Fezco's most heartbreaking moment happens in the Season 2 finale.
Fezco watching Ashtray die was truly heartbreaking
Earlier in the season, fans discover that Custer (Tyler Chase) is working with the police to find Mouse's (Meeko) murderer. Custer then begins working with Fezco, who even helps him hide his girlfriend Faye (Chloe Cherry) when she gets into trouble with the cops — which only adds to the betrayal. While Fezco is getting ready to head out to Lexi's play, Custer comes to Fezco's apartment, and viewers quickly realize he's wearing a wire.
Faye eventually finds a way to signal this information to Fezco and she even tries to pin the murder on someone else. Unfortunately, rather than being able to dig themselves out of the situation, Ashtray kills Custer in an attempt to protect Fezco. This immediately turns south as the SWAT team shows up anyway, resulting in Ashtray's death after a shootout — despite Fezco repeatedly telling Ashtray to stop shooting. Not only does he watch the child he raised die, but he also never makes it to Lexi's play, who he was beginning to start a romance with.
Fans agree that this was a tragic moment in a thread on the "Euphoria" subreddit. "What truly got me was the emotions that Fezco was feeling. Watching his pain broke me," wrote Redditor u/ashleydianexo. This sentiment was shared by u/AdvisorContent7778 who added, "Yeah it was heartbreaking. He tried his hardest to keep him from taking it that far.. the guilt he's gonna feel is gonna have him broken next season."