Turning Red Review: A Bold New Look For Pixar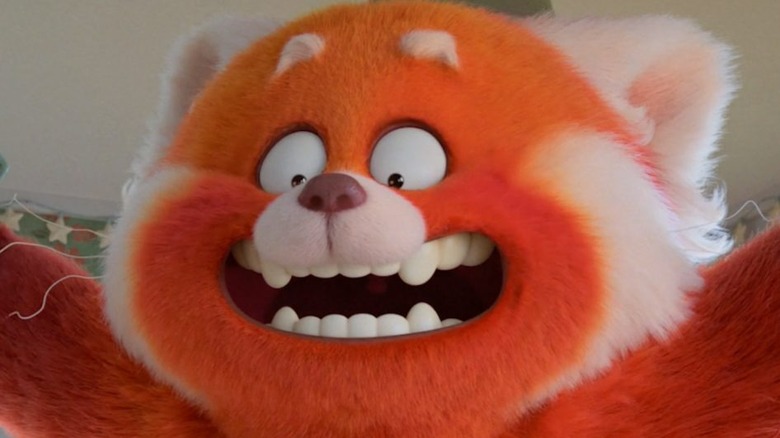 Disney Pixar
Somewhere in the past decade, Pixar lost the ability to surprise us. It's easy to see where in the timeline the effect of being bought out by Disney took over, with the studio releasing several prequels and sequels to beloved early titles that may have been box office sensations, but have more or less disappeared from the public consciousness. Don't believe me? Try asking someone what the plot of "The Incredibles 2" or "Toy Story 4" is — they were beloved (I especially really liked the latter), but they didn't have that same magic that leads to endless repeat viewings. Even the studio's original output is increasingly formulaic; stories as disparate as "Onward," "Soul," and "Luca" all follow generic race against time narratives with a supernatural twist, the creation that goes into creating the world around these stories faltering because, well, we've heard them tell similar stories before, and better.
Somewhat unintentionally, the last time Pixar surprised us might have been with "The Incredibles 2," and it had nothing to do with the film itself. Instead, Brad Bird's highly anticipated sequel got upstaged before we saw a frame of footage, thanks to the studio's animated short "Bao," a film that was in many ways an expansion of one of the core themes of "Toy Story 3" — parents feeling empty nest syndrome as their children leave for the first time. Here, that form of grief was told entirely through a mother's relationship to a bao bun that came to life, eventually eating her new son when he too threatens to leave the family. This "cannibal dumpling" short subsequently became the only thing anybody talked about after leaving that blockbuster sequel.
Anime, Pixar style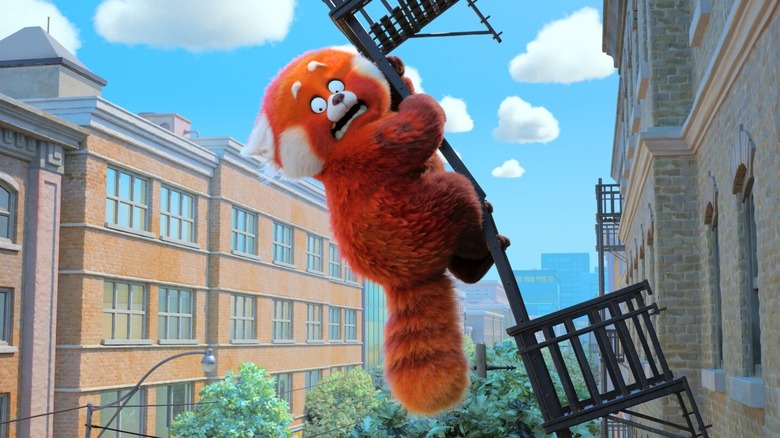 Disney Pixar
That film's director, Domee Shi, has now made the transition to feature films, and her debut "Turning Red" more than delivers on the promise of that Oscar-winning short. It's by far the most exciting movie project at the studio in quite some time, and as a result, is likely to be one of the most divisive. Shi has transformed the studio's typical visual sensibility to incorporate the influence of 2D anime, where the facial expressions of characters are pushed to the extreme, and backdrops can change entirely alongside a character's emotions.
Pixar's creative team have never been silent about their love for anime (the studio's last film, "Luca", was set in a fictional town named after Hayao Miyazaki's "Porco Rosso"), but the genre's visual sensibility has seldom influenced the look of one of their movies quite like this. Shi has stated that she wanted to create an "Asian tween girl fever dream," an aesthetic that here pleasantly recalls the Wachowski sisters' take on "Speed Racer" and Edgar Wright's similarly Toronto-set "Scott Pilgrim vs. the World" in how it combines the best of East and West; the visual inspiration of 2D anime co-existing alongside traditional Hollywood blockbuster spectacle. It's more of a hyper-kinetic feast for the senses than we've come to expect from Pixar, and more than any of their movies in recent years, immediately invites repeat viewings just to pore over every single detail.
As with other recent directorial debuts within Pixar (such as Enrico Casarosa's aforementioned "Luca"), the story is very loosely inspired by Shi's own childhood, in this case, growing up in Toronto circa 2002. Newcomer Rosalie Chiang voices Mei Lee, a 13-year-old girl who effectively lives a double life. During the day, she's a smart, confident, outgoing teenager, the center of a close-knit friendship group bonded over their love of the boyband 4*Town. Once the school hours are over, she has to return home to overprotective mother Ming (Sandra Oh), hiding her personality — something that comes out into the open one day when Ming discovers her daughter has been drawing pictures of an older boy she has a crush on.
This embarrassing encounter has long-lasting consequences; the next day, she wakes up and discovers she's transformed into a giant red panda, something she will keep transforming back to any time her emotions get too worked up. Initially, she plans to hide it, but when her friends discover it, they plan out a get-rich-quick scheme that can help them get tickets to 4*Town's upcoming Toronto concert. The only problem? Hiding all of this from Mei's parents, who have devised a plan to rid their daughter of this panda curse once and for all.
Growing pains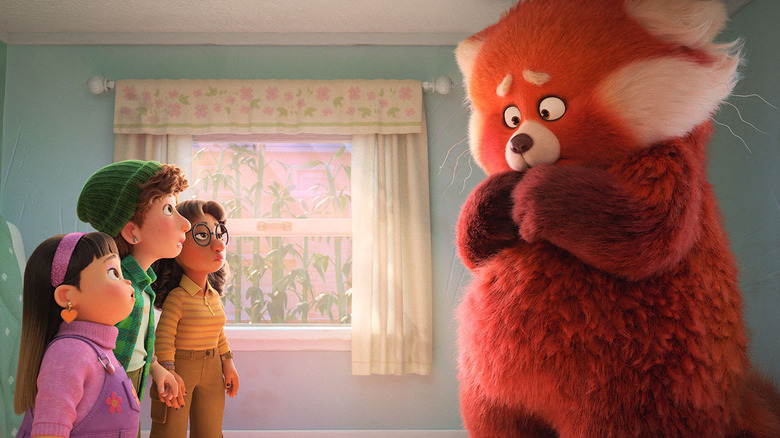 Disney Pixar
Yes, "Turning Red" is puberty, Pixar style, with its transformational allegory never becoming as heavy-handed as it threatens to from the outside. After the initial family-friendly body horror, this becomes less a film about the physical changes of puberty, and more about the transforming dynamics of a parent-child relationship as the daughter inches closer towards adulthood. Shi has long joked that "Bao" was about a mother and a son because you'd need an entire feature to unpack the mother/daughter relationship. It's to her credit that this isn't the film's singular focus, instead using the other storylines to add further depth to this theme even when Ming is nowhere near the screen.
Even when Mei is just hanging out with her friends, the overbearing presence of her mother is keenly felt, with Shi's screenplay (co-written with Julia Cho) neatly untangling the ways parental relationships can affect formative friendships. It may not be the most a Pixar film has emotionally wrecked me, but I found something painfully relatable within this struggle of feeling slightly removed from your closest friends because of a parents' unnecessary overprotection. It's a part of the coming-of-age experience usually relegated to secondary status in cinematic narratives, where parental outrage is usually used as a comedic tool more than anything; Shi's film explores this with the weight it deserves.
Skipping theaters to debut on Disney+ does mean that nobody will see you cry at the film, but it unfortunately results in Pixar's most gloriously designed big-screen spectacle in quite some time only being seen on TVs and laptops. In addition to the studio reimagining the most hyperactive and surrealist visuals we associate with 2D anime in CG animation (a method that you'd typically utilize for maximum photo realism), Shi has also created several large-scale set pieces crying out to be seen on cinema screens. From Panda Mei running through the streets of Toronto, right down to the film evolving into a Kaiju story for its third act, "Turning Red" is the studio's most action-driven film since the first "Incredibles" outing.
This surprisingly never distracts from the more intimate story about family and friendship, with every sequence of chaos and destruction firmly grounded within the whirlwind of emotions triggered by that ever-changing core relationship. It is, without a doubt, the kind of character-driven blockbuster spectacle we took for granted when Pixar were at the peak of their powers — the return to form we've all been waiting for. It's also the second time within a week that audiences will delight in seeing a stadium get torn to pieces, following the climactic battle in "The Batman."
"Turning Red" proves that Domee Shi might be the future of Pixar. As all their other projects grow increasingly stale and overfamiliar, she's given us the breath of fresh air we sorely needed. It's like nothing else the studio has done before, and it's all the better for it.