Matt Reeves Describes What His Joker Will Look Like
Matt Reeves' "The Batman" has blasted open the DC Comics doors to a wide range of film possibilities and future projects involving members of the Caped Crusader's villainous rogues gallery, including none other than the Clown Prince of Crime himself — the Joker.
Showing up in a brief scene at the end of Reeves' superhero flick, the director's version of the character, who is played by "Eternals" star Barry Keoghan, appears to be much younger than previous iterations, such as Joaquin Phoenix's 2019 portrayal in Todd Phillips' "Joker" or Heath Ledger's Oscar-winning performance in Christopher Nolan's "The Dark Knight." But that's about all moviegoers really know or can gather from "The Batman" scene. It wasn't until Reeves actually talked about his cinematic take on the character, most recently in an interview with IGN, that we were able to learn exactly what he will look and act like, should Warner Bros. want to use him further.
"I wanted to create an iteration of [the Joker] that felt distinctive and new, but went right back to the roots," Reeves told IGN. According to him, Keoghan's Joker is still in his "infancy" when we see the legendary DC baddie in "The Batman." But that doesn't mean Reeves hasn't already come up with big plans for him, which he discussed at length with IGN.
Barry Keoghan's Joker to be young and 'brilliant,' have nihilistic point of view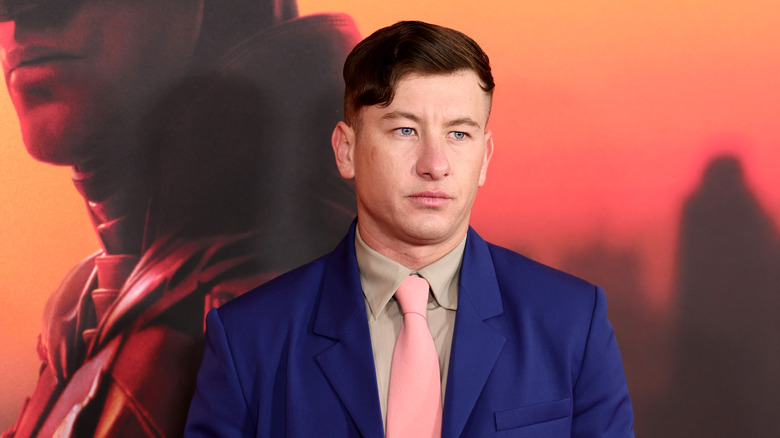 Dimitrios Kambouris/Getty Images
Since "The Batman" is not exactly an origin tale per se, but rather an early look at the DC hero during Year Two of his Gotham escapades, Matt Reeves wanted to go with a Joker who was just getting started out as well. 
"We have a Joker that's not yet the Joker," Reeves told IGN. "He's had to spend a life of people looking at him in a certain way, and he knows how to get into your head," the director explained. "This idea of him being very kind of incisive and brilliant, and being able to get into your mind, and having basically this nihilistic point of view, that from his inception, from his birth, life has been a cruel joke on him, and this is his response." 
According to Reeves, "The Batman" ultimately serves as an "origin story," of sorts, for the hero's iconic rogues gallery, which, in the movie, includes the Riddler (Paul Dano), Penguin (Colin Farrell), and Catwoman (Zoë Kravitz). In Reeves' universe, the Joker is currently locked up at Arkham Asylum for some unknown reason. He interacts with Riddler following the character's arrest and final events of the film, telling him that one day, a person can be on top of the world and the next day, they can be viewed as "a clown." Reeves' movie was supposed to have another "really cool scene" involving Barry Keoghan's Joker and Robert Pattinson's Batman at Arkham Asylum earlier on, but it was cut for some undisclosed reason. Here's how the Caped Crusader's greatest foe would have looked — and will continue to look like, should Reeves use him again.
Keoghan's Joker to resemble Conrad Veidt in the 1928 film The Man Who Laughs
According to Matt Reeves, Barry Keoghan's version of the Joker closely resembles what actor Conrad Veidt's disfigured Gwynplaine character famously looked like in the iconic 1928 silent film, "The Man Who Laughs." As many comic book and movie fans know, Veidt's performance in the Universal Pictures' romantic horror flick reportedly helped inspire the creation of Joker (via Den of Geek). 
"He's very much out of the Conrad Veidt sort of mold," Reeves said of Keoghan's portrayal. "And that idea of the silent film, of 'The Man Who Laughs.' He's got this congenital disease, he can never stop smiling. And I was like, 'Well maybe there's something here,' where it's not something where he fell in a vat of chemicals or it's not the [Christopher] Nolan thing where he has these scars and we don't know where they came from." He added that he wanted to look into the Joker having a "very dark reaction" to a condition he's had to deal with since birth.
In the past, "Batman" creator Bob Kane confirmed that he and writer Bill Finger drew inspiration for the Joker from Veidt's appearance in "The Man Who Laughs," with Kane being quoted in a 1994 interview as saying, "Bill Finger had a book with a photograph of Conrad Veidt and showed it to me and said, 'Here's the Joker.'" As for Reeves' version of the DC villain, "The Batman" director says he plans to use his congenital disease to shape the character's outlook on the Dark Knight and the world as a whole. "This is his response," Reeves told IGN. "And he's eventually going to declare himself as a clown, declare himself as the Joker."