The Ending Of The Walking Dead Season 11 Episode 12 Explained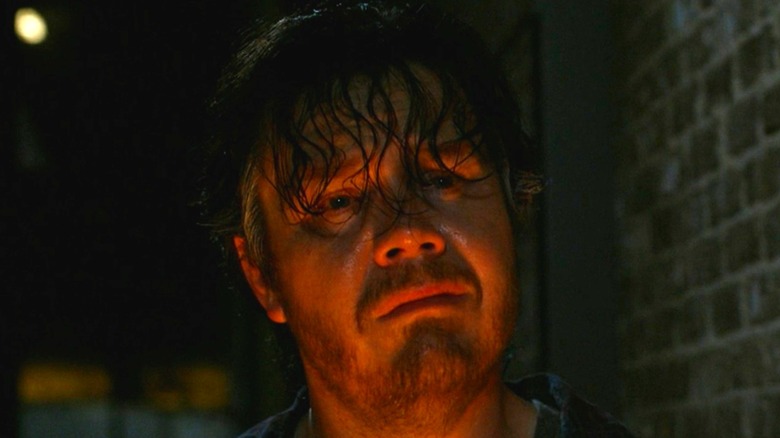 AMC
A mere three weeks after "The Walking Dead" Season 11, Part 2 premiered, the final season of the zombie biter drama is officially halfway over. The 24-episode season, which is being split into three parts, is set to conclude at some point in 2022, just before "The Walking Dead" universe splinters into a seemingly never-ending set of spinoffs (the newest of which is said to focus on Maggie (Lauren Cohan) and Negan (Jeffrey Dean Morgan)).
The first three episodes of Season 11, Part 2 have teased a variety of tensions building within the Commonwealth. Though things between our main characters and the largest community ever featured on the series appear friendly at first, the ending of Episode 9 ("No Other Way") reveals that things will not stay friendly forever. Though we still don't have a complete understanding of the context, a six-month flashforward in Episode 9 reveals that Maggie Rhee and Daryl Dixon (Norman Reedus) will end up on opposite sides of a coming war. 
Episode 10 ("New Haunts") and Episode 11 ("Rogue Element") explore the extraordinarily deep-rooted corruption within the governing class of the Commonwealth, something obviously related to the inevitable war between the communities. Episode 12 ("The Lucky Ones") continues to tease this storyline out with a heavy focus on the tragic love life of Eugene Porter (Josh McDermitt), the health of Ezekiel Sutton (Khary Payton), and the longterm goals of Governor Pamela Milton (Laila Robins).
Stephanie is actually... Max?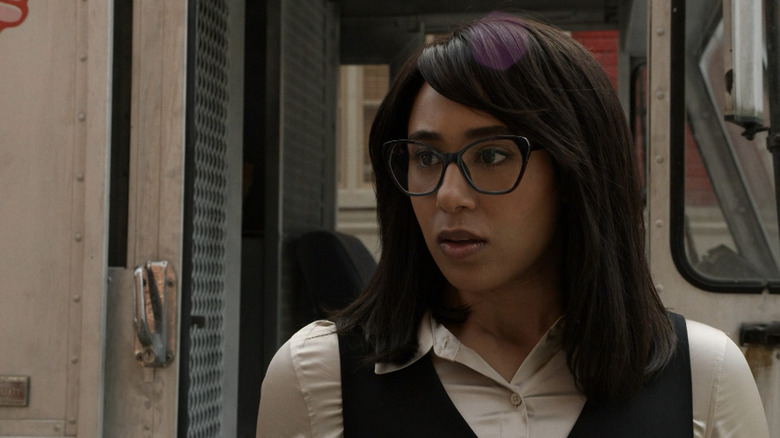 AMC
In one of the more confusing storylines every featured on "The Walking Dead," Episode 11 ("Rogue Element") reveals that Stephanie (Chelle Ramos), the woman who Eugene quite obviously believed could be the future Mrs. Porter, is actually not named Stephanie at all. In fact, Eugene and Stephanie's entire relationship has been a fraud. Instead, this woman is revealed to be a rather bizarre impostor simply meant to lure Eugene and his fellow Alexandrians into the Commonwealth. "Stephanie" is actually named Shira, an undercover agent loyal to Deputy Governor of the Commonwealth Lance Hornsby (Josh Hamilton). 
Of course, Eugene is distraught by this reveal, but he is even more confused when a woman named Max (Margot Bingham) announces herself as the actual person who spent so much time talking to Eugene on the radio. In Episode 12 ("The Lucky Ones"), Eugene learns Max's side of the story. As it turns out, Max built her radio with discarded parts found in a dumpster and managed to reach the outside world without approval from the leaders of the Commonwealth. Sadly, Max's radio was eventually discovered by her brother, Mercer (Michael James Shaw), and she was forced to cancel their planned rendezvous back in Season 10, leaving Eugene to be discovered by a battalion of stormtroopers and essentially catfished for the purposes of the Commonwealth's expansion.
It wasn't until weeks later that Max ran into Eugene and Stephanie on the street and quickly recognized Eugene's distinct speech patterns. Though Max admits that she is upset at Eugene for never figuring it out, she appears to understand that Eugene's lack of experience in romantic relationships made him particularly susceptible to Shira's carnal manipulation. The two quickly bond over their shared love of action novels.
Ezekiel goes in for surgery, but he's uneasy about it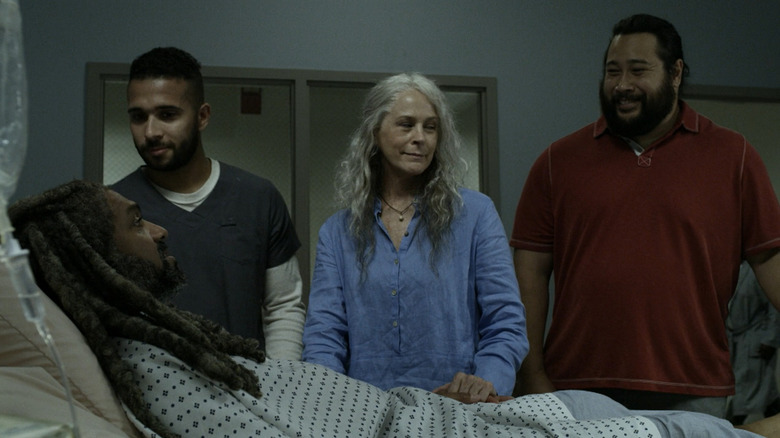 AMC
In Episode 10 ("New Haunts"), Carol Peletier (Melissa McBride) moves heaven and earth to get Ezekiel moved up the surgery priority list in order to treat a cancerous tumor growing on the former monarch's thyroid. It is repeatedly made clear that this is a difficult power play to accomplish, but, of course, this is Carol we are talking about here. After working a few relatively simple favors for Hornsby, Carol manages to secure Ezekiel a surgery and wipe away all of his medical debt. 
However, Ezekiel is not a stupid man. Though he was not aware of his exact order in the line, it has been clear to him for sometime that he would likely expire prior to any surgery becoming available. The sudden news of his upcoming surgery sets off red flags everywhere for him. Though he is angered at Carol for having cheated the system, he quickly accepts the help. Notably, Ezekiel isn't even the character most happy about the good news. Jerry (Cooper Andrews) grins from ear to ear as Ezekiel is wheeled away for the live-saving procedure.
The interesting part of this development is the fact that Ezekiel opts to go through with the surgery, despite his acknowledgment that it is most certainly an ill-gotten gain. In a post-episode interview, "The Walking Dead" showrunner Angela Kang explained that Ezekiel's initial revulsion and eventual acceptance reflects his sense of morality, but also his deep desire to live and contribute to the future of society.
Maggie says no to the Commonwealth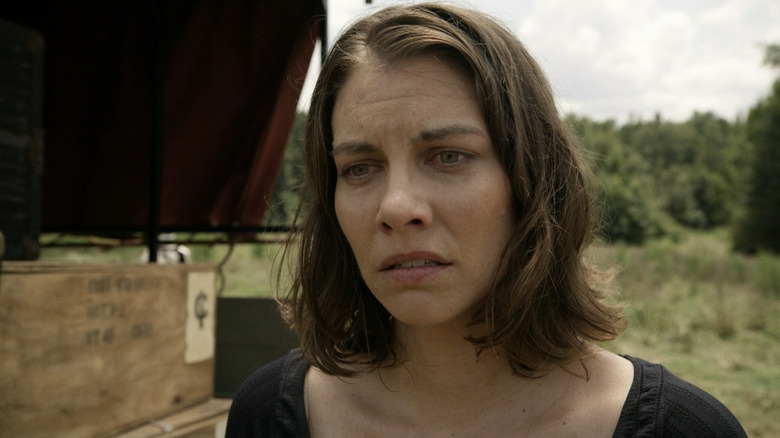 AMC
It doesn't take long for Maggie to express a heavy dose of skepticism towards Governor Milton and Deputy Governor Hornsby. In fact, it quickly becomes clear that the two societies are governed by very different leadership styles. Whereas the leaders of the Commonwealth have no qualms about enjoying the superfluous benefits of such a wealthy community, Maggie chooses to live her life in a decidedly humble manner.
Despite Maggie's many concerns about her new neighbors, she is somewhat swayed by the copious resources made freely available in the Commonwealth. Not only are their people well fed, but they also seem to lead lives nearly identical to those before the apocalypse, surely an attractive offer to anyone in a position such as Maggie's. However, Maggie takes quick note of the militarized nature of the Commonwealth's stormtroopers and grows concerned about any potential future in such a society.
After Governor Milton asks why Maggie would turn down such a bright future, Maggie responds, "Everything costs something." Sadly, this heuristic is ultimately proven true. A number of Maggie's most-trusted followers, including Dianne (Kerry Cahill), depart the Hilltop Colony in favor of the Commonwealth. Though we all know that Hilltop and the Commonwealth appear to be on course for a coming confrontation, it sure doesn't seem like this is bound to be much of a fair fight.
New episodes of "The Walking Dead" air on AMC on Sunday nights at 9/8c (via AMC). Check out AMC+ for early access to each episode.