James Cameron Reveals Plot Details For Avatar Sequels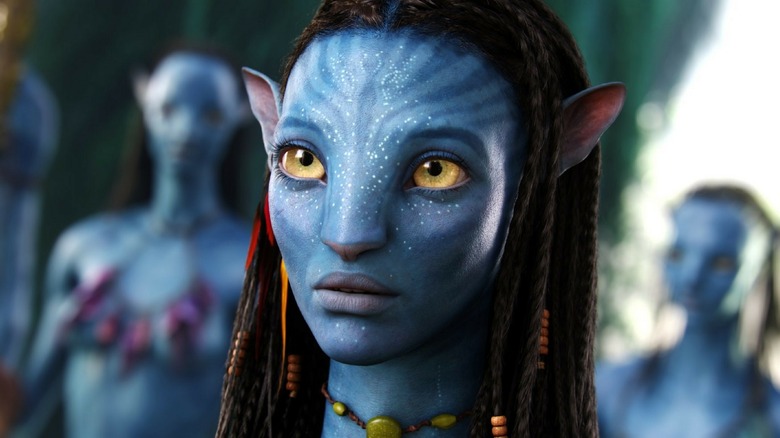 James Cameron has some big ideas for the future of Avatar, planning four sequels to the 2009 hit, all of which are set to film back-to-back. The director recently revealed some further details of the sequel in an interview with Empire, teasing why he wanted to film them all together and explaining what audiences can expect.
The director says that the movies will all see the same antagonist, and it will be someone who fans are already familiar with– but maybe weren't expecting. Cameron revealed that Stephen Lang's Colonel Quaritch will be back to terrorize the heroes, although he didn't say how he managed to survive the arrows to the chest he got in the first movie.
"The interesting conceit of the Avatar sequels is it's pretty much the same characters," he said. "There are new characters and a lot of new settings and creatures, so I'm taking characters you know and putting them in unfamiliar places and moving them on this greater journey. But it's not a whole bunch of new characters every time. There's not a new villain every time, which is interesting. Same guy. Same motherf***er through all four movies. He is so good and he just gets better. I know Stephen Lang is gonna knock this out of the park."
Having Colonel Quaritch carry over as the villain through all four films helps to further reinforce the idea that the films will be what Cameron describes as "a greater narrative broken up into four complete stories." The director got the idea to film back-to-back from another set of stories– Peter Jackson's Lord of the Rings trilogy.
"I said, 'It's your fault I'm doing this, motherf***er!'" he said. "It's one big story. But I would say a little bit different from The Lord of the Rings, which you knew was a trilogy and that allowed you to accept a sort of truncated ending for movies one and two and then a fulfillment."
Jackson previously described the movies as a family saga, focusing on Jake (Sam Worthington), Neytiri (Zoe Saldana), and their children. Sigourney Weaver, Matt Gerald, Joel David Moore, and C.C.H. Pounder are among the returning cast for the films, which will also feature new cast members including Fear the Walking Dead's Cliff Curtis as Tonowari, the leader of a clan of reef people, and Game of Thrones' Oona Chaplin as Varang, a prominent character described as being strong and vibrant.
Avatar 2 is set to premiere on December 18, 2020, while Avatar 3 will follow on December 17, 2021. The fourth film will premiere on December 20, 2024, while the fifth will hit theaters on December 19, 2025. While we wait for the films to be released, see why it has taken us so long to get a follow-up to the highest grossing film of all time.