Is Eddie Really Leaving Blue Bloods?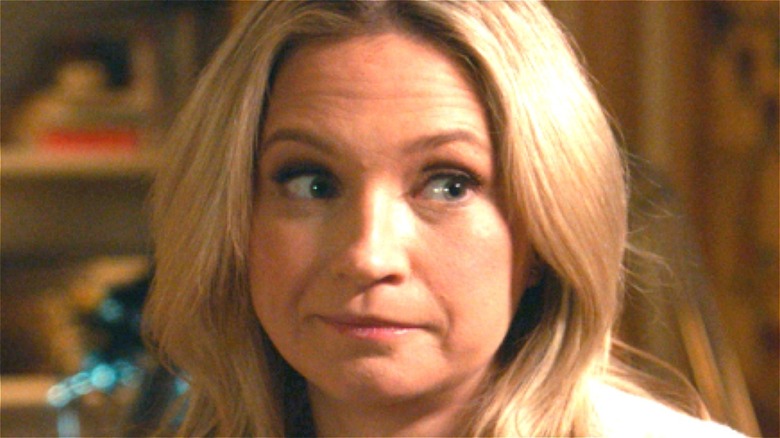 CBS Entertainment/CBS
CBS cop show "Blue Bloods" revolves predominately around the Reagan family, spanning multiple generations. Within the Reagan family, almost every adult family member works in a branch of policing. So, while inter-family dynamics tend to factor into a typical episode of "Blue Bloods," so too do certain co-workers at each of the primary Reagan family members' jobs.
Jamie Regan (Will Estes) is an NYPD cop, ultimately attaining the rank of sergeant midway into the series. Early on in Jamie's career, he's assigned to work alongside Eddie Janko (Vanessa Ray). While their partnership is professional at first, it soon develops into a romance, culminating in their marriage. Despite what could be a conflict of interest, Jamie and Eddie decide to work alongside one another even after Jamie's promotion.
Season 12, Episode 14, however, appeared to introduce an obstacle into their work dynamic upon its premiere, leading some viewers to wonder whether Ray may be getting ready to leave her longtime "Blue Bloods" role.
Eddie is most likely going to remain a part of Blue Bloods
In "Blue Bloods" Season 12, Episode 14, the NYPD's Special Victims Unit enlists Eddie for an undercover job. Midway into her investigation, an acquaintance blows her cover, resulting in her reassignment. Nevertheless, at the episode's conclusion, Eddie reveals that, whereas she had previously expressed some interest in becoming a sergeant alongside Jamie, she has decided instead to work as a detective with the Special Victims Unit moving forward. While this career adjustment could place Eddie on a path divergent from Jamie's, Vanessa Ray will most likely remain a member of the "Blue Bloods" cast for the foreseeable future.
Perhaps most notably, Ray has no future projects to her name other than upcoming episodes of "Blue Bloods" (via IMDb). Furthermore, her most recent prior credit is her role in "Pretty Little Liars," which concluded in 2017, suggesting "Blue Bloods" has been and remains her priority.
Additionally, Ray appeared alongside her "Blue Bloods" costar Donnie Wahlberg in a video released by his boy band New Kids on the Block on March 3 to their YouTube channel, some time after the premiere of "Blue Bloods" Season 12, Episode 14. At the very least, this suggests she maintains a friendly working relationship with her costars. With no indication otherwise that this might soon change outside of Eddie's in-fiction change of job, their collaboration is as good of evidence as any that Eddie won't be leaving anytime soon.