Why Dr. Agnes Jurati From Star Trek: Picard Looks So Familiar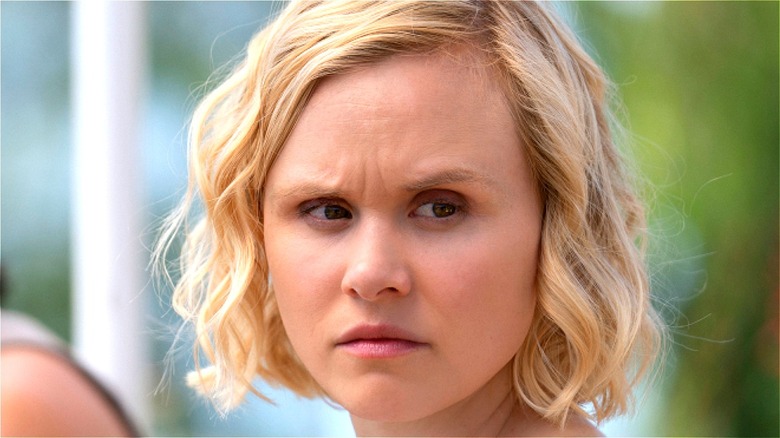 Aaron Epstein/CBS
After more than two decades off the air, Patrick Stewart returns as the iconic Jean-Luc Picard in a new series, aptly named "Star Trek: Picard." Picard (and his show) wastes no time getting back to business after the ending of "Star Trek: Next Generation." One of the best episodes of "Star Trek: Next Generation" called "The Offspring" follows Data (Brent Spiner) and his attempt to have a child of his own, only for his rights as a sentient being to be called into question. This topical issue is the main crux of "Star Trek: Picard," taking place after the creation of synthetic life has been banned. 
In the series, Picard is still mourning Data's death, which ultimately spins him into a vast conspiracy, leading him to team up with Dr. Agnes Jurati (Alison Pill). Jurati is a researcher in the synthetic field and is closer to the heart of the mystery than Picard initially realizes. The reveal of Jurari being Bruce Maddox's (John Ales) murderer is one of the big twists of the season, leaving many unanswered questions in "Star Trek: Picard." With fans eagerly waiting for Season 2 to premiere in March, some may be wondering just where they have seen Pill before.
She was the drummer for Sex Bob-Omb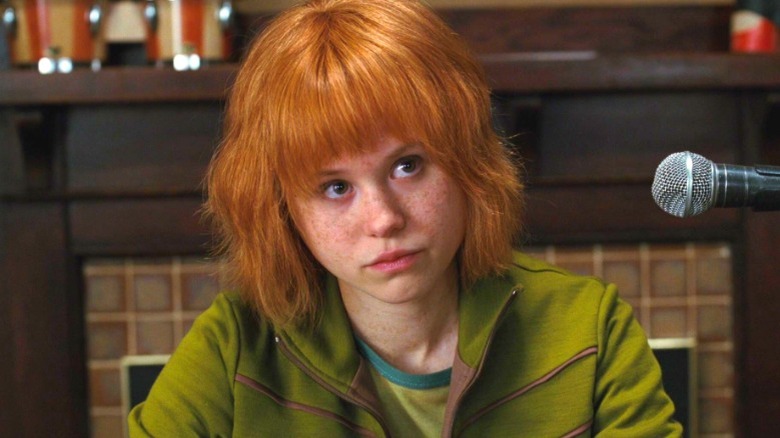 Universal Pictures
A master of both drama and comedy, there is not a lot that Pill cannot pull off. Her early career was a flurry of both film and television, but one of the actor's first notable roles is in Edgar Wright's "Scott Pilgrim vs. the World" in 2010. The movie is adapted from Canadian author Bryan Lee O'Malley's successful series of comics (via Oni Press), and it was a great success, earning an 82% critics rating on Rotten Tomatoes. 
Starring Michael Cera as the titular character, "Scott Pilgrim vs. the World" is the classic tale of a young man having to fight his new girlfriend's seven evil exes in order to be with her. Pill portrays the underappreciated and arguably best character of the film in Kim Pine, the drummer in Scott's band Sex Bob-Omb. The two characters used to date and now Kim is forced to watch Scott make a myriad of mistakes with his new girlfriend, all while trying to get their band signed to a record label. 
Pill utilizes dry wit in her performance and is one of the funniest components of the film. In the end, she is vindicated in a throwaway line of Scott apologizing for his treatment of her, but it gains a smile from her and a satisfying conclusion to the film.
She continued with comedic roles in hockey film Goon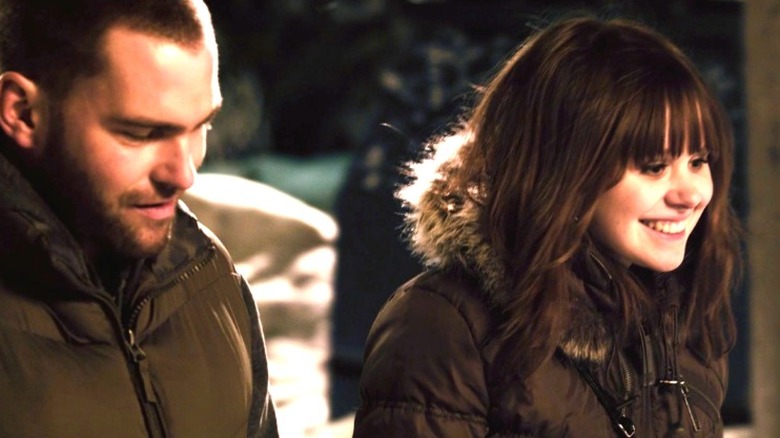 Alliance Films/Amazon Prime
Hockey enforcers are never so funny as they are in the independent comedy "Goon." The charming movie features Seann William Scott as Doug, a dichotomous character who is both the nicest person on the planet, but also is a tough hockey enforcer. 
Optimistic and hilarious, "Goon" is at its heart a love story. Written by Evan Goldberg and Jay Baruchel, with the latter also acting, the film follows Doug after he is drafted to the Halifax Highlanders hockey team as an enforcer (via IMDb). There, he protects teammate Xavier LaFlamme (Marc-André Grondin), while also trying not to pursue a relationship with hockey fan Eva (Pill).
Eva is already involved in a relationship with someone else, but she cannot help but fall for Doug's good-naturedness. Interspersing laugh out loud moments with the violence of hockey, the film is unlike many romantic comedies of its ilk, and it impressed audiences after its Netflix run. Certified Fresh on Rotten Tomatoes with an impressive cast, "Goon" is the epitome of a feel-good movie.
She wielded Aaron Sorkin dialogue in The Newsroom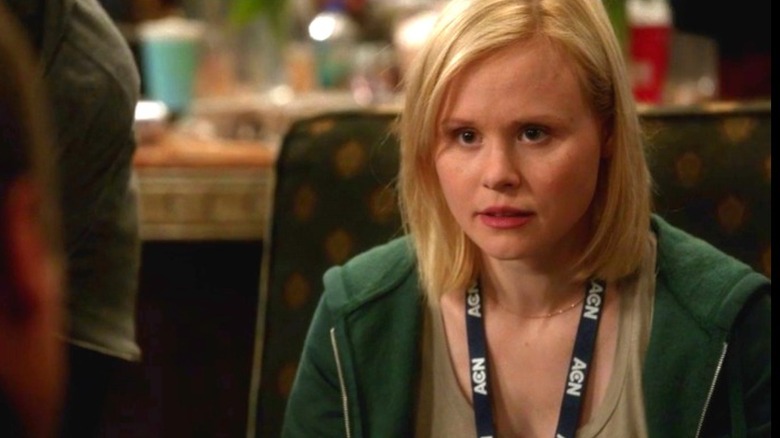 HBO
Though short-lived, HBO's "The Newsroom" is similar to many other Aaron Sorkin projects, with clever characters just wanting to do good. Pill appears alongside Jeff Daniels and Sam Waterston in the series centered around a fictional news broadcast. Desperate to make journalism mean something again, Will McAvoy (Daniels) and MacKenzie McHale (Emily Mortimer), his ex-girlfriend and new executive producer, set up a new "News Night" show with higher standards. Will's news team is made up of many notable actors including John Gallagher Jr., Olivia Munn, and Dev Patel. But one of the most significant characters developed throughout the three seasons is Maggie, played by Pill. 
First introduced as an anxiety-prone pushover, Maggie is an assistant of Will's promoted to be a producer after a cataclysm of events. She spends her time trying to impress Will enough to make it in news, despite criticism from her boyfriend Don (Thomas Sadoski). While it's no surprise that their relationship doesn't make it, Maggie's career does. She goes from having panic attacks all the time to believing wholeheartedly in what she is doing. In the final season, she becomes a respected reporter who gains self-confidence after many ups and downs. While most of the characters maintain many of their initial personality traits, Maggie refuses to stay the same and creates the best version of herself.
She was on a neverending train ride in Snowpiercer
Director Bong Joon Ho often discusses themes of class in many of his films, and these ideas play a huge role in his 2013 movie "Snowpiercer." Originally adapted from a French graphic novel (via The Verge), the movie is set in a dystopian world where all of humanity must survive on a train that never stops. On the train, the remains of society are split up into the classes that existed before the world went to chaos. Curtis (Chris Evans) becomes the de facto leader of an uprising of the lower class, and he must travel from the back of the train with the poor passengers up to the front to confront the conductor Wilford (Ed Harris).
Along the way, Curtis faces off against a multitude of characters who want to stop him. Pill is one of these obstacles, only being credited as "Teacher." True to her name, she is a person instructed with educating the higher class children on the train. She is so motivated to uphold the status quo, she even wields a machine gun against Curtis, demonstrating how much people are willing to stick to broken class structures, even at the end of the world.
She appeared in one of the scariest seasons of American Horror Story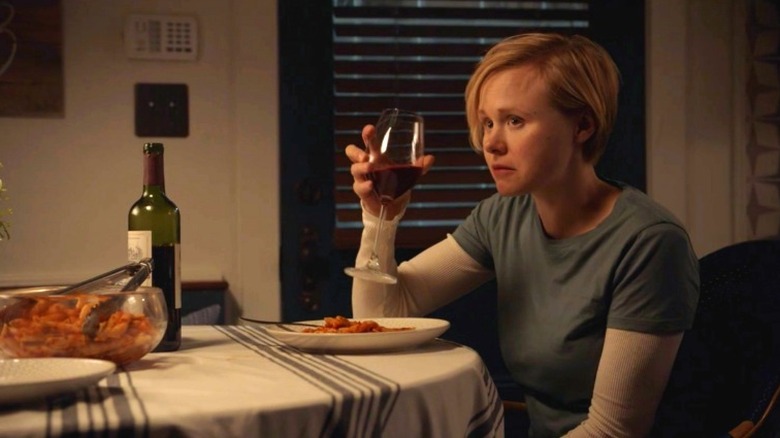 FX/Amazon Prime
With over a decade of content, there are many seasons of "American Horror Story" to choose from, but Pill appeared in perhaps the scariest season of "American Horror Story" yet. "American Horror Story: Cult," which is the seventh season of the show, is notable because it has none of the supernatural elements that are usually a part of the anthology series. Instead, it is about the ramifications of Trump's election and the terror that it inspires.
Pill portrays Ivy Mayfair-Richards, whose wife Ally (Sarah Paulson) becomes overwhelmed with anxiety and fear after the election. Ally's phobias and paranoia puts a strain on their relationship, leading to the events of the season. Ivy becomes incensed with her wife for voting for Jill Stein instead of Hillary Clinton, believing she essentially cinched the election for Trump. Her rage is so great that it even causes Ivy to join Kai's (Evan Peters) cult. Unlike many actors in "American Horror Story," this is Pill's only appearance in the show to date. But like many before her, she suffers a brutal demise when she is killed by someone close to her.