Argylle Release Date, Cast, Plot, Trailer And More Details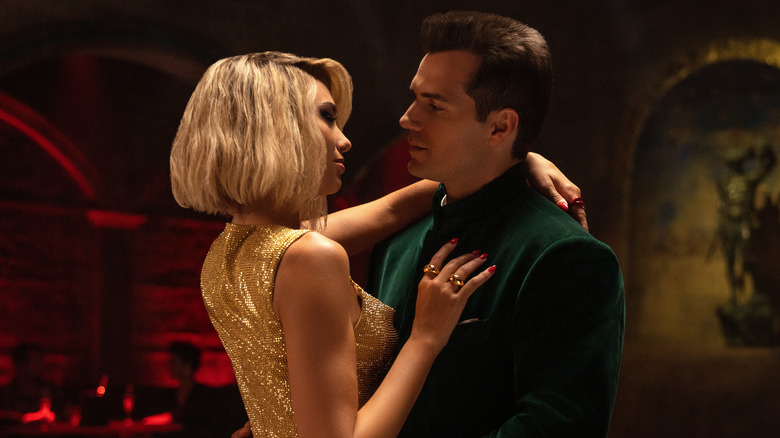 Apple TV+
Move over, James Bond. The cinematic landscape is getting a new superspy. 
Based on the upcoming novel from first-time author Elly Conway, "Argylle" is putting a fresh new spin on the spy genre. Sure, it's about a dashing, debonair secret agent, but there's a lot more going on here than meets the eye. "Argylle" is going to have a ton of fun subverting your expectations of what an espionage movie can be, and the people bringing this story to the screen are so confident in the film that they're already making plans for a trilogy — and possibly even more after that.
If you're intrigued and want to know which A-listers are starring in the film (this cast is stacked), which big-deal director is sitting behind the camera, and when exactly you can watch this unique take on 007-style heroes play out, then read on for everything you need to know about the upcoming "Argylle."
When will Argylle be released?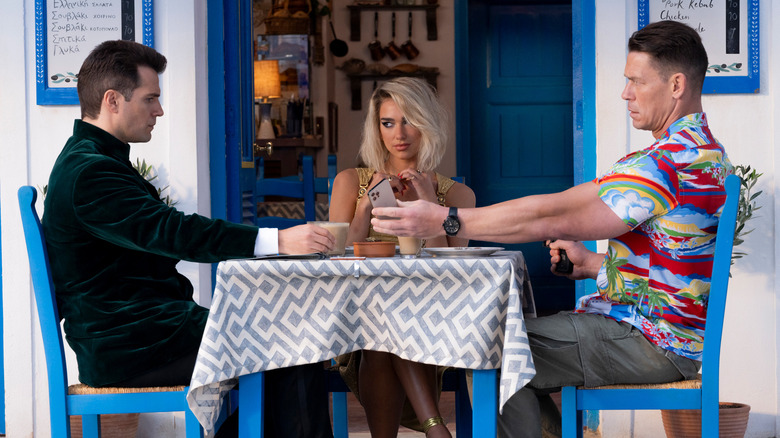 Apple TV+
If you're ready to see a ton of A-list actors play a high-stakes game of cat-and-mouse, then we've got good news for you. A joint effort from studios Universal Pictures and Apple TV+, "Argylle" will first hit theaters on February 2, 2024 before landing on the Apple TV+ streaming service sometime afterwards.
Of course, before the movie can be released, the source material has to come out. "Argylle" is reportedly based on a novel by Elly Conway. Coming from Penguin Random House, the book will be published on January 9, 2024. Interestingly, no one seems to know anything about Elly Conway. According to a Hollywood Reporter article released in 2022, "there exists virtually no information about Conway," other than an extremely short bio listed on Penguin's website.
Interestingly, one of the principal characters in "Argylle" is a novelist named, yep, Elly Conway. Based on what we've seen about the movie, it seems to be incredibly meta, so we sort of wonder if this whole thing is perhaps a marketing ploy. Perhaps we'll learn more about Conway's identity after the book's release on January 9 or the film's release on February 2.
What is the plot of Argylle?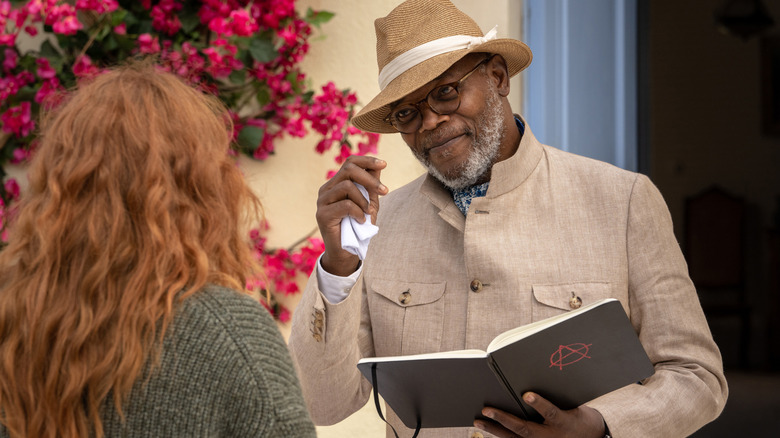 Apple TV+
The trailer for "Argylle" promises a film "from the twisted mind of Matthew Vaughn, director of 'The King's Man,'" and the plot of the movie certainly bears a lot of twists. Blurring real life with fiction — both in the world of the movie and in our actual world – there are multiple levels of reality at play in "Argylle." 
The movie is based on a book by little-known spy novelist Elly Conway, and Elly Conway is also the main character of "Argylle," who just so happens to be a spy novelist too. In the movie, the heroic protagonist of Elly's book is a globe-trotting spy named Agent Argylle, and it would seem that the on-screen Elly is such an adept writer of espionage fiction that her last novel accurately foretold the future. Now, an actual spy organization needs to know what might happen next in her fictional saga, leading to a whole host of spies and assassins hunting after Elly.
Fortunately for our literary lead, she's got her own guardian angel in the form of Aiden, a spy with Jason Bourne-fighting skills (and who's unfortunately allergic to Elly's beloved cat). As they run across the globe, battling plenty of killers along the way, Elly discovers that there actually might be a real Agent Argylle ... and she just may get to meet him.
Who is starring in Argylle?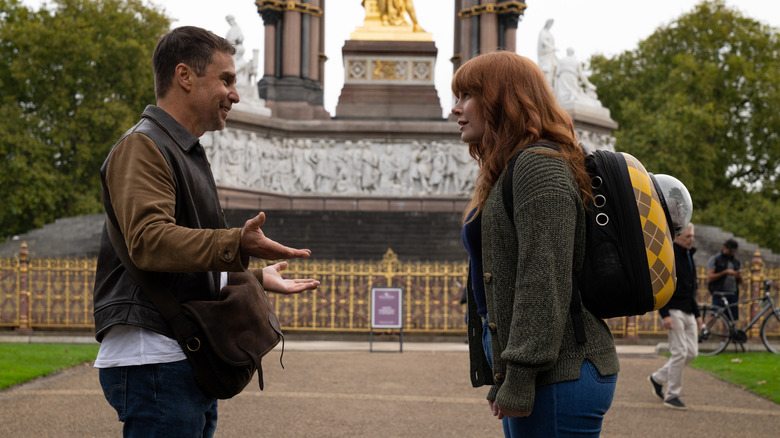 Apple TV+
After "Argylle" was first announced in 2021, Apple and Universal went heavy on the name-dropping when it came to the cast. Honestly, we can't blame them. The movie sports an impressive ensemble, one filled with bona fide movie stars and award-winning actors.
First up, we've got Bryce Dallas Howard ("Jurassic World") playing spy novelist Elly Conway — a fictionalized version of the purportedly real author of the book upon which "Argylle" is based — who's brought into the secret world of spies by handler Aiden, portrayed here by the Oscar-winning Sam Rockwell ("Three Billboards Outside Ebbing, Missouri"). Some of those actual elite spies are portrayed by the likes of Samuel L. Jackson ("Pulp Fiction"), Sofia Boutella ("Atomic Blonde"), and Bryan Cranston ("Breaking Bad"), while the fictional ones who live in Elly's novels will be played by the likes of John Cena ("Peacemaker") and pop star Dua Lipa (in her first major film role).
Most importantly, Henry Cavill of "Man of Steel" fame will portray the titular and mysterious Agent Argylle. Plus, Oscar-winner Ariana DeBose ("West Side Story") will also show up in the film, and "Schitt's Creek" star Catherine O'Hara portrays Elly's mother.
Who is directing and writing Argylle?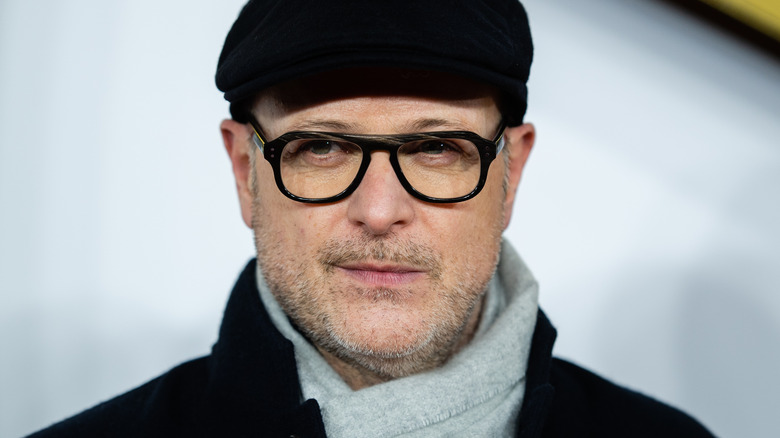 Samir Hussein/Getty Images
"Argylle" could be the start of a new spy movie franchise, and the person calling the shots has plenty of experience in both espionage films and multi-entry sagas. Director Matthew Vaughn previously helmed every entry of the "Kingsman" trilogy: "The Secret Service," "The Golden Circle," and "The King's Man." Vaughn additionally directed the fantasy "Stardust" and the action movies "Kick-Ass" and "X-Men: First Class." Vaughn also wrote the scripts for all those movies, along with the story for "X-Men: Days of Future Past."
It's rare that Vaughn doesn't direct from his own screenplays, and "Argylle" marks just such an occasion. Adapting Elly Conway's forthcoming novel of the same name, we've got Jason Fuchs, a former child actor (he co-starred in 1996's "Flipper") and sometime performer (he had small roles in "It Chapter Two" and "La La Land") turned in-demand screenwriter. In addition to the screenplay for "Ice Age: Continental Drift," he penned the Peter Pan movie "Pan," wrote the story for the blockbuster "Wonder Woman," and adapted Douglas Adams' written work for the upcoming TV series version of "The Hitchhiker's Guide to the Galaxy." Fuchs is also set to write and serve as one of the showrunners on "Welcome to Derry," the Max prequel series to Stephen King's "It."
Is there a trailer for Argylle?
On September 28, 2023, Apple finally broke the seal of mystery surrounding its original film "Argylle" with the release of a thrills-packed, mind-bending, and very silly official trailer that lays out the complex plot of the upcoming action comedy. Certainly referencing James Bond and other spy movies, the clip package begins with a seductive British woman in a slinky dress (Dua Lipa) asking a debonair hero-type with a flattop haircut (Henry Cavill) to cut a rug to a David Bowie number. Following an elaborate and provocative dance, the femme fatale calls out the man as Agent Argylle, and now, he's got to get out of there asap. In the smoke bomb-laden chaos that ensues, Argylle's associate (John Cena) nabs the woman ... only for the action to halt and dissolve into typewritten words falling off of a page. 
Yes, this is all a fictional scenario devised by spy novelist Elly Conway (Bryce Dallas Howard), and it seems she's about to set off on a book tour of Europe, bringing her cat along in an argyle carrier. On a train, she meets a scraggly fan (Sam Rockwell) who defeats a band of assailants, thereby introducing Elly into the world of global espionage. It would seem that her last book accurately predicted some frightening events and the powers that be need her to write what happens next as a matter of security. Set to Elvis Presley's "Suspicious Minds," the trailer promises globe-trotting action and a ton of twisty fun.