This Doctor Who Actor Almost Played Dr. Watson In Sherlock
The British show business world is a bit smaller than Hollywood, so it's no surprise that shows like "Sherlock" and "Doctor Who" actually share a lineage. Steven Moffat was head writer and showrunner of "Doctor Who" from 2010-2017 — which is about the time period he spent working on "Sherlock" as something of a side project (via E! Online) with Benedict Cumberbatch as the famous detective and Martin Freeman as his sidekick, John Watson. "Sherlock" aired 13 episodes over four seasons, and although a Season 5 has long been planned, it has never come to fruition. 
The two shows seem very different — one features a time traveler having sci-fi adventures, while the other is about a private detective solving crimes. However, a closer look at the main figures in each series highlights some major similarities. The Doctor and Sherlock are both representations of a certain type of British male figure: eccentric geniuses with a heroic bent who are both somewhat removed from regular humans by their sheer intellectual power. They each have powerful archnemeses, and they each have sidekicks that keep life interesting. 
Back in the day, one Doctor even auditioned to be Sherlock's sidekick. It's a good thing he didn't get the part because Freeman is perfect in that role and honestly, the actor who played this Doctor would have been too similar to Cumberbatch to make a good sidekick. 
Matt Smith auditioned for the role of Watson and didn't make the cut because he was 'more like Sherlock'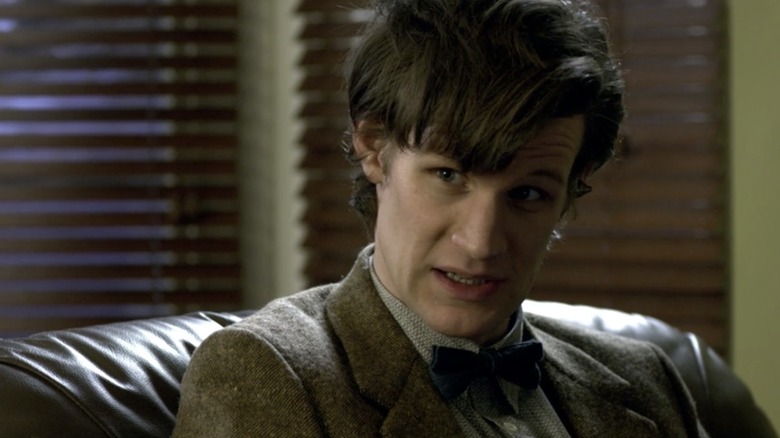 BBC
The revelation came from an issue of Doctor Who magazine in 2010. Moffat told the magazine (via Digital Spy) that he met Matt Smith at an audition, but not for "Doctor Who."  
"He was auditioning — bizarrely enough, if you can picture this — for the role of Dr. Watson in 'Sherlock,'" Moffat recalled. "We'd already cast Benedict Cumberbatch [as Sherlock Holmes] and the very first person we saw for Dr. Watson was Matt, who came in and gave a very good audition. But he didn't have a chance in hell of getting it 'cos he was clearly more of a Sherlock Holmes than a Dr. Watson. There was also something a bit barmy about him — and you don't actually want that for Dr. Watson, you want someone a bit straighter."
Clearly, this audition led Moffat — at least subliminally — to associate Smith with the titular character of his other series at the time. "Oddly enough, I wrote an email where I said, 'I saw this guy today for Dr. Watson and I'd noticed he was on the list for 'Doctor Who' – so the Doctor did flip through my head at that time," he said. 
During a filming session with media in attendance, Smith separately revealed that the audition may have given him a leg up later on. "However, Steven saw something in me that made him think I could be right for the role of The Doctor," Smith reportedly told the Daily Mail.
'Any fool would have cast him,' Steven Moffat said about Smith's 'Doctor Who' audition
Word has it that Steven Moffat cast Matt Smith as "The Doctor" just a few weeks later, despite the fact that he was looking for an older Doctor, possibly in his 40s. "I wasn't going to have any young Doctors on my watch," Moffat told National Public Radio's Fresh Air. "And on the very, very first day — the very, very first day — he was the third one through the door. His audition was so perfect, any fool would have cast him. It was dead easy. And I remember asking, 'What age is he?' And he was 26 and instantly the perfect Doctor because he does do that thing of combining the old man and a young man. He looks like a young man assembled by old men from memory."
During the Matt Smith "Doctor Who"/"Sherlock" era, many fans were pulling for a meetup between the two, noting the characters' similarities. One fan even mashed them up in a YouTube video and got 10 million views. The Daily Mail spread rumors that Cumberbatch had actually first turned down the role of the Doctor following David Tennant's run, but the actor denied this to The Sunday Times (per Digital Spy), saying, "I'd turn it down anyway. Jumping onto school stages and saying, 'I am the Doctor,' it's not where I want to go." (He also later quashed rumors he'd take on the mantle after Smith left the role, via NME). 
Sounds like both actors — and Martin Freeman, who has called his chemistry with Cumberbatch "fairly rare" (per The Guardian) — ended up exactly where they belonged!