Seth Rogen And Evan Goldberg Discuss The Inspiration Behind Their Boys: Diabolical Animated Episode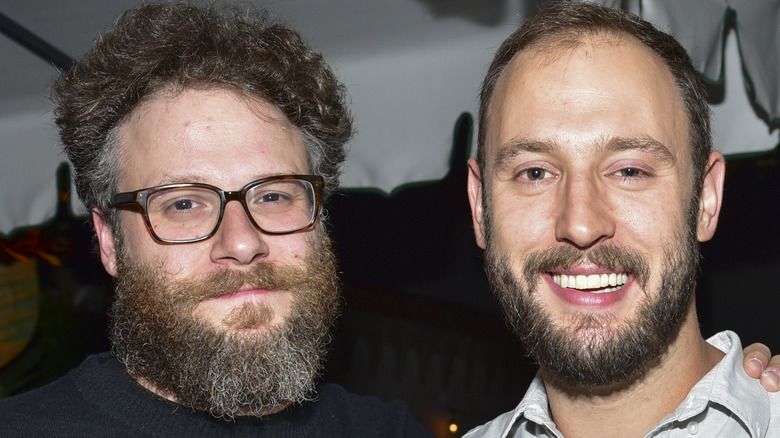 Rodin Eckenroth/Getty Images
We may receive a commission on purchases made from links.
It's been a long wait for Season 3 of the hit Amazon Prime Video super villain series "The Boys," but showrunner Eric Kripke and his fellow creatives, including executive producers Seth Rogen and Evan Goldberg, have found a creative way to tide fans over until the series returns in June. It's called "The Boys Present: Diabolical," an eight-episode animated anthology series that's set in the universe of "The Boys" and gives a variety of writers and directors the opportunity to tell their own Compound V-infused tales with often-times results that are quite literally explosive.
Without question, the most interesting part about "Diabolical" is that each episode has a distinctly different animation style. For example, the episode from "The Boys" graphic novel creator Garth Ennis, called "I'm Your Pusher," is like watching the pages of his creation come to life; while co-writers Justin Roiland and Ben Bayouth's "An Animated Short Where Pissed-Off Supes Kill Their Parents" has the stylings of Roiland and Dan Harmon's Adult Swim smash "Rick and Morty."
"Diabolical" kicks off, though, with an episode from the beautifully demented minds of Rogen and Goldberg, who meld their "Boys" sensibilities with a traditional form of animated storytelling.
Rogen and Goldberg have long wanted to do a 'dialogue-free comedy'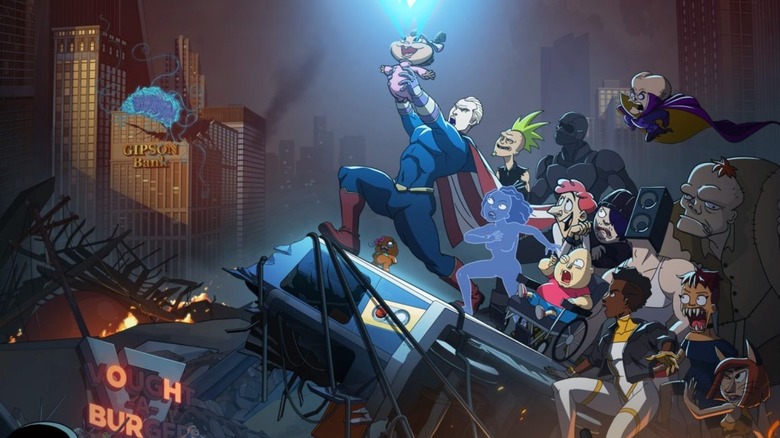 Amazon Studios
Co-written by Seth Rogen and Evan Goldberg, the episode "Laser Baby's Day Out" feels like a combination of a Warner Bros. classic "Looney Tunes" short created under the auspices of Vought International, the scientific conglomerate behind The Seven so-called "superheroes" in "The Boys." As such, "Laser Baby's Day Out" — which naturally was inspired by the fan-favorite Laser Baby in the series — is presented by "Voughtoons."
In a roundtable interview session with Rogen and Goldberg attended by Looper, Goldberg explained how doing the series — and their particular episode — was "a literal dream come true."
"Seth and I always wanted to do, or for the last few years I really wanted to do, dialogue-free comedy and just tell a story without dialogue — and when we realized that we could do an 'Animatrix'-kind of TV show out of 'The Boys' universe, we just instantly came to this idea," Goldberg explained. "And it really is heavily based off of the movie 'Baby's Day Out,' but also the start of "Roger Rabbit.' And so, that animation is the direction we were going in the whole time because it just played best to the comment and the gag in relation to the violence."
'Diabolical' doesn't pull back its reigns when it comes to gore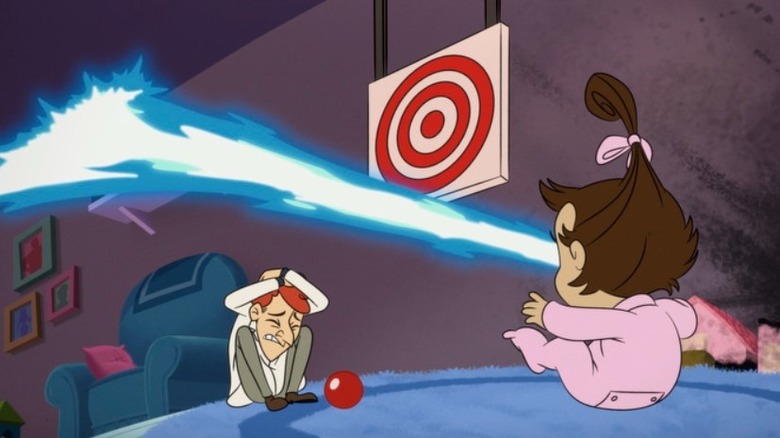 Amazon Studios
The episode "Laser Baby's Day Out" follows a Laser Baby who escapes a Vought International lab and a scientist who is desperately trying to save her from a horrible fate. However, since Laser Babies in "The Boys" are known to cut through any objects by shooting lasers from their eyes — including human flesh — the baby girl in question leaves a lot of blood, guts, and gore in her wake.
Even though gory imagery isn't seen every day in the animation industry and, thus, there are no real standards to follow, Seth Rogen and Evan Goldberg said there were no limitations placed on them by Amazon Studios as to what they could come up with — the series exists in "The Boys" universe, after all.
"I feel like when you're tuning into 'The Boys,' you know what you're getting," Goldberg said in a recent roundtable discussion.
"It's true, and I think we have sensibilities to some degree," Rogen added. "Somewhere within us lies a limit that we do not cross. And that is the line that we abide by. But I think, in general, we like to do things that we find exciting and interesting, and often that involves seeing what people's limits for certain things are."
"The Boys Presents: Diabolical," which debuts March 4, is streaming exclusively on Amazon Prime Video.