The Hilarious Penguin Detail In The Batman Fans Can't Help But Love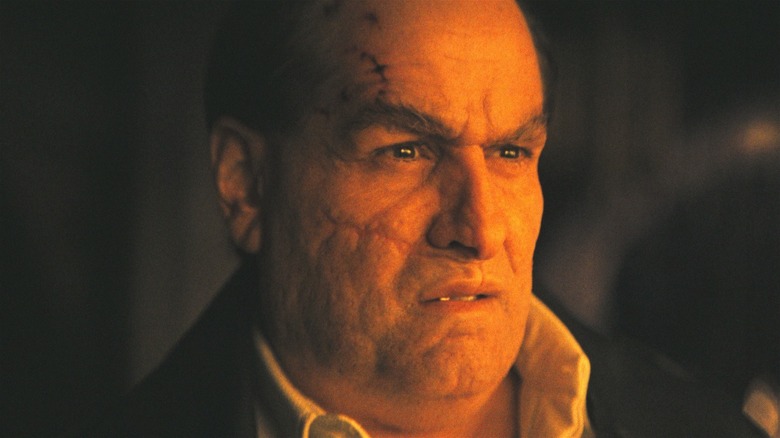 Warner Bros/YouTube
Contains spoilers for "The Batman"
While sparks of the social media debate have been lit over Matt Reeves' "The Batman," one thing most people seem to agree on is their love for Colin Farrell as iconic comic book bad guy The Penguin. The totally unrecognizable appearance of Colin Farrell is hidden behind a bundle of prosthetics and a severe scar that turns him into a version of Oswald Cobblepot that even Danny DeVito may have competition with.
In this new interpretation of the world of "The Batman," we're in an earlier era of the Caped Crusader's career, and we see him encountering all-new friends and foes who play a part in defining him in the years to come. Farrell's Cobblepot is just one of these soon-to-be usual suspects. When we meet him in "The Batman," he's a captain in Carmine Falcone's (John Turturro) enterprise waiting to spread his own wings a little wider. While he may not be a significant threat in the film, he is a repeat offender when it comes to stealing just about any scene he turns up in. For fans of the movie on Reddit, there was one Cobblepot moment, in particular, that had them laughing right along with the bad guy.
The Penguin has one of the best scenes in The Batman
Following a blistering car chase that sees Cobblepot walk away from a wreck that should've undoubtedly cooked his goose, Batman (Robert Pattinson) and Gordon (Jeffrey Wright) take The Penguin in for questioning and apply their own intense methods to get him to talk. It's a wonderful moment of comic book action brought to life that's elevated thanks to the details in Colin Farrell's performance as the hilarious and cunning mob man. Between one of Gotham's few good cops and the vigilante he's allied with, both have underestimated this soon-to-be iconic villain. However, the icing on this intense cake comes when both Gordon and Batman abandon their suspect, which sets up one great touch that some fans were quick to pick up on.
Redditor u/G00bre used a general discussion thread about the film to note, "My favorite little detail was after Gordon and Batman interrogate The Penguin they leave him there, cuffed, waddling. Like a penguin!" That elicited a follow-up from u/tafazzanno, who added, "I was surprised he waddled basically the whole time and had a bit of a hunch. He was so fun."
In general, fans seemed to love The Penguin's interrogation scene, thanks in no small part to Farrell's performance. "His whole back and forth with Gordon and Batman during that questioning scene was so great," wrote u/bostonshroomery. They went on to highlight one of their favorite wiseguy jabs from Cobblepot to his interrogators: "'When are you guys gonna start to harmonize?'"
Considering the love for Farrell's The Penguin, it's not entirely surprising that an all-new spin-off show for the villain is on its way at HBO Max. Based on what we know about the project, it should provide fans with even more noteworthy moments from the character. 
Fans of The Penguin have good reason to get excited
While speaking about the upcoming Penguin spin-off series with SFX (via GamesRadar), producer Dylan Clark said, "We're doing one with Colin [Farrell, as Oswald Cobblepot], seeing Oz rise to power, almost like a Scarface story ... It's exciting to do something like that just as a standalone, but it speaks to the character and our movie, so that you'll go back to the movie [and say], 'Oh, I see that backstory there, that line refers to this.'"
Cobblepot's rise to power is teased at the end of the new film. With Falcone out of the picture, Cobblepot can most definitely have a go at taking over. The main question will be: Who is there to stop him? Such is the winning formula often applied to gangster stories, but given fan chatter about Colin Farrell's take on the character, we can already imagine how a series focused on The Penguin will incorporate fresh dynamics into that tired-but-true formula. Even just looking at the film's interrogation scene, it's clear that The Penguin is a wiser man than people give him credit for, and when you factor in the comedic aspects of the character, it looks like the producers may have a winning formula on their hands. We need only look at the success of a show that blends genres like "Peacemaker" to see how that might work.
Among the drop deals and dirty money trading hands at the Iceberg Lounge and its club within a club, 44 Below, could The Penguin waddle his way into becoming the new complex crime boss of Gotham City? We can only wait to find out.