The Most Disturbing Criminal In CSI: Miami Season 4
If anyone ever tried to add up all of the various psychopaths and monsters featured in the "CSI" franchise, they'd probably have a lot of death and destruction on their hands. From Sqweegel in "CSI: Crime Scene Investigation" to the Cabbie Killer in "CSI: NY" and any number of other examples from additional series, the criminal deviants at the center of the franchise certainly have a lot to answer for. 
One of the worst serial killers in "CSI" history managed to terrorize not one, but two Crime Scene Investigation teams. This specific serial killer proved so difficult to capture that CBS constructed an entire crossover event to take him down. Though we think it's possible that Horatio Caine (David Caruso) might have solved the case faster if not for his insistence on removing and reapplying his sunglasses multiple times over each victim, this serial killer certainly proved to be a difficult foe.
James Badge Dale terrified multiple CSI teams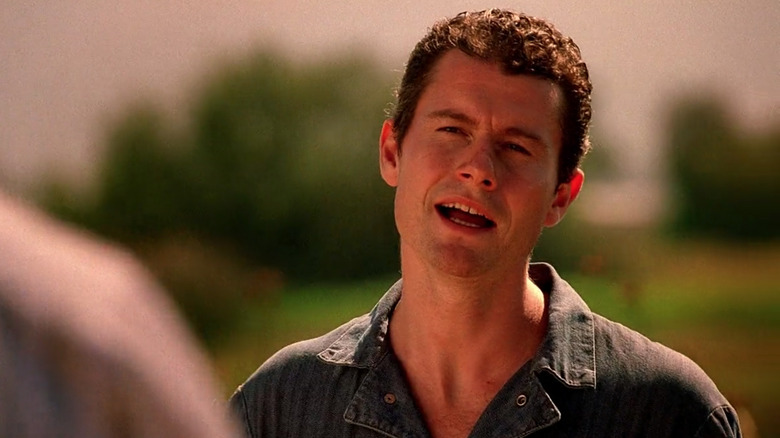 CBS/Paramount+
Actor James Badge Dale first appeared as spree killer Henry Darius in "CSI: Miami" Season 4, Episode 7 ("Felony Fight"), an episode which aired on November 7, 2005. Less than a week later, Darius reappeared in "CSI: NY" Season 2, Episode 7 ("Manhattan Manhunt"). Though the New York team is eventually successful in taking him down, he commits plenty of atrocities in both cities before he is arrested.
In his first scene in the franchise, Darius is seen escaping the wreckage of a plane crash. However, Darius is no victim of pilot error. In fact, Darius quickly murders four college students who offer to come to his aid. Sadly, these four students aren't quite enough to satisfy his evil impulses. Shortly after the plane crash, it is revealed that Darius has also brutalized three girls at a University of Miami sorority, resulting in two more deaths. By the time Darius returns to a prison cell, he has killed a total of 19 people, a shocking number given he only appears in two episodes (via CSI Fandom).
While Darius' crimes are obviously evil, some may not initially recognize the significance of his character and actions. Darius' modus operandi and the location of his latter attack at the sorority are almost certainly inspired by real-life incidents involving serial killer Ted Bundy. In 1978, Bundy escaped from prison and subsequently murdered two women at the Chi Omega sorority house at Florida State University.