Why Sarah Paulson Might Not Be Done With American Horror Story Just Yet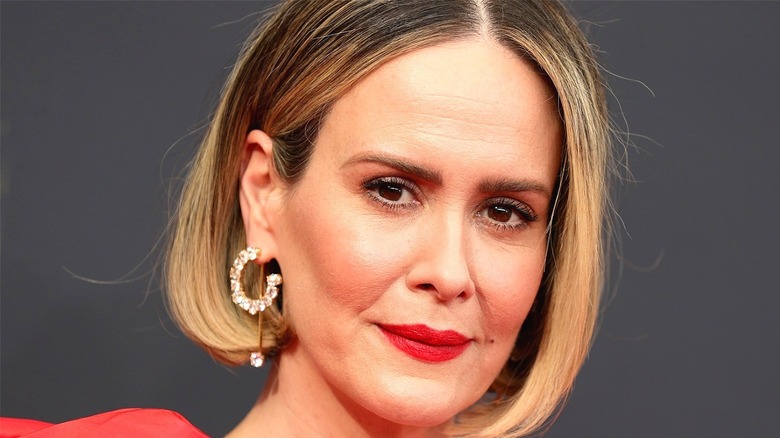 Rich Fury/Getty
It's hard to believe that without FX's horror anthology series "American Horror Story," Sarah Paulson might have never broke into mainstream stardom. The show, created by Ryan Murphy and Brad Falchuk, has aired 10 seasons since its premiere in 2011, with Paulson starring in nine of them. She took a supporting role on "AHS: Murder House" and turned it into a full-time career, with the actress landing in several major film and TV gigs throughout the last decade. 
During her time on "AHS," Paulson has portrayed countless characters — sometimes several in one season. Fans have watched her portray a pair of conjoined twins, a Craigslist medium, a ghost haunting a hotel, and more. Paulson skipped out on Season 9, titled "AHS: 1984," only to return for "AHS: Double Feature" as both Tuberculosis Karen and Mamie Eisenhower. Her portrayals have landed her several Emmy Award nominations (via Emmys). 
Last year, Paulson broke the hearts of "AHS" fans by revealing that Season 10 of "AHS" would likely be her last season (per US Magazine). She seemed unsure at the time of the interview and, more recently, has given a better answer to hopeful fans. 
Sarah Paulson will never say never to an AHS return
Sarah Paulson recently appeared on Evan Ross Katz's Shut Up Evan podcast, and admitted that she'll never truly say no to an "American Horror Story" return. She revealed that whenever Ryan Murphy calls her with an idea for her next character, she gets excited about it. It's that constant renewed interest combined with her gratitude toward the series that always brings her back. 
"I will never say 'never' and it will always feel like a home to me," Paulson said. She pointed out that she's gone on breaks in the past, so it's nice to be able to take time off and be welcomed back. A major part of the appeal of "AHS" is its ensemble cast's ability to portray such a wide range of characters every season. Paulson has been a major part of that, alongside the likes of Evan Peters, Jessica Lange, Lily Rabe, and more. 
It is certain that "AHS" will live on for at least three more seasons after a renewal from FX (via The Hollywood Reporter). Little is known about what Murphy has in store for Season 11, but it sounds like viewers can't count out a return from Paulson.