This Look At Richard Madden As Two-Face Is Flat-Out Creepy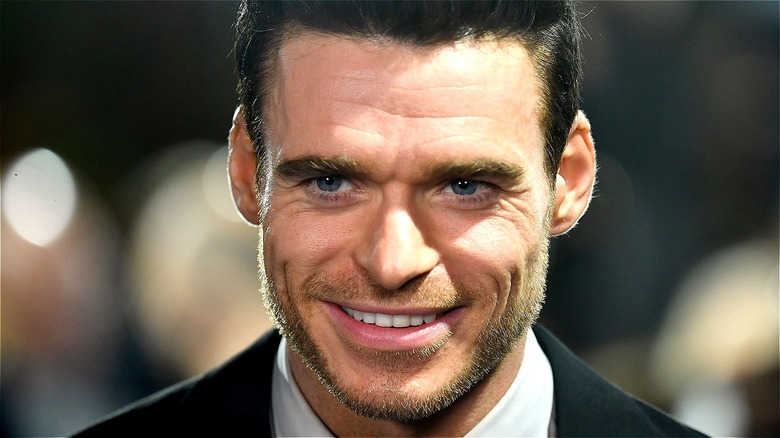 Gareth Cattermole/Getty
Matt Reeves' "The Batman" premieres tomorrow, March 4, 2022, and when it does it will kick off a new trilogy that will once again reboot the Batman franchise. This time around, "Twilight's" Robert Pattinson will be playing the Caped Crusader. The story will take place early in Bruce Wayne's career as Batman and will focus more on his detective skills. Batman's main adversary in the film will be the Riddler, who will be played by Paul Dano. Lots of other classic Batman characters will be part of the story as well, including Catwoman (Zoe Kravitz), the Penguin (Colin Farrell), Commissioner James Gordon (Jeffrey Wright), Carmine Falcome (John Turturro), and Alfred Pennyworth (Andy Serkis).
One character we won't be seeing in "The Batman" is Two-Face/Harvey Dent, the former Gotham district attorney whose face is partially burned away, leaving him disfigured and demented. Two-Face has a long history in live-action Batman films. Aaron Eckhart last played him in 2008's "The Dark Knight." Before that, Tommy Lee Jones donned the makeup in 1995's "Batman Forever." Billy Dee Williams also played Harvey Dent in Tim Burton's 1989 film "Batman," before Harvey became Two-Face. 
Even though Two-Face won't be showing his, um, faces, some fans have still wondered what Matt Reeves' take on the character might look like. One fan created a mock-up that makes a pretty compelling case for one actor to play the character: "Game of Thrones'" Richard Madden.
Richard Madden would make an excellent Harvey Dent/Two Face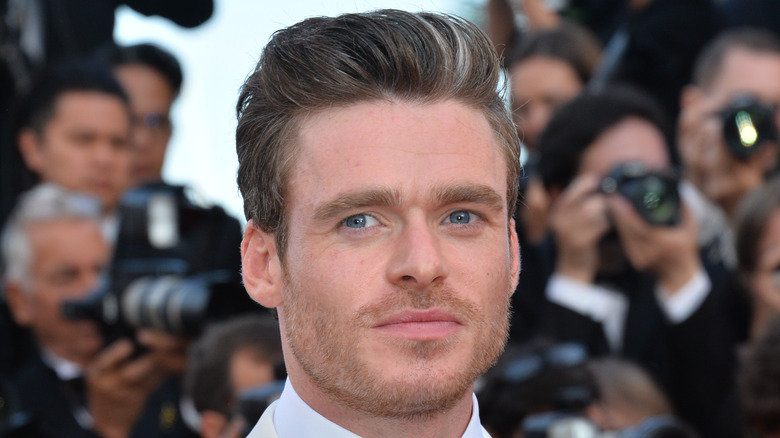 Featureflash Photo Agency/Shutterstock
In October 2020, digital artist William Gray created a portrait of Richard Madden as Two-Face, which you can view on his Instagram. Gray's reimagining is very much in line with the Aaron Eckhart version of the character, with a "burned skull" design that leaves his facial bones and muscles exposed. Madden has played characters who take villainous turns — in Marvel's "The Eternals," Madden's Ikaris does break bad at the end of the film when he tries to seize power –but Two-Face would be a much different character than Madden is used to playing. Gray's artwork could easily be confused for a movie poster. 
While there will be a sequel to "The Batman," so far there hasn't been any confirmation about which villains Batman might be fighting. Matt Reeves has hinted at Mr. Freeze, while Pattinson has teased a possible Court of the Owls storyline — they're a group of mysterious birdlike beings who secretly control Gotham City (via Nerdist). So far, there haven't been any reports that Two-Face is on the table. 
Even if Reeves decide to bring Two-Face into the fold, it's unlikely Madden would play him given his history with Marvel. While there have been several actors who appeared in both Marvel and DC movies (via ScreenRant), it's still rare to see actors take on substantial roles in both. For now, Richard Madden as Two-Face is just an admittedly very creepy dream.