Is This The Best Jackass Spin-Off?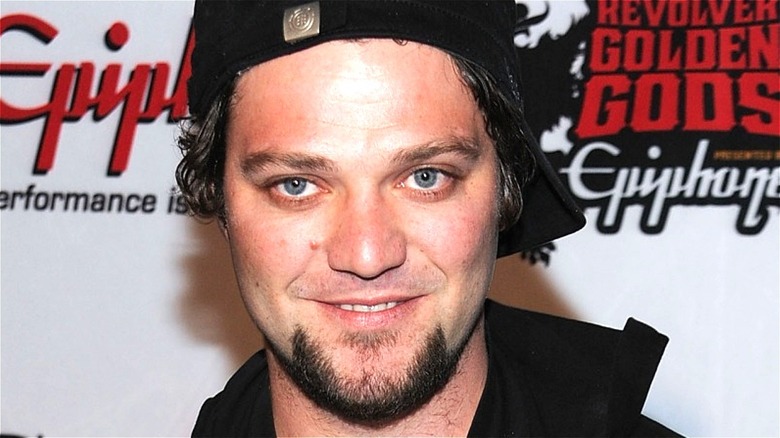 Frazer Harrison/Getty
We may receive a commission on purchases made from links.
MTV's "Jackass" has grown into one of the world's most successful TV franchises, with countless spinoffs, movies, and other entertainment projects that have not only helped spotlight and propel the show's legacy and stunt-crazed stars, but also cemented them into Hollywood pop culture.
In addition to "Jackass," there have been at least half-a-dozen other projects spawned from the original series. This includes "Dr. Steve-O" on TBS; "Bam's Unholy Union" and "Viva La Bam" on MTV; the Chris Pontius and Steve-O led "Wildboyz" series; and Ryan Dunn's "Homewrecker." Starting back in the early 2000s, these shows helped carry the "Jackass" torch into the new millennium and onward, with some — like "Viva La Bam" and "Wildboyz" — airing for multiple seasons. Former "Jackass" stars like Bam Margera, Pontius, Steve-O, and Dunn, all took part in the crazy and outlandish spinoffs, though several others like Johnny Knoxville and Wee Man would also often show up. Fast-forward to 2022, and most of the guys are all still doing their thing — hurting, pranking, and humiliating themselves for our own twisted entertainment. The group's latest project, the movie "Jackass Forever," hit theaters on February 4 and is said to be the most ridiculous one yet.
So if "Jackass Forever" is one of the best iterations of the franchise to date, what about the spinoffs? Which one of those ultimately holds the crown?
Fans say Wildboyz is the best Jackass spinoff
According to online polls and IMDB ratings, out of all the projects to have been spawned by "Jackass" over the years, it was MTV's "Wildboyz" that became the biggest hit among fans. A survey of 1.3K Redditors found that more than 760 people believe Chris Pontius and Steve-O's cultural and wildlife show was the best spinoff, followed by "Viva La Bam" with 541 votes. 
"I used to be obsessed with Viva La Bam but as time goes on Wildboyz is much more classic," explained one Redditor.
On IMDB, "Wildboyz" currently has a rating of 7.2 out of 10, with more than 4,500 users reviewing it. Fans have praised the show for not only entertaining people but also educating them. "I loved the combination of stupidity and cultural study," said one IMDB reviewer in 2014. "It seemed as though they wanted the viewers to learn some things, or at least appreciate a foreign culture. And I did!" The series started in 2003 wound up airing for three years, with four separate seasons being churned out with visits to Thailand, Russia, Argentina, Mexico, South Africa, Australia, New Zealand, India, Brazil, and countless other places. Anyone looking to stream "Wildboyz" can find it on MTV's website, Amazon, and Apple TV.