What Is The Song In The Boys Presents: Diabolical Episode 2?
Contains some spoilers for "The Boys Presents: Diabolical" Episode 2, "An Animated Short Where Pissed-Off Supes Kill Their Parents."
"The Boys Presents: Diabolical" picks the brains of animation-industry greats like Justin Roiland ("Rick and Morty") and Giancarlo Volpe ("Star Wars: The Clone Wars") to create a series of unconnected but wildly creative cartoon shorts that take place within the universe of the live-action Amazon series "The Boys." Familiar characters like Homelander (Antony Starr), Madelyn Stillwell (Elisabeth Shue), and Vought head Stan Edgar (Giancarlo Esposito) show up in various episodes through the adult animated anthology, as do some very colorful new characters. For fans of "The Boys," this episodic dive into a world they love will be must-see television when it hits Prime Video on March 4.
The series' second episode, "An Animated Short Where Pissed-Off Supes Kill Their Parents," is co-written by Roiland and Ben Bayouth, and it is directed by Parker Simmons. The episode centers around D-list superheroes who are stuck with crappy powers after taking Compound V and are left in a specialized center after their parents realize they can't monetize their child's special abilities. As the group of misfit supers hits the road to off their parents, a familiar tune is heard. If you're a fan of songs from the 1990s, this one will definitely feel familiar to you.
Hootie and the Blowfish's 'Only Wanna Be With You' is a chart-topping hit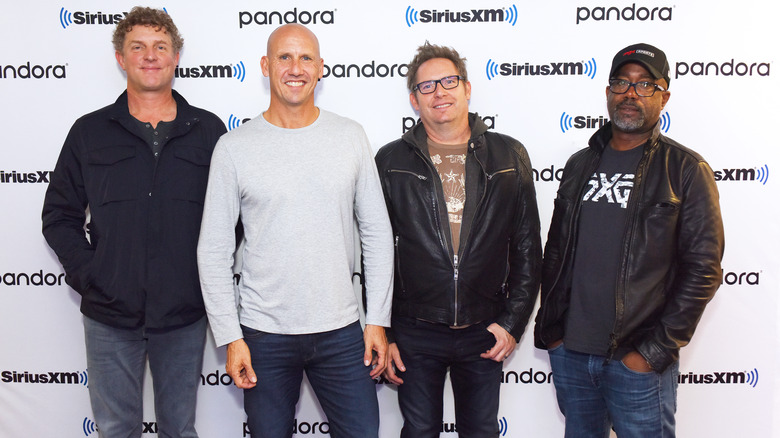 Bonnie Biess/Getty Images
The song featured in Episode 2 of "The Boys Presents: Diabolical" is Hootie and the Blowfish's "Only Wanna Be with You." Surprisingly, "Only Wanna Be with You" is the biggest pop hit Hootie and the Blowfish have ever had. Following its release in 1995, the song peaked at #6 on the Billboard Hot 100. It also hit #2 on the Mainstream Rock chart the same year and was a #3 Adult Contemporary hit. "Only Wanna Be with You" was so successful in Canada that it hit #2 on the RPM Top 100 Songs of 1995 chart, per Library And Archives of Canada. "Cracked Rear View," the album that features the catchy tune, peaked at #1 on the Billboard 200 in May 1995 and stayed there for eight weeks (via Billboard).
Fans of "Only Wanna Be with You" will note the song directly references the Bob Dylan tune "Idiot Wind." Per a 2013 interview with Rolling Stone, Hootie lead singer and successful solo country artist Darius Rucker included the lyrics as a "straight tribute" to Dylan's song. "I wrote it around the time I was listening to 'Blood on the Tracks' every day," he told the magazine. But later, Dylan's representatives came knocking. Rucker revealed, "It never got to the point where we were sued. When we first did that song, we sent it to the publishing company, and everything was fine. We played it for years and had a really big hit with it. Then they wanted some money, and they got it."
In 2021, Post Malone performed a cover of the Hootie hit for Pokémon's 25th anniversary. The rapper's version also went over well with fans, peaking at #74 on the Hot 100.