The Worst Thing Bode From Locke And Key Has Done
Amanda Matlovich/Netflix
For two seasons, fans have watched the Locke family go through many trials and tribulations. Netflix's "Locke & Key" is based on the popular graphic novels penned by horror writer Joe Hill, a series that observes grief through the lens of a fantastical world full of magic. After the patriarch of the Locke family dies, Tyler (Connor Jessup), Kinsey (Emilia Jones), and Bode (Jackson Robert Scott) move with their mother Nina (Darby Stanchfield) to their family home, known as Keyhouse. There they discover magical keys that can perform a variety of amazing feats.
The catch is that only children are able to utilize the magic and remember it afterward. Nina has no recollection of these events, leaving it up to her children to dispense of the demonic entity known as Dodge. This, in addition to teenage hormones and high school, means that not every decision made is flawless. The Locke children often make mistakes that they are not proud of. One of the biggest mistakes came from the youngest and most divisive character, Bode.
Bode allows Dodge to escape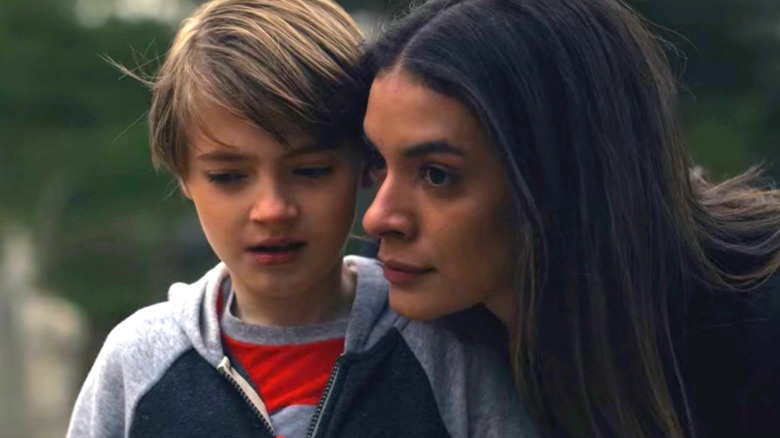 Netflix
Bode has the difficult task of being the kid brother to Tyler and Kinsey, who are too wrapped up in their own lives to notice him. Because the youngest Locke sibling is left to his own devices, this gets him into trouble. His most offensive action takes place after he discovers the Anywhere Key. Just as it sounds, the use of this key allows the user to go anywhere they want. The Anywhere Key is especially integral to Dodge, the main villain of the series. Trapped in the wellhouse, Dodge would do anything to be free and put into play their dastardly plan. 
Due to Bode's isolation from his siblings and his age, Dodge sees an opportunity to prey on Bode. They see Bode's need for companionship and capitalizes on it. Bode becomes attached to Dodge, the only person that he can talk to. After empathizing with Bode, Doge convinces him that they would be a great help — if only they had the Anywhere Key. Thinking it's the right thing to do, Bode gives up the key, allowing Dodge to escape.
There is no one more evil than Dodge, whose main desire is only to sow chaos. In addition to opening a portal full of demons, Dodge has killed and maimed as many people as they can get their hands on (via The Wrap). No matter what Bode's intentions were, his actions have devastating consequences for all the characters. Without Bode, Dodge never would have escaped.