The Best Bensler Moment In Law & Order: SVU Season 9
NBC
Olivia Benson (Mariska Hargitay) and Elliot Stabler (Christopher Meloni) are still somehow not a couple after the latter rejoined the "Law & Order" universe last year. Now the lead in his own spinoff — "Law & Order: Organized Crime" — Elliot has frequent run-ins with Olivia, one of which was riddled with romantic tension. But as we said, we are still without the long-awaited Bensler kiss.
It was 12 years of build-up between the duo on "Law & Order: Special Victims Unit" before Meloni walked away due to failed salary negotiations. Olivia and Elliot's chemistry was undeniable, and there were always moments when it looked like things were going to happen — especially in Season 9. Elliot and his wife Kathy (Isabel Gillies) were separated the season prior, but their relationship status was hazy despite them moving back in together in Season 9. Kathy was pregnant, which prompted their reunion, but the paternity is questioned. This twist made it definitely seem like Bensler was endgame, as another man fathering Kathy's child certainly would have been the deal-breaker for Elliot.
We find out who the father is in one of the most high-tense "Law & Order: SVU" episodes ever, which also features a Bensler gut punch and one of the partner's most memorable moments.
Bensler's hug in Season 9's Paternity is gut-wrenching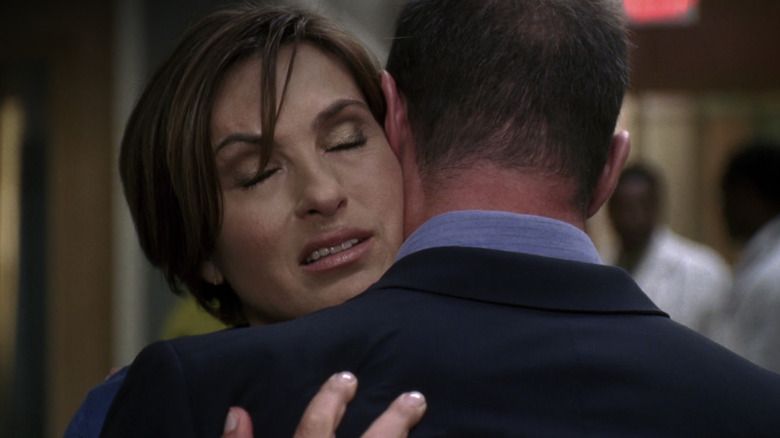 NBC
In Season 9, Episode 9 ("Paternity"), Elliot and Kathy are back on good terms, but he's still questioning if he's the father of her baby. Kathy is due to see her doctor, but with Elliot tied up with a case, Olivia takes her instead. The women are hit by a drunk driver on the way and are knocked unconscious. Olivia wakes first and can move, but Kathy is pinned in the car and is hemorrhaging and now in labor. With EMTs' help, Olivia administers an IV to Kathy and saves her life, and helps deliver her baby in the ambulance.
It's a very happy moment for a second, but this is "Law & Order: SVU," and Kathy flatlines just after delivery. We only learn of her condition after Elliot is alerted and in the hospital, where he walks into a room with a smiling Kathy and happy baby. Kathy tells him he's the father, and after confirming that he knew, he goes outside to thank Olivia. After letting his partner know that the baby is great, Elliot walks past Olivia, but turns around, grabs her, and pulls her in for a hug. It's the moment that every Bensler fan's heart dropped. Olivia closes her eyes in pain, and Elliot does the same. The feelings here are so strong, but nothing can be done about it, and all feel it.
"The hug" has haunted "SVU" fans and Benlser shippers for over a decade. It's an amazing moment and the pair's best of the season, but it stings nonetheless.