The DC And Marvel Superheroes John Cena Almost Played Before Peacemaker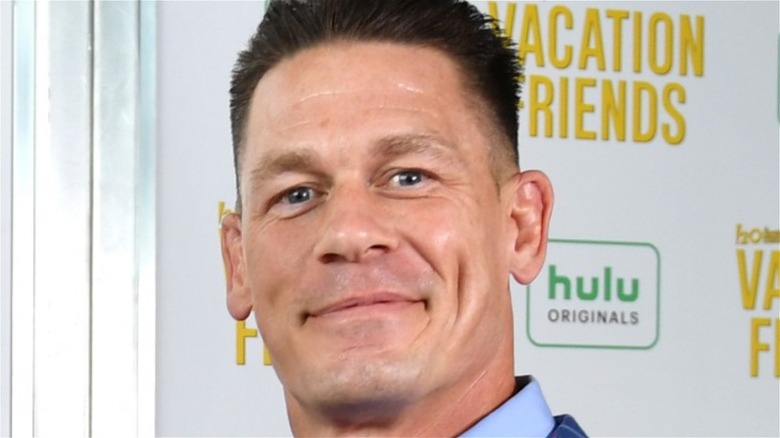 Noam Galai/Getty
These days, John Cena has cemented his place in the DC Universe by starring as Peacemaker in both James Gunn's 2021 film "The Suicide Squad" as well as his own standalone "Peacemaker" series on HBO. As a superhero, Peacemaker is a fitting role for Cena, since it requires him to use both his massive WWE frame as well as his knack for humor — Cena calls the character a "douchey Captain America," and he plays the role with relish.
As well as Cena embodies the deranged trained killer, it's possible he could have played an entirely different superhero earlier in his career. Movie studios routinely consider multiple stars for roles. Since Cena already looks like a comic book character, it's no surprise that he's been considered for other superhero acting gigs. Cena himself wasn't even the first choice to play Peacemaker in "The Suicide Squad." That was Dave Bautista (via Showbiz CheatSheet). 
Recently, when MTV journalist Josh Horowitz asked Cena whether he had been under consideration for other superhero roles, Cena gave him a few examples.
John Cena could have been Shazam, Cable, and others
Horowitz Tweeted a snippet of his interview with Cena in January 2022. In it, he asks Cena which other superhero roles he tried out for before landing Peacemaker.
"I can't tell you how many superhero roles I've been rejected for," Cena replied. "Shazam is certainly one. There was a brief try in the Deadpool universe. Rejection. Shazam was Dikembe Mutombo."
Horowitz indicated on Twitter that Cena missed out on Cable, which is most likely the Deadpool character Cena was referring to. Also, if you're not up on your basketball knowledge, that last bit is a reference to NBA legend Dikembe Mutombo, who was famous for blocking opponents' shots and then wagging his finger at them.
Instead of Cena, Shazam was played by Zachary Levi, while Cable was played by Josh Brolin. It makes sense why Cena was considered for both roles. "Shazam!" is a family comedy, which Cena excels at. Josh Brolin's Cable was a bit more villainous, but if you saw "Fast & Furious 9," you know John Cena is capable of pulling off a villain.
You can check out the full interview with Cena on Horowitz's Patreon page, available to subscribers.