What Is The Song In Oikos' Karaoke Commercial?
It's a typical tactic for major companies to feature well-known songs in TV commercials. If the TV spot is repeated enough, the song will get stuck in the viewers' heads. Then, the hope is that consumers will associate the song with the product when going to make a purchase. That seems to be Oikos' strategy in a recent commercial featuring a yogurt-centric remix of a late-80s love ballad.
Oikos released a commercial last year for its creamy blend of "forkable" yogurt with fruit chunks. The ad takes place in a bar on a karaoke night. A woman at the mic begins to sing a dark track that might be familiar to some viewers. However, her rendition includes lines like, "I long for yogurt with chunks of fruit that I can chew" rather than the original lyrics. The performance starts off shaky and a little off-pitch, but the woman gains confidence by the end of the song, and let's face it — who hasn't produced a spontaneous commercial jingle in the middle of a booze-fueled karaoke night?
Despite the Weird Al of it all, viewers are likely to recognize the original song. It's a popular track that's been around for decades, and has been featured in several TV shows and movies, leaving an indelible mark on pop culture as well as yogurt.
Oikos features 'Wicked Game' by Chris Isaak in its karaoke commercial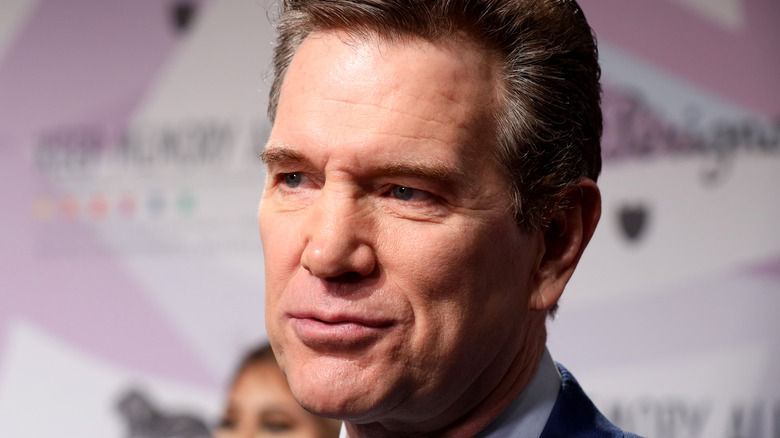 Gabe Ginsberg/Getty Images
That's right — it's Chris Isaak's "Wicked Game," a haunting love song released in the summer of 1989. Isaak explained to Song Facts that he was inspired one night while waiting for a woman to come over after a flirty phone call. After hanging up, he immediately wrote the song about the girl who he knew would "be trouble" in his life. "By the time she came over to the house, I had the song written," Isaak said. "She was probably upset because I was more excited by the song." 
"Wicked Game" was released on Isaak's third album "Heart Shaped World," but really got popular after being featured in a David Lynch film. An instrumental version soundtracked a pivotal scene in the 1990 crime drama "Wild at Heart" starring Laura Dern and Nicolas Cage (via YouTube). After the film's premiere, the song skyrocketed to #6 on the Billboard Hot 100. A second music video was even made for the track, featuring scenes from Lynch's film.
It's a bit kooky for the Oikos to feature such a looming, dark ballad in a light-hearted advertising concept. However, it succeeds in being a memorable remix that keeps Oikos' "forkable" yogurt in the back of your mind.