Comic Writer Joe Casey Talks America Chavez's Upcoming Live Action Debut In Doctor Strange - Exclusive Interview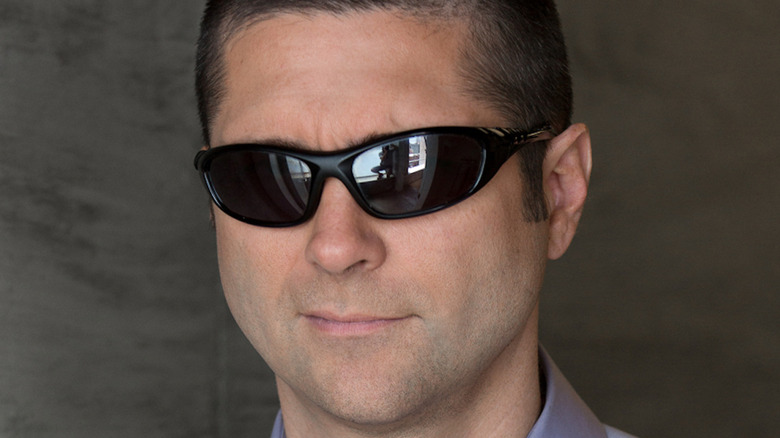 Man of Action Entertainment
Marvel Studios' "Doctor Strange in the Multiverse of Madness" is causing quite a stir ahead of its May 6 release, with fans fervently studying trailers for plot details and possible cameos. The Benedict Cumberbatch-starring sequel to the 2016 original sees Stephen Strange go on a reality-bending trip through the Multiverse, where anything is possible.
One thing fans know for sure about the Sam Raimi-directed film is when America Chavez makes her live-action debut, she will be the first LGBTQ Latin-American superhero in the Marvel Cinematic Universe. The character, played by Xochitl Gomez of "The Baby-Sitters Club," is known for her super-strength and the ability to easily traverse the Multiverse, among other powers.
Created by comic book writer Joe Casey, America first popped up in "Vengeance #1" in 2011 before joining the Young Avengers and later starring in her own series. While she has appeared in animated fare before, including the "Marvel Rising" franchise, "Doctor Strange in the Multiverse of Madness" is her first foray into live action, setting her up to become a household name.
In addition to creating America, Casey has written dozens of other Marvel comics, including installments of X-Men, Avengers, and Iron Man. In an exclusive interview with Looper, Casey discussed what went into creating America and why her big-screen debut is so exciting.
Joe Casey wasn't sure if audiences were ready for a Latina superhero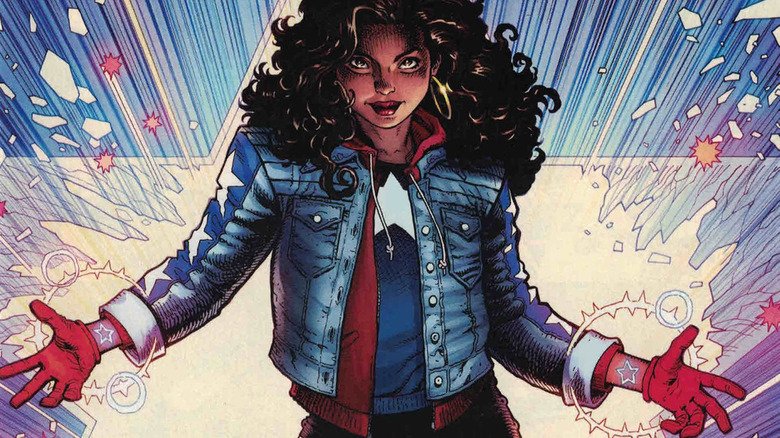 Marvel Comics
First, how do you feel about the casting of Xochitl Gomez as America Chavez in "Doctor Strange in the Multiverse of Madness"? Why was she right for the role?
When it comes to casting actors, Marvel Studios has a pretty good track record over the past fifteen years. They've earned our trust. In addition to that, she seems really excited to have the role and to be part of the MCU. Fingers crossed that she hits a home run when the movie comes out. Count me as being firmly in her corner.
America was originally supposed to debut in "Spider-Man: No Way Home" but didn't — what happened there? And why might "Doctor Strange" be a better fit for her?
I really have no idea what happened with the Spider-Man movie, but given the nature of her powers and the fact that the title of the Doctor Strange sequel actually includes the word "Multiverse," her being in this movie seems like a no-brainer to me.
Compared to some other comic characters that have appeared in the MCU and other film franchises, America is relatively new. Did the portrayal of other superheroes in movies and TV influence your design in any way?
Not in the slightest. My idea for this character came to me back in 2010, when we were fairly deep into what they ultimately branded as "Phase One" of the MCU. At that point, it never even occurred to me that she might actually end up in one of these movies. It was probably against my better judgment to try and create a new character for Marvel Publishing — considering their track record on dealing fairly with creators — but I obviously did, and this one definitely took on a life of her own.
Can you tell me where your idea for America originated from or who/what influenced her?
I wanted to create a character that connected with an audience the same way that certain characters connected with me when I was young. Way back in 2010, I wasn't exactly sure if that audience existed for a Latina superhero, but the times have thankfully caught up with her.
He sees America Chavez becoming as iconic as Spider-man and Thor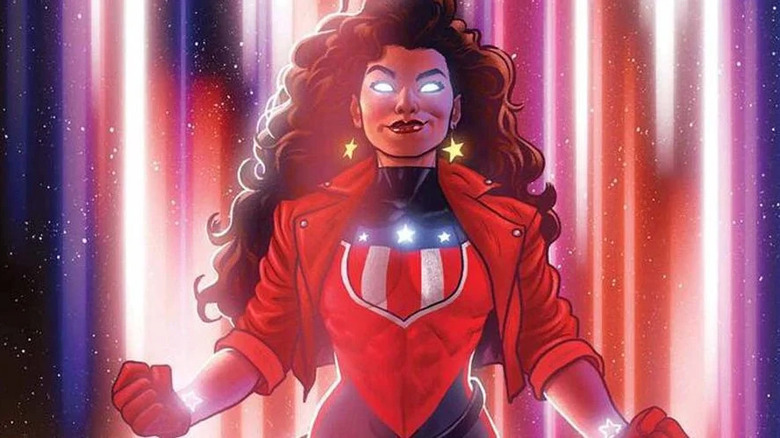 Marvel Comics
America seems to get compared to Captain Marvel and Thor a lot ... which of those two characters is she most similar to? And who would you compare her to in the Marvel universe?
I don't agree with those comparisons, especially not with the character I created back in the day. Maybe on a power level, there's some connection. I'd like to think that America Chavez contains the DNA of all the classic Marvel characters that came before her. That was the initial idea, anyway...
Are there any powers/abilities you always wanted to give her that didn't make the cut?
None, whatsoever. She was always meant to be a first-class powerhouse of a superhero.
Is there a villainous Marvel character that you'd like to see her go up against that she hasn't yet?
Any of the classic Marvel villains. Doctor Doom. Thanos. Ultron. The Masters of Evil. Galactus. Kang. The Sinister Six. Take your pick. Match-ups like that, on that level, are exactly what she was created for.
With her ability to hop across the Multiverse, are there any specific crossovers you've envisioned for America, whether it be in comics or in the MCU?
To see her right there next to an iconic character like Doctor Strange is a mind-blower. That's one of the main reasons why I created her in the first place, so she could stand next to the other classic Marvel heroes — like Spider-Man and Thor — and be accepted as part of the pantheon.
If she were to ever get her own film or TV series, what do you hope the storyline would tackle?
I wouldn't want to say right now, in case I end up actually working on them.
Outside of creating America, what has been your favorite Marvel project to work on so far? And is there a dream project for you at Marvel that you haven't been involved with yet?
Anything that I've written at Marvel that was Avengers-related would probably be the closest to my heart.
What is your favorite Marvel movie of all time and why?
To be perfectly honest, I'm an "Avengers: Age of Ultron" guy. I know some people think it's a mess of a movie ... but it was the most evocative of the Avengers comics I read as a kid. That's all I ever wanted from it, and it absolutely delivered on that level. For that same reason, "Captain America: Civil War" and "Thor: Ragnarok" are probably tied for second place. "Iron Man 2" is firmly planted in third place.
America Chavez will make her live-action MCU debut in "Doctor Strange in the Multiverse of Madness" on May 6.