Pacific Rim Uprising Is 'Larger Than Life,' Says John Boyega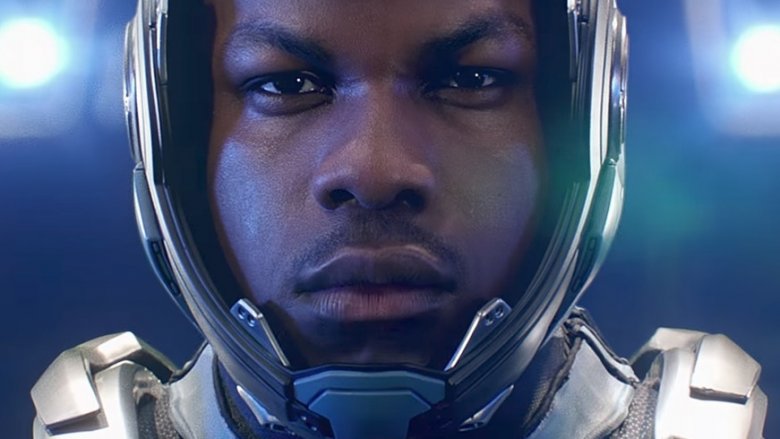 Pacific Rim Uprising will be bigger and better than its predecessor. Well, at least that's what actor John Boyega, who plays Jake Pentecost in the upcoming film, has promised.  
Speaking with Entertainment Weekly, Boyega dished about the intense fight sequences in Pacific Rim Uprising, stating that they'll practically knock fans out of their seats.  
"It's going to be so cool," said Boyega. "This is a fun movie. It's there to entertain. It's larger than life. Just go in there looking to have a great time. Get you popcorn nice and warm. Your eyes are going to be peeled."
Boyega also mentioned that producer Guillermo Del Toro, who directed the original Pacific Rim, put his trademark spin on the sequel, making for a totally immersive watching experience. "We've got a spectacle and [producer Guillermo] Del Toro's influence is still there. It's going to be really, really cool," Boyega stated. 
Set in the year 2030, 10 years after the events of the first movie, Pacific Rim Uprising centers around Boyega's Pentecost, who's son of Idris Elba's Stacker from the original. As Pentecost, Boyega dons an enormous Jaeger suit to go head-to-head (or hand-to-hand, rather) with giant robots that emerge from an inter-dimensional portal. 
Alongside Del Toro as producer is Daredevil showrunner and Spartacus creator Steven S. McKnight as director. The film also stars Scott Eastwood as Nate Lambert, Cailee Spaeny as Amara Namani, and Jing Tian as Liwen Shao. Rinko Kikuchi, Charlie Day, and Burn Gorman reprise their original Pacific Rim roles: Mako Mori, Dr. Newt Neiszler, and Dr. Hermann Gottlieb, respectively. 
Pacific Rim Uprising is set to hit theaters on March 23, 2018. While we wait until then, have a look at more sci-fi movies that will blow us all away next year.