What Is The Song At The End Of The Boys Presents: Diabolical Episode 3?
"The Boys Presents: Diabolical," the animated anthology series and spin-off of the hit Amazon live-action show "The Boys," finally arrives on Prime Video on March 4. The show combines a high-profile voice cast, including names like Simon Pegg, Seth Rogen, Elisabeth Shue, and Frances Conroy (per IMDb), with a venerated list of comedians and writers like Awkwafina and Ilana Glazer crafting each unique episode. 
"Diabolical" takes a deeper dive into the world first introduced in "The Boys," with some characters featured in the original series, like Hughie, showing up in animated form, and a ton of new characters getting in on the action. "Diabolical" will also present a wider picture of this alternate version of our world, in which the imperfect heroes and villains of the "The Boys" universe operate. Each episode will be written and directed by a different creative team and have a different style of animation, from classic Warner Brothers cartoons to anime.
The third episode of "Diabolical" is titled "I'm Your Pusher." Per IMDb, the episode is directed by Giancarlo Volpe ("Star Wars: The Clone Wars"), and it was written by "The Boys" author Garth Ennis. The episode features the voice talents of Jason Isaacs, Kieran Culkin, Simon Pegg, Antony Starr, and Dominique McElligott. There's a familiar song that plays at the end of the episode, and, for fans of '70s cinema or soul music, it will likely ring a bell. 
What's the name of the song that plays at the end of the first episode of "The Boys Presents: Diabolical"?
Curtis Mayfield created a whole new sort of sound with 'Pusherman'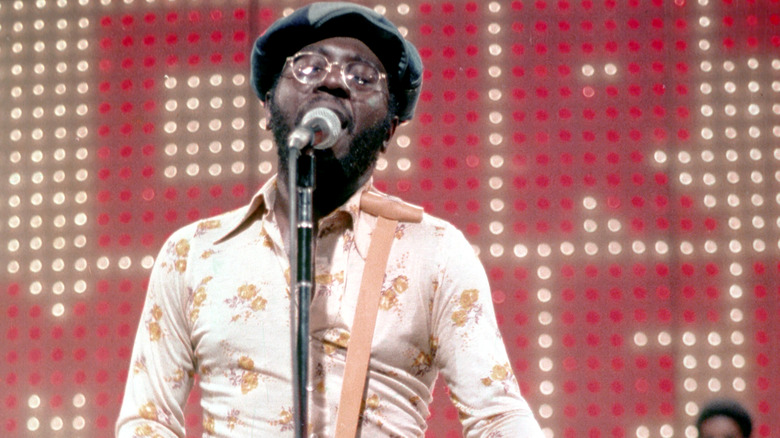 Michael Ochs Archives/Getty Images
The song heard at the end of "I'm Your Pusher" is "Pusherman" by Curtis Mayfield (via YouTube). The funky soul tune appeared on the blockbuster soundtrack to the 1972 blaxploitation crime drama "Super Fly." Mayfield was a legendary soul artist who wrote and sang on all of the "Super Fly" tracks, including the incredibly catchy "Pusherman." Like the other music on the soundtrack, the song helps illustrate the world in which drug dealer Youngblood Priest (Ron O'Neal), the film's lead character, operates. With "Super Fly," Mayfield arguably created an identifiable sound that would forever be associated with the blaxploitation genre, and, per AllMusic, the movie's music went on to "[ignite] an entire genre of music, the blaxploitation soundtrack, and [it] influenced everyone from soul singers to television-music composers for decades to come."
While "Pusherman" itself never charted on Billboard, other songs from the soundtrack line-up, like "Freddie's Dead (Theme from Superfly")" and the titular track "Superfly" both made it onto the Billboard Hot 100, peaking at #4 and #8, respectively. The "Super Fly" soundtrack album hit #1 on the Billboard 200 in the fall of 1972 and stayed there for four weeks.