The Real Reason Joe Exotic Wasn't Consulted For Joe Vs. Carole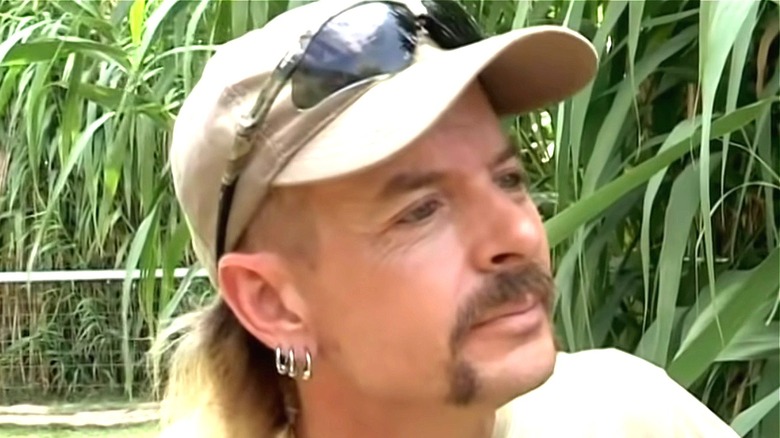 Netflix/YouTube
"Tiger King" was a big hit for Netflix when it debuted in 2020. According to Variety, 64 million households tuned into the fascinating documentary series during its first month, which focused on Joe Exotic and the bizarre events of his life that eventually led to him being arrested and imprisoned in a murder-for-hire plot against Carole Baskin. Not long after the success of the docuseries, a fictionalized depiction of those events was quickly announced, titled "Joe vs. Carole," and eventually, John Cameron Mitchell was cast as Exotic and Kate McKinnon was brought in to play Baskin on the show.
Crafting fictional shows or movies of events that actually happened can often be a tricky process. Filmmakers have to find a balance between portraying the reality of the situation and taking dramatic license for the sake of telling a good story. Still, most of the time, those involved in the project will at least consult with people who were actually involved in the real-life events. However, in the case of "Joe vs. Carole," it seems that Exotic's input was not requested during the production of the limited series.
John Cameron Mitchell was advised not to engage with Joe Exotic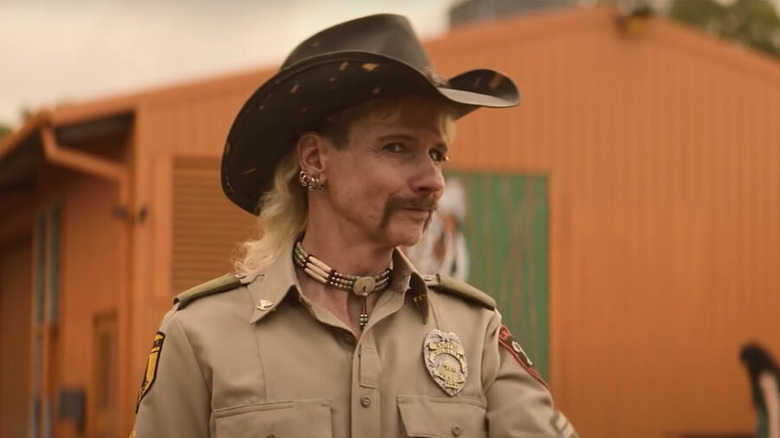 Peacock/YouTube
During a recent interview with Radio Times, Joe Exotic actor John Cameron Mitchell revealed that those involved in the production advised him to not seek out Exotic for consultation in relation to the role. "Production encouraged not to," Mitchell said. "We also wanted to be impartial. We're not on Joe or Carole's side. And you know, he would demand to see the script. It would just be a nightmare."
Given the larger-than-life persona that Exotic has, as evidenced by "Tiger King," this move makes a lot of sense for the producers of "Joe vs. Carole." And even if Mitchell never spoke to Exotic, having a documentary like "Tiger King" to study is probably plenty for the actor to step into the shoes of the character. Of course, it's interesting that "Joe vs. Carole" is seemingly trying to approach things with an impartial view, given that "Tiger King" often took such an approach, especially in its first season. Either way, fans will be able to see for themselves how well Mitchell and the rest of the cast step into the shoes of these real-life people when "Joe vs. Carole" premieres on Peacock on March 3.