The Hilarious Research Robert Pattinson Conducted For The Batman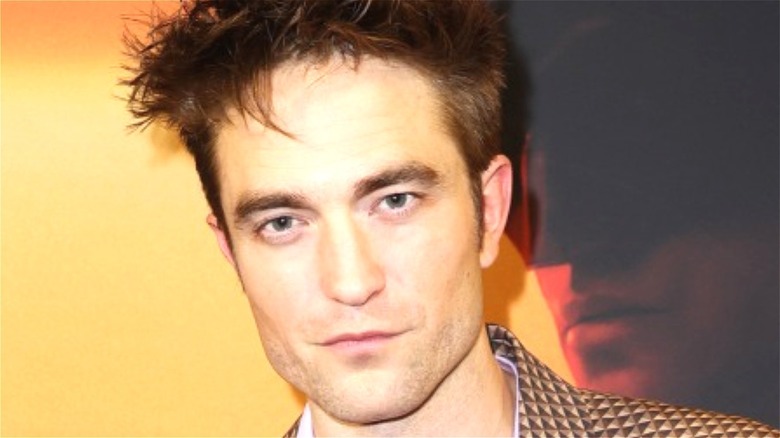 Alexander Tamargo/Getty
DC Comics fans are getting yet another new, live-action interpretation of the Caped Crusader in "The Batman." The Matt Reeves-directed film stars Robert Pattinson as Bruce Wayne AKA Batman and sees the "Twilight" and "Good Time" star stepping into a role that has already been played by the likes of Christian Bale, Ben Affleck, Michael Keaton, George Clooney, Val Kilmer, Kevin Conroy, Adam West, and several others. With that in mind, Pattinson has to prove himself as someone who is not only capable of playing one of the most beloved characters in all of fiction, but who can also bring something new to the role that his many predecessors haven't.
That'd be a difficult task for any actor to accomplish, but Pattinson seems primed to do just that in "The Batman." The first trailers and promotional materials for the film have sold it as being one of the most visually stunning and atmospheric comic book movies ever made, a superhero flick that is heavily indebted to noir and crime classics like "Se7en" and "Chinatown." In case that wasn't enough, early reviews for "The Batman" have all been overwhelmingly positive as well, with many praising Reeves and Pattinson for uncovering new sides of Gotham City's greatest defender.
While it remains to be seen which elements of Pattinson's performance fans end up appreciating the most, it seems safe to say at this point that the actor has followed through on one of the promises of the first trailer that was released for "The Batman." In specific, Pattinson's Dark Knight appears to be far more violent and ruthless than fans may have initially expected him to be.
Robert Pattinson isn't your friendly neighborhood Batman
Robert Pattinson's Bruce Wayne made a quick and lasting impression on comic book readers when the first teaser trailer for "The Batman" showed him brutally and relentlessly beating down one unlucky Gotham City thug. The moment ended with Pattinson announcing himself as "vengeance" incarnate, and subsequent trailers for "The Batman" have only further highlighted the actor's unique physicality and to-the-point fighting style in the film.
Indeed, the footage that has been released from "The Batman" up to this point has done a lot to sell its version of the Dark Knight as someone who is not only extremely efficient at accomplishing his goals, but who will also go further than he needs to in order to make a point. That's true in the sequence fans have seen of Pattinson's Batman working his way through a lineup of Riddler henchmen by using one of their own guns against them, and in the brief teases viewers have been shown of a destructive, fiery chase between the Caped Crusader and The Penguin (Colin Farrell) that takes place at some point in the film.
For his part, Pattinson seems to have had little trouble bringing his character's style and brooding, angry attitude to life, but it turns out that the actor managed to do that only after conducting some considerable amounts of research. In fact, Batman fans may be surprised to learn exactly just how much research Pattinson actually did while preparing to play the iconic comic book character.
Robert Pattinson watched a hilarious video of a real-life bat
During a recent appearance on "Jimmy Kimmel Live," Robert Pattinson opened up about what his unique preparation process was like for "The Batman." In specific, the "Lighthouse" and "High Life" actor revealed that he was inspired by his co-star Zoë Kravitz, who researched how cats move and fight, to start doing some of his own research into real-life bats. The investigation resulted in him watching documentary videos of bats, including one of a bat fighting a chicken in a cage in a truly unexpected and hilarious way.
"I looked up how a bat fights, and there was this one video on 'Planet Earth' of the technique of a vampire bat with a chicken in a cage," Pattinson said. "How it fights the chicken is it flaps around the cage for like an hour, just flat banging on the cage, until the chicken's been scared for so long the chicken falls asleep and then the bat sneaks into the cage and bites it on its anus." The actor laughingly added, "I sent that to Matt Reeves and he was like, 'I've got an idea!'"
The story, understandably, earned a wave of laughter from the "Kimmel" audience, but certain DC Comics fans will no doubt be on the lookout while watching "The Batman" for any moments or combat moves that might have been inspired by Pattinson's surprising bat research. Notably, one Batman fan on Reddit even found the video Pattinson referenced, just in case anyone else was curious to see the unique technique that the actor described in his interview.
Of course, regardless of whether or not any of his bat research actually impacted his performance in "The Batman," only time will truly tell if Pattinson's take on the Caped Crusader is compelling enough to win over even his most skeptical of detractors.