The Surprising Legendary Filmmaker Who Almost Directed The Batman
Director Matt Reeves' "The Batman," slated to premiere in theaters this week, follows orphaned billionaire Bruce Wayne (Robert Pattinson) in his second year of fighting crime as Batman, as he pursues a serial killer known as the Riddler, who targets the corrupt elite of Gotham City while leaving mysterious clues in his wake. The film also features Zoë Kravitz as Catwoman, Jeffrey Wright as James Gordon, Andy Serkis as Alfred Pennyworth, and Colin Farrell as the Penguin, and is wrapped in a mystery that only the legendary caped crusader can solve.
It's safe to say that "The Batman" is one of the most anticipated films of the year. Considering that we're now inching close to the release date, it's hard to remember that in the years before Reeves jumped into the shadows of Gotham, the first post-"Dark Knight Rises" solo Batman film was once set to be written and directed by Ben Affleck, with him in the starring role, until he pulled out of the behind-the-scenes role in January 2017 (via The Hollywood Reporter). At that point, Affleck was still set to star in the project as Batman himself, but that soon changed, as Affleck left the project for personal reasons. Once Warner Bros. began looking for a new director, the idea of continuing with the "Snyder-verse" Batman was replaced by the notion of doing a new incarnation of the character altogether, particularly once they settled on "Cloverfield" director Reeves as the top choice for the job (as THR reported). 
However, there were other notable directors who were "in the wings," as THR noted, to take over the job in case something fell through with Reeves. One of those backup directors was "Don't Breathe" director Fede Alvarez... and the other was someone who genre fans know very, very well.
Ridley Scott could have directed The Batman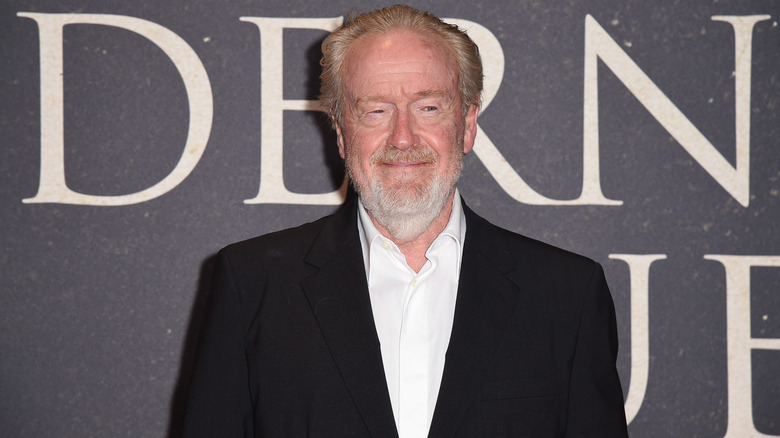 Dominique Charriau/Getty Images
As reported by The Hollywood Reporter, one of the directors considered for the role of helming the new "Batman" film was none other than Ridley Scott. 
Scott began his career as a director in 1965 when he directed an episode of a police drama called "Z Cars." After directing a string of TV episodes for various shows, Scott made his film directorial debut with 1977's "The Duellists," a 19th century historical drama. But it was his next film, 1979's "Alien," that would truly cement Scott's place in the realm of legendary filmmakers. Soon thereafter, he made another of his most iconic films of all-time with 1982's "Blade Runner," starring Harrison Ford, which has not only remained a renowned film, but is even sometimes considered the best sci-fi film of all time. Scott is also responsible for 1991's "Thelma & Louise," another landmark picture that has stood the test of time — it is also the film that landed Scott his first Oscar nomination for Best Director. The filmmaker has two more Best Director nods to his name, for 2000's "Gladiator" and 2001's "Black Hawk Down." Most recently, he released two films in 2021, "The Last Duel" and "House of Gucci." 
At this point, he has four projects in the works, including the Joaquin Phoenix-starring "Napoleon" and newly-announced thriller titled "Queen & Country." Had Scott ended up landing the director job for "The Batman," though, it would have been his sole film released in 2022. However, while it's easy to see Scott's often dark aesthetic easily fitting the DC Comics character, it also would've been a surprise to see him go for such a gig, given his long-running comments on the superhero genre.
Scott has made anti-superhero film comments in the past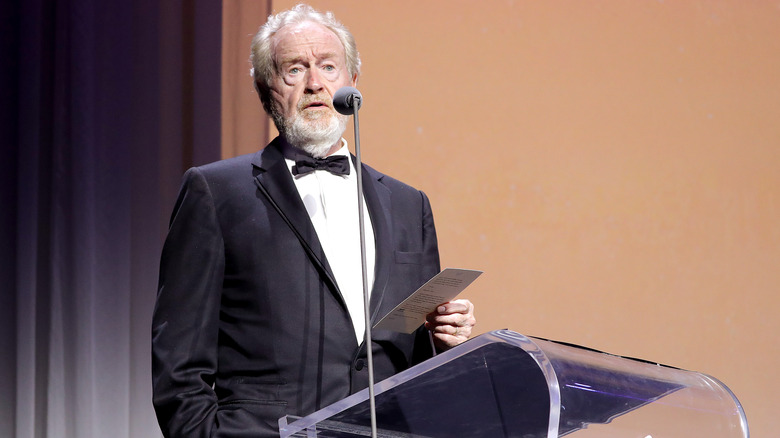 Vittorio Zunino Celotto/Getty Images
If Ridley Scott had been offered the job as the next "Batman" director, it would have been unexpected move for the director to take. This is because, as some movie fans may know, Scott has made comments expressing his dislike of superhero films as far back as 2016, and in recent interviews, it doesn't appear his opinion has changed.
In 2016, Digital Spy, Scott said, "Superhero movies are not my kind of thing — that's why I've never really done one. [I've been asked] several times, but I can't believe in the thin, gossamer tight-rope of the non-reality of the situation of the superhero." The director continued making his point by targeting Batman specifically, claiming that "Batman" movies lack plot. In his words: "I've done that kind of movie — 'Blade Runner' really is a comic strip when you think about it, it's a dark story told in an unreal world. You could almost put Batman or Superman in that world, that atmosphere, except I'd have a f***ing good story, as opposed to no story!"
By 2021, his response to the genre was increasingly profane but no less critical, telling Deadline that he thought superhero films were "f***ing boring as s***," and trashing the scripts for the movies he'd seen.
With comments like these, it's highly unlikely that Batman fans would have been pleased if Warner Bros. had chosen Scott as director over the other options. One fan even wrote an open letter, via TV Over Mind, asking Scott not to take on a Batman film as his next project. And, after seeing "The Batman," fans can decide for themselves if it was the right move for Warner Bros. to choose Reeves over Scott.