Michelle Pfeiffer's Words Of Encouragement To Zoë Kravitz On Playing Catwoman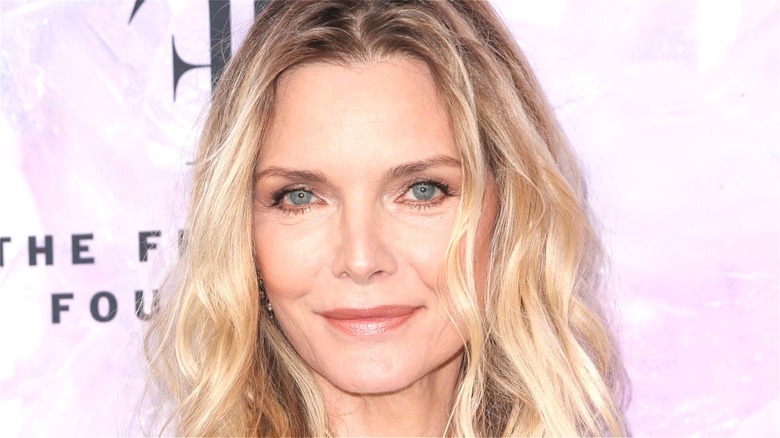 lev radin/Shutterstock
The wait is over. Matt Reeves' "The Batman" was a long journey to the screen, but the hotly anticipated blockbuster has finally arrived and the reviews are in. The responses have been positive for "The Batman" so far, with critics singling out the performances and Reeves' bold new direction for the Caped Crusader. However, fans shouldn't go into this one expecting a campy and lighthearted take on the "Batman" lore. The newest chapter in Gotham cinematic history might be the darkest and grittiest one yet, boasting a story and style that's more comparable to horror movies and thrillers such as "Se7en," "Halloween" and "Chinatown" than the superhero fare we typically associate with the DC Extended Universe. 
"The Batman" sees Robert Pattinson in the role of the billionaire-turned-vigilante Bruce Wayne and his nocturnal alter-ego. The story follows him throughout his second year of fighting crime in Gotham City, coming up against foes such as The Riddler (Paul Dano) and Oswald Cobblepot aka The Penguin (Colin Farrell). We know these characters well, but we haven't seen them portrayed like this before.
Elsewhere, Jeffrey Wright, John Turturro, Peter Sarsgaard, Andy Serkis, and Zoë Kravitz bring their own interpretations to well-known characters from the "Batman" universe. Kravitz, for example, is the latest on-screen performer to inherit the role of Selina Kyle/Catwoman, joining a rich heritage of actors that includes Halle Berry, Anne Hathaway, Michelle Pfeiffer and many more. But how do the blasts from the past feel about Kravitz's turn as Gotham's fiercest feline? 
Michelle Pfeiffer believed in Zoë Kravitz as Catwoman from the start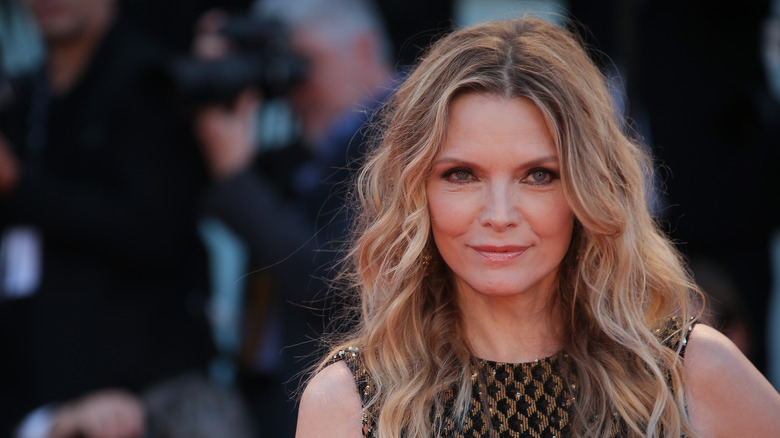 Matteo Chinellato/Shutterstock
While speaking to Rotten Tomatoes, Zoë Kravitz was asked if any of the previous Catwoman stars had reached out to her after she got the part. Kravitz recalled how they left "some wonderful and sweet messages" in interviews, before sharing the details of a brief interaction she had with Michelle Pfeiffer. In short, the "Batman Returns" alumnus told Kravitz that she was "gonna be great."
Kravitz went on to explain how her predecessors have "all been so, so encouraging," backing up previous claims she made about her fellow Catwomen and their kind words. In an interview with Variety, Kravitz revealed that she was a bag of nerves when she met Pfeiffer. However, those feelings were eased when Pfeiffer gave her a "big hug" and some words of encouragement.
Halle Berry, who played Catwoman in the character's ill-fated 2003 solo movie, has been excited to see what Kravitz brings to the role of Selina Kyle. During a conversation with Pop Culture, Berry said that the newcomer was going to be "amazing" and encouraged her to "be courageous and bring her own interpretation to the role." Anne Hathaway, who portrayed Selina and her feline counterpart in "The Dark Knight Rises," had similar views to Berry. Hathaway said Kravtiz was a "perfect choice" for the role and advised her to ignore everyone else and focus on creating "her own version" of the character (per Collider). Kravitz took that advice on board, too.
Zoë Kravitz didn't expect to be cast as Catwoman in The Batman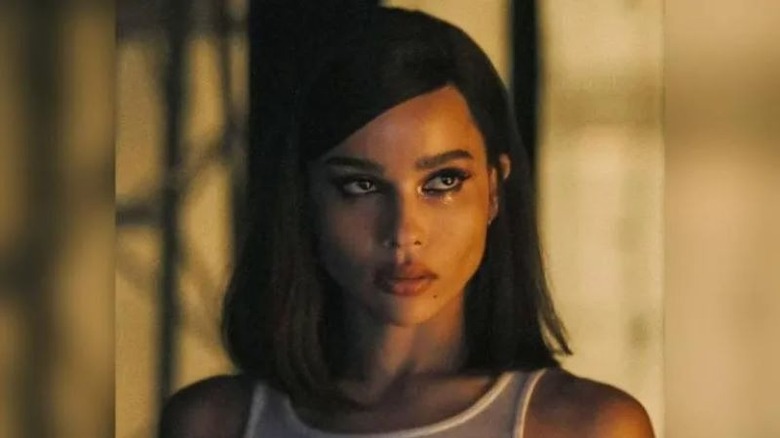 Warner Bros./DC Entertainment
Zoë Kravitz might be the new face of Catwoman, but there was a time when didn't feel confident about landing such a significant role in "The Batman." During an interview with Elle, the actor revealed that she went into the audition expecting to be rejected. However, she also admitted to being inherently cynical when it comes to acting and always expects bad news while chasing projects.
In the end, Kravitz knocked her audition out of the park and the rest is history. That being said, playing Catwoman came with its own set of challenges. Kravitz recalled how she felt "crazy" pressure to live up to the high expectations of bringing such a notable character to life. Furthermore, being cast as such a popular DC Comics character meant that her profile rose quite significantly. "The fandom is wild," she told Elle. "When the announcement came out, I got more phone calls than I'd gotten on any birthday."
Needless to say, the experience of playing Catwoman was quite overwhelming for Kravitz. However, Matt Reeves stated that it didn't affect her performance. In fact, she completely immersed herself in the role and even offered some valuable insights that enhanced her character. "There was never a moment where she was guarded or insecure. She has good instincts. She's incredibly smart, very funny, honest, unpretentious, and she had great ideas about character evolution," the director stated. "She is a great creative partner."