Is Kasie Really Leaving NCIS?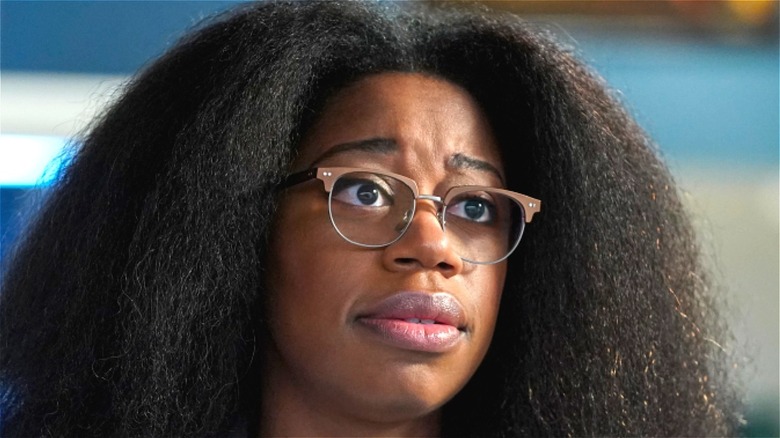 Sonja Flemming/CBS
"NCIS," the CBS police procedural series following the missions of a group of special agents who are part of the Naval Criminal Investigative Service, has been running for a very long time. The show debuted in 2003 and is still going strong during its 19th and current season. Of course, not all the original talent is still with the show. In fact, only a select few actors from the beginning of the series are still part of the main cast, including Mark Harmon's Special Agent Gibbs, David McCallum's Dr. Mallard, Sean Murray's Agent McGee, and Brian Dietzen's Dr. Palmer. As such, while longtime fans have had to say goodbye to a fair few characters over the years, they've gotten to meet a slew of new faces as well.
Diona Reasonover's character, the bubbly forensic scientist Kasie Hines, is one of these more recent additions to the main cast. Hines joined the NCIS team in Season 15, but she quickly became an integral part of the show and a beloved character among fans. However, recent developments on the show had fans worried that another departure from the main cast was imminent.
Kasie probably isn't leaving NCIS
Fans of "NCIS" know that Hines hasn't been having an easy time of things lately. In fact, the prevailing recent story arc for the character has been her growing uncertainty regarding whether she belongs at NCIS due to its dangerous work conditions. Season 19, Episode 13, "The Helpers," marked a turning point for Hines, who found herself on the verge of deciding not to renew her contract with the organization before being exposed to a deadly toxin with a 100% fatality rate.
For much of the episode, things seemed exceptionally bleak regarding Hines's future on the show. The odds that she was going to survive the toxin weren't good, and even if she did somehow make it through, this latest brush with death would surely be the final straw that would precipitate her exit from NCIS. The episode had a nail-biting resolution, with Hines receiving the antidote just in the nick of time. But what was even more surprising was her reaction to making it through this string of dire events, telling the team that she now felt confident she wanted to stay because they were loyal friends and remarkable helpers.
The resolution of the episode certainly felt like it was putting all worries to rest regarding Hines' future on the show, even if it did take a lot of playing with fans' emotions to get that point. For now, it appears that Hines is here to stay.