Joe Manganiello's Instagram Profile Photo Has DC Fans Freaking Out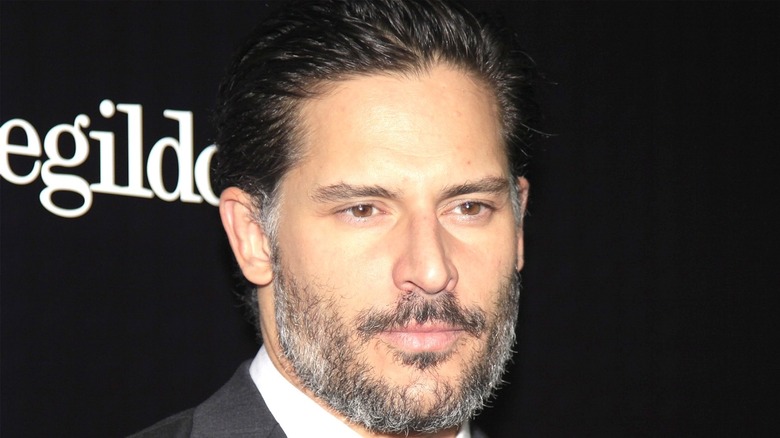 Kathy Hutchins/Shutterstock
Joe Manganiello knows a thing or two about supernatural powers. After his big break playing Flash Thompson in "Spider-Man," Manganiello went on to become a powerful werewolf and future pack leader in HBO's vampire drama "True Blood" and then a master of hip gyrations in "Magic Mike." Not only does he lend his impressive physique to movies, but he also enjoys playing the tabletop game Dungeons & Dragons so much that he has appeared as a guest on the web series "Critical Role," which involves actors and professionals engaging in swords and sorcery through the power of imagination.
In 2016, Manganiello was tapped to play a famous DC Comics villain in a potential Ben Affleck "Batman" movie (via The Wall Street Journal) and appeared as said character in a cameo at the end of the theatrical cut of "Justice League." Unfortunately, the movie never came to pass, but recently, the actor updated his social media profile photo, and considering the proximity to the release of "The Batman," fans of the DC Universe are filled with excitement, speculation, and questions.
Joe Manganiello's Deathstroke Instagram picture sent fans into a frenzy
After showing off the above highly stylized and artistic representation of his character from DC Comics on his Instagram account, Joe Manganiello caused several fans to ruminate about his fate as the fearsome villain known as Deathstroke. This had the effect of many comments to the tune of "#RestoreTheSnyderVerse," a common clarion call for proponents of Zack Snyder's vision of the DC Universe, with a Change.org petition for its restoration currently holding at around 75,000 signatures. One comment by Instagram user x__rafeeq__knockzz__x said, "I hope You are Not Done with DCEU!.. please Wait For Merger," while Instagram user the_nite_owl_ added, "#makethedeathstrokemovie," causing other users to echo the hashtag.
The Deathstroke character himself is an enhanced mercenary and assassin, which allows him to go toe-to-toe with the likes of the Justice League and come out on top (via CBR). The last time we saw Manganiello's version of Deathstroke was when Lex Luthor (Jesse Eisenberg) recruits him to join his own league in the end-credits scene of 2017's "Justice League," setting up the formation of the "Injustice League," which is a collection of DC Comics' most heinous adversaries. With the arrival of "The Batman," fans are hoping to see the famously nerdy Manganiello don the iconic eye patch and swords once again.