Read This Before You See The Adam Project
This content was paid for by Netflix and created by Looper.
The concept of time travel takes a riveting new turn in "The Adam Project." This sci-fi drama follows a pilot named Adam Reid as he reconnects with both his younger self and his late father on a mind-bending journey to save the future and reconcile with his own past. And the film has a little something for everyone — we've got impressive set pieces and action galore, some moments of laugh-out-loud comedy, and plenty of emotional resonance.
The highly original film is packed with A-listers in front of the camera (including quite a few stalwarts of the superhero genre), and it also boasts an incredible team of creative minds behind the scenes. So before "The Adam Project" arrives on Netflix on Friday, March 11, here is a look at everything you should know about this exciting science fiction film.
A galactic line-up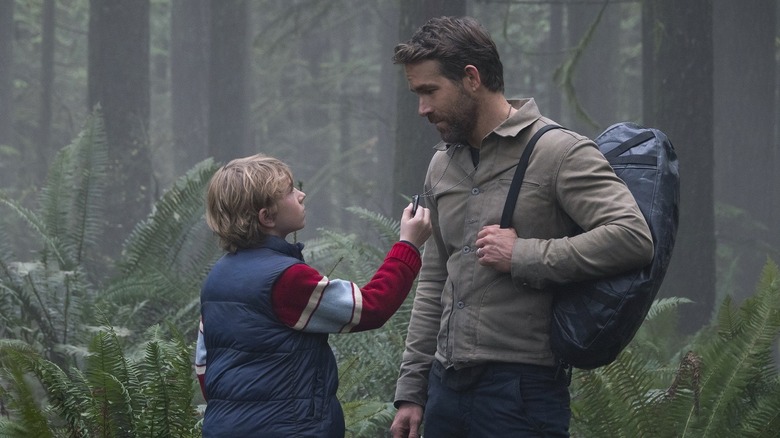 Doane Gregory/Netflix
The cast of "The Adam Project" is nothing short of spectacular. Leading up the action is Ryan Reynolds, who stars as the time-hopping pilot who ignites the entire adventure. Reynolds is one of the biggest names in Hollywood right now, with successes that range from his signature comedy work in films like "Van Wilder" and "Waiting..." to his impressive work in suspense films like "Buried" and "Self/less," along with his sensational action performances in films like "Deadpool," "6 Underground," and, most recently, "Red Notice." Reynolds' ability to deliver fast-lipped wit and tug at your heartstrings is what's long made him such a mainstay of entertainment.
Of course, he's not the only big name in the film — Mark Ruffalo stars as his father, Louis. It goes without saying that Ruffalo is also a dominant force in the blockbuster scene, as well as one of the most important screen talents of our time. Audiences will no doubt recognize him for his long-running role as Bruce Banner, aka the Hulk, in the Marvel Cinematic Universe, but Ruffalo has also turned in some indelible dramatic performances in films like "Zodiac," "The Kids Are All Right," and "Spotlight," to name a few.
Joining this duo on their travels through time is adorable newcomer Walker Scobell, who delivers a sensational and heartwarming performance as the younger version of Reynolds' character, Adam.
Another batch of all-stars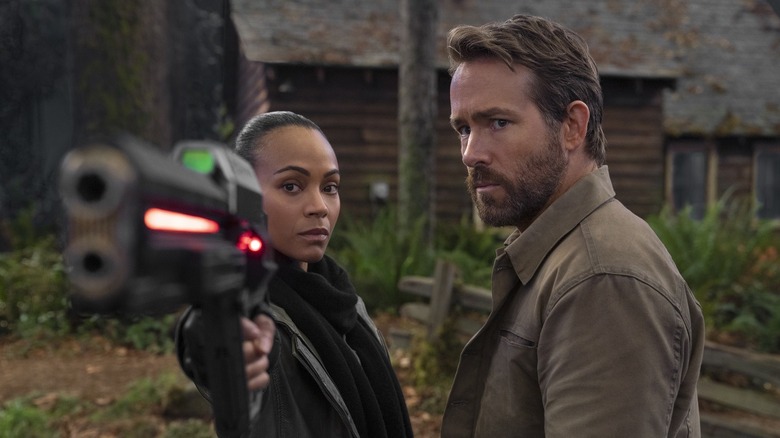 Doane Gregory/Netflix
In addition to Ruffalo, "The Adam Project" boast another MCU favorite – Zoe Saldana, who's been a key part of so many sci-fi favorites over the years. In addition to bringing Gamora to the screen in "Guardians of the Galaxy," she's also known for her roles in the "Star Trek" and "Avatar" films and has proven her dramatic chops in movies like "Center Stage" and "Colombiana." Audiences can also hear her vocals in the recent animated sensation "Vivo."
The film's star-studded cast also includes Jennifer Garner as Adam's mother, Ellie, who grapples with the grief of a gutting loss while trying to put on a brave face for her troubled son. Garner is a celebrated star of both the small and silver screen, with four Emmy nominations under her belt for her breakthrough role in TV's "Alias." "The Adam Project" marks a reunion between Garner and Ruffalo, after the two shared the screen in the unforgettable 2004 romantic comedy "13 Going on 30." Garner is also known for her compelling work in films like "The Invention of Lying," "Juno," and "Love, Simon."
Rounding out the cast is the incredibly talented Catherine Keener, who boasts two Oscar nominations for her work in "Being John Malkovich" and "Capote." She's also known for her work in pics like "The 40-Year-Old Virgin," "Into the Wild," and "Get Out." And last but not least, "The Adam Project" features actor Alex Mallari Jr., who TV fans may know for his work in series like "Ginny & Georgia" and "Workin' Moms," among other small screen shows.
The creative crew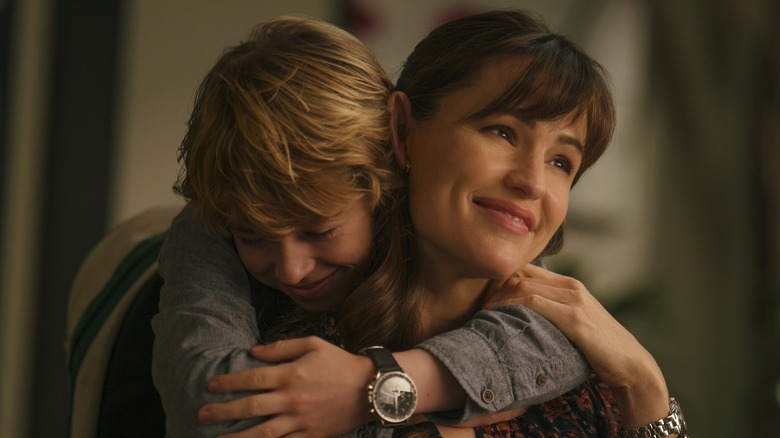 Doane Gregory/Netflix
"The Adam Project" is directed by Shawn Levy, who previously teamed with Reynolds on the 2021 action sensation "Free Guy." Levy is quite an accomplished director, as his filmography includes comedy favorites such as "Just Married," "Cheaper By the Dozen," and "Date Night," along with original sci-fi and fantasy films like the "Night at the Museum" series and "Reel Steel." Audiences may also know Levy for his celebrated work as a producer on films such as "Arrival" and "Love and Monsters," as well as small screen sensations like "Stranger Things" and "Shadow and Bone."
Levy directs the film from a script written by Jonathan Tropper, who previously wrote for TV's "Banshee," "Warrior," and "See." The first version of the film's screenplay, which was originally titled "Our Name is Adam" in 2012, was written by T.S. Nowlin, who's known for his work on "The Maze Runner" movies. Jennifer Flackett and Mark Levin (both of "Big Mouth" fame) have also worked on the script. As if that weren't enough of an intriguing behind-the-scenes line-up for the film, the picture's gripping score has been composed by Rob Simonson, whose music can be heard in films like "The Spectacular Now" and "Foxcatcher."
With such an exceptional team of cast members and creatives collaborating on this film, it's no wonder "The Adam Project" is a definite must-see when it arrives on Netflix on Friday, March 11.