1883's Tim Mcgraw Responds To The Show's Divisive Season 1 Finale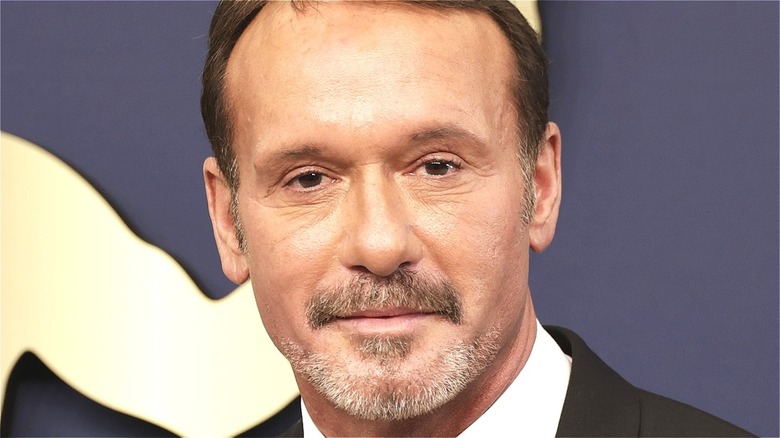 Frazer Harrison/Getty
The tenth and final episode of "1883" aired last night, Sunday, February 27, 2022, on Paramount+, bringing to an end the prequel series that explores the origins of the Dutton family – - although, as we'll talk about below, the show's not quite over yet.
Still, the season finale "This Is Not Your Heaven" was gut-wrenching, leaving many of the show's fans heartbroken (via Hello Magazine). That's mainly thanks to two major deaths during the episode. Even though both of them were foreshadowed in "1883's" premiere episode, they were no less devastating.
The first is the death of wagon train leader Shea Brennan (Sam Elliott). When his story began, he had lost his wife and daughter to smallpox, burned down their home, and was considering taking his own life. Upon meeting his business partner Thomas (LaMonica Garrett), he instead made a pledge to his deceased wife to let her "see the world through his eyes." By leading the wagon train, his goal was to make it to the Pacific Ocean so that his wife could witness it. With that accomplished, he shoots himself.
The other death is the show's narrator, Elsa Dutton (Isabel May), and it was arguably even more surprising. In the series premiere, Elsa is shown being shot with an arrow by a group of Lakota, who mistakenly believe the wagon train is responsible for a recent massacre. Elsa then recounts most of the story, recalling her family's journey to relocate to the Yellowstone area. Since she serves as the show's narrator, many fans assumed she would survive the story. In the end, that wasn't to be.
"1883" stars Tim McGraw and Faith Hill told Variety that they were just as devastated as fans when they read the script for the finale. McGraw also said he anticipated that fans would have strong reactions to the two deaths, but he still thinks the show did the right thing.
A good series finale should be controversial, according to Tim McGraw
"I know fans are gonna hate it and love it at the same time," McGraw said. "That's what good TV, good music, good movies, good art, good books, all those things, do. They bring out those emotions in you. It's going to be a good thing that they hate that ending, because it has to be that way and they know it. It's gonna be devastating. Why would you watch stuff if it doesn't purge your emotions?"
"1883" executive producer David Glasser agreed that even though Elsa and Shea's deaths were tragic, the should couldn't have ended any other way. "[Elsa's death] is just one of the things Taylor always promised in the beginning, 'I'm going to button this up,' and just brings everything full circle. You understand the pain of this journey they invested in. Everything that happened sort of has a full-circle wrap to it. He closed every little piece up."
If that's not of any comfort, at least there will be more of "1883" to look forward to. As reported by Variety, Paramount+ has ordered more episodes of "1883." The report didn't indicate how many, but it will be fewer than the ten-episode first season. On top of that, Paramount+ also ordered another "Yellowstone" prequel about a different generation of Duttons, "1932." There's also "Yellowstone" season 5 to look forward to. The story of the Duttons has plenty of mileage left.